The futures of hundreds of thousands of undocumented immigrants -- including thousands of Indians -- who were taken to the US as children are now in danger after Donald Trump's repeal of the DACA programme.
Chirayu Patel, a DACAmented leader and co-founder of the DACA Network, shares his story with Rediff.com's Monali Sarkar.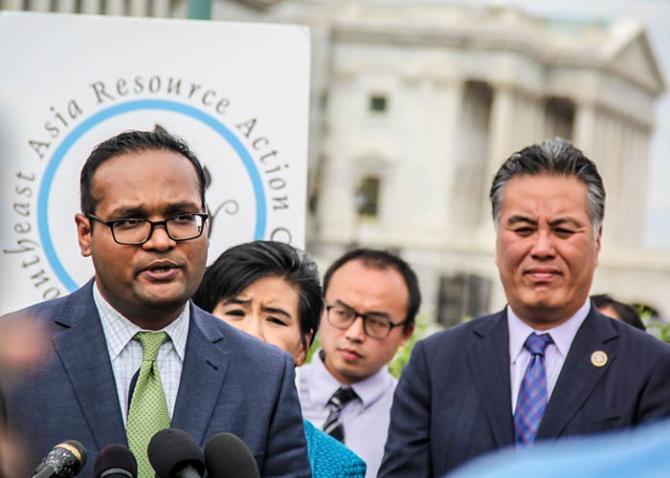 IMAGE: Chirayu Patel speaks from the steps of the US Capitol about the need for the passage of a clean DREAM Act.

What is the DREAM Act?


He was surrounded by US lawmakers, including Nancy Pelosi, the minority leader in the US House of Representatives, and Pramila Jayapal, the first Indian-American US Congresswoman.
Photograph: Kind Courtesy SAALT
The day after November 8, when Donald J Trump won the United States presidential election, "was psychologically and mentally, a punch in the gut," Chirayu Patel says on the phone from Chicago.
Patel is one of the hundreds of thousands of undocumented immigrants who came to the US as children and received amnesty through then US president Barack Obama's Deferred Action for Childhood Arrivals programme.
Trump's election meant that the DACA program was in real danger. (What is DACA?)
"During the debates and the campaign speeches he mentioned the programme as something that he would end on his first day," Patel tells Rediff.com.
"I don't think I processed it (the election victory) the day after. It took me longer than that to figure out how to move forward."
The fears were not unfounded.
Patel is now one of the hundreds of thousands facing an unknown future following the Trump administration's announcement that it is ending the DACA program.
The DACA program offered amnesty to an estimated 800,000 undocumented young immigrants -- 7,000 of them from India -- but that, Patel says, is only part of the picture.
"That's an accurate figure (of Indian Americans) as it applies to DACA," explains Patel.
"The DACA program has some 800,000 people who have taken part in it. So (that means only) 50 per cent of those who qualify have applied for DACA; there's another 50 per cent of the population that did not apply for DACA because of various reasons."
"When it comes to Indian Americans who are eligible for the DACA program and applied," he adds, "the number is closer to 40 per cent. I would say at least 60 per cent of the Indian-American population who were eligible (an estimated 17,500) for DACA did not take up on it for various reasons."
According to an estimate carried out by South Asian Americans Leading Together (SAALT), the number of DACA eligible immigrants from India could be even higher; the advocacy group pegs at more than 20,000.
Patel, who has been organising since 2006 and co-founded the DACA Network after Trump's election, shared his story of immigration and the fight to remain in the only country that is home to him with us two days before he made an impassioned statement from the steps of the US Capitol, surrounded by US lawmakers.
What was your earliest memory of being in the US? Do you remember being in India?
Can you share your family's story?
I do. I remember being an Indian and coming here.
We came here in September of 1994. I was 11.
We came on a visitor visa and my parents tried to legalise through permanent residency.
My dad's friend had done a similar thing. But due to an error in filing by the attorney -- who we would later find out was not even an attorney, but most likely a notary and had filed false paper work -- we have been in this situation ever since.
My dad did have a work authorisation in the '90s -- and they would renew that work authorisation every year or every two years -- but we did not have any status so to speak.
I would find out about it later. So, I don't know much more details than that.
When did you learn that you were undocumented? How did it change you?
I learned that when I was applying for college.
I did have a social security number because when we arrived on a visa, you could still get social security.
It would not allow you to work, but you would have the number. That allowed me to get an ID card.
But when it came to applying to colleges, they not only ask for social security number but most colleges also ask you for your permanent residency or citizenship documentation, especially if you are going to be applying for any federal grants or even federal loans to pay for college.
That's when it really hit me.
I had friends that were going into the colleges they had dreamed of, and I too wanted to go away and have the college experience that most of my friends were having.
It felt like an invisible wall had just dropped in front of me.
I didn't know how to deal with it.
My parents, like most Indian parents, were insistent that I go to college, (saying) "We didn't have our chance so you should."
I think it was partly due to their pressure that I actually attended college and graduated.
IMAGE: Rallying for DACA outside Trump Tower in New York City.


Hear it from Chirayu Patel: How DACA Network is helping DREAMers find solutions


Photograph: Spencer Platt/Getty Images
How did the fight to become a 'documented' American influence the Indian part of your identity and your relation with India?
I have obviously some memories of being in India, but I don't know where I would go or what I would do in India.
Even some of my extended side of the family is in the US, or London, or another part of the world.
So, I don't know if I feel Indian, except for the part that I am born there affects my current situation.
Most Indian Americans whose parents have grown up in India have a relationship with India.
But in cases like yours India is no longer something you look forward to as a place to visit relatives, but it becomes a thing to fear.
Yes, that is true.
Some portion of my mom's family is still in India, and that is an interesting challenge.
We haven't seen the ones who are in India in 23 years.
Most importantly, my maternal grandmother is still there.
We used to spend our summer vacations with her in a village in Gujarat. I still talk to her.
But she is getting up in age, and it's something my mother is dealing with.
It's very likely that when she passes away, my mother will not be able to go to her funeral.
According to latest US Citizenship and Immigration Services figures, India is not among the top countries of origin for DACA recipients.
Meanwhile, the success of Indian Americans is very well-documented.
This often leads Indians to buy into the model minority theory.
How dangerous is that in this scenario?
That's very dangerous.
It may be the case that Indian Americans in the DACA program rank 12th or 13th (according to USCIS figures), but as far as the Indian-American undocumented population go, that population is higher.
That ranking is in the top 5 or so if I am not mistaken.
The model minority theory is dangerous because that is only a small description of the Indian-American experience.
And that matters because when policies are made, especially as it relates to immigration policy, it affects Indian Americans as a whole.
Even Indian Americans who are here with permanent residency or some sort of documentation are having challenges when they have petitioned for their family members -- their son or daughter or their parents.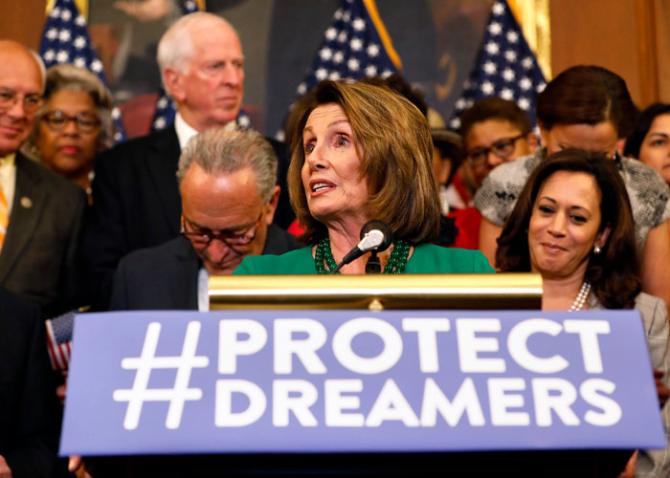 Are you feeling afraid? Or are you too busy, too motivated right now to fear what might be?
What motivates you to keep fighting?
I am making several calculations, and I am feeling all of those things. It's tough to pick one.
The fear part -- being afraid of deportation -- has changed my behaviour.
But part of the reason I feel a little bit more liberated (than others in the same situation) is that when I have been talking to people whether it is someone from the news media or people that I know in Chicago who may be from Mexico or Venezuela and are also undocumented there is a camaraderie, there is a friendship.
Part of what keeps me, keeps us going is being part of that team and working on this.
The other thing is that I have a little bit more leeway than someone like my parents.
And that's just the sad fact of how the media portrays immigration now with the 'good immigrant,' 'bad immigrant' narrative.
This fight has gone on for so long. Do you feel defined by it? Or have you been able to compartmentalise it?
This particular week it feels like it is the only thing that defines me, but that's not accurate for the previous years.
Especially in the 5 years since DACA was announced, I felt like finally there's a footing, there's a foundation, and I just have to keep pushing on it so that there is a permanent solution whether it is the DREAM Act or whatever it is -- so, that I can finally put this behind me.
But this announcement has turned that whole thing upside down.
I am trying to do multiple things -- to sort of be careful of what I say, when I go out, what I do, but also to not completely recoil from the public sphere.
When DACA was introduced you spent a lot of time and effort making the community aware of the program and its benefits. Does that feel a bit wasted now?
Not really, and past of the reason is that -- as we saw with the healthcare debate -- politically, we are in a stronger position.
That doesn't mean that something will get done. Something will only get done if there's enough political pressure on both parties to actually resolve this once and for all.
This DREAM Act has been introduced since 2001 in some form or other.
The times it has come up for a vote (in the Senate; the US Upper House has 100 seats) it has received more than 50 votes (but fallen short of the 60 votes needed to go through to debate).
The only reason it hasn't passed is because of Senators hiding behind the cloture vote ( What is cloture?) because they think that it's tough or it's not the right time.
The goal right now, or the reason that I am speaking out, is that this is a critical moment.
We already know we are never going to get some senators, but the question we now have is for senators and representatives who have been saying yes we want to do this, but now is not the right time.
They have been stringing this along for political reasons for 16 years now.
We are basically saying now is the time to show where you stand. We are hopeful that they will stand with us.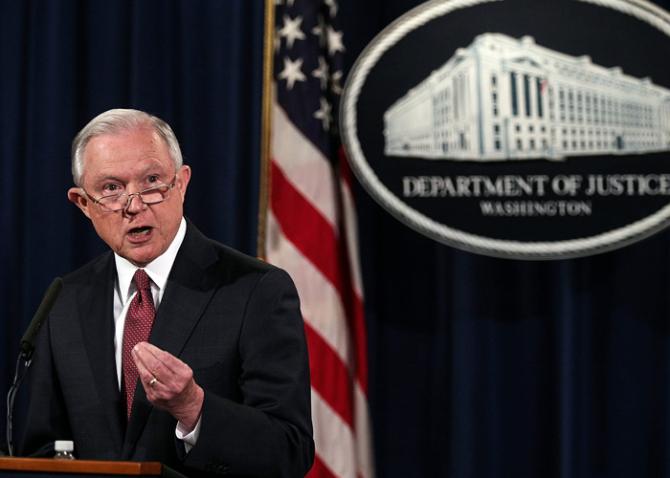 image: September 5, 2017 -- when US Attorney General Jeff Sessions announced that the Trump Administration was ending the Obama-era DACA program.
Photograph: Alex Wong/Getty Images
The US Congress now has six months to come up with a legislative solution to the situation before DREAMers (Who are DREAMers?) lose their place in the US.
Considering it hasn't happened in 16 years, do you think it can happen now?
Obviously, the odds are against it, but I have no other option.
As you mentioned, it hasn't been done in 16 years, so if I was a betting man obviously I wouldn't bet on it.
Our futures are being gambled with by the US Congress.
The best outcome for me is that it passes it, so right now I am throwing everything on the line to make sure that we win this one.
I am going to (Washington) DC for a meeting with Steny Hoyer, the minority whip (assistant minority leader and second highest ranking individual in the minority Democratic party).
We have to make the case to them that even if this means attaching this to their spending bill (A policy rider: what does it mean?) it make sure that it passes both houses then that is what they have to do.
I am not sure what else to do.
People say you have to figure something else out, may be move to another country, but I just don't think I would like to.
Many DREAMers are fighting this fight anonymously. What gives you the courage to make yourself vulnerable by fighting it openly?
I don't know what gives me that courage right now.
I haven't been public for a long time; I have only been public for the past four, five years or so.
It is obviously a huge risk. I don't mention my family, because I do not want to risk any of them.
One of the reasons I am speaking out is because at least in Chicago, in Illinois, I can find you examples of when I have publicly spoken up or when other people who are in a similar situation have spoken up and petitioned elected officials, things have changed.
We are hoping that the same model will apply at the federal level now.
US Attorney General Jeff Sessions tried to run down the DACA program with misleading statements. How are you all combating this aspect of the battle in the post-truth era?
The best way we can demolish it is by sharing our stories.
I think that when we have shared our stories, especially with elected officials who are sort of on the line or who we are trying to win over -- not always -- but most of the time it does work.
They too, to a certain extant, understand that we are making a moral argument.
We have made economic arguments, we have made all kinds of arguments, but I think sometimes the most effective ones have been moral arguments.
That's the argument we are going to make now.
What is your favourite thing about America? What is your American Dream?
My favourite thing about America? That's a tough question.
(After thinking about it for some time) I have essentially built a life here.
This conversation that we are having -- it is very unlikely that I would be in a position to do this if it wasn't for this vision of land of opportunity that people told me about.
My parents early on would say that we haven't been able to do this, but at least your brother and you will be able to.
As corny as that may be, that is something that hits close to home.
The number of people that America is able to take in and change their life in one generation -- I think it's a pretty remarkable thing.
My American Dream right now is to get my citizenship so that I don't have to think about this, and I can finally go on to other things whatever they may be.