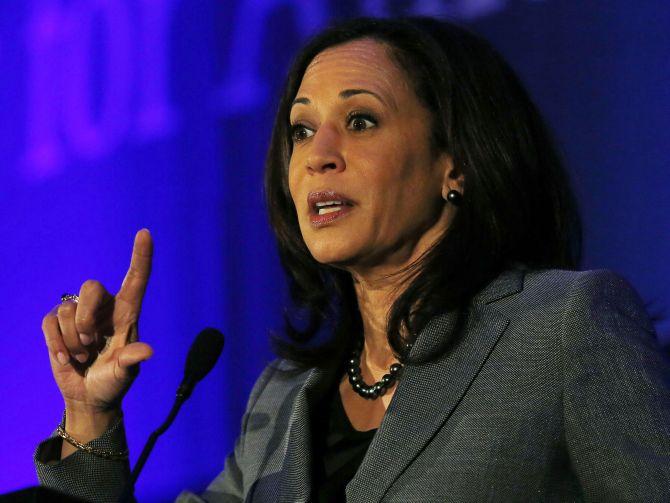 Indian-American Kamala Harris has scripted history when she emerged victorious in the key election for the United States Senate seat from California, becoming the first black and Asian Senator from the state.
Harris, 52, California's Attorney General, is the first Indian-American to achieve the feat.
She defeated fellow Democrat Loretta Sanchez.
Harris is also the sixth black individual to be elected to the US Senate. US President Barack Obama was the fifth black elected Senator.
She is the first black woman elected to the upper chamber in more than two decades, becoming the first Indian-American to achieve the feat. Harris has become only the second black woman in the nation's history to serve in the US Senate.
California had never before elected a black or Latino politician to the US Senate. By electing her, voters tore down a colour barrier that has stood for as long as California statehood.
Media reports showed Harris, a two-term attorney general, was winning by more than 1.3 million votes.
"Kamala will take the oath of office as California's next Senator on January 3, 2017," said the office of the Senate elect.
Her mother Shyamala Gopalan came to the US from Chennai in 1960 to study science, specifically endocrinology and complex mechanisms of cancer.
Harris' father Donald grew up in Jamaica, where he became a national scholar and earned the opportunity to study economics Kamala was born in Oakland, California.
Harris was also the first woman elected as San Francisco's district attorney and the first woman to be elected as California's attorney general.
She would replace Barbara Boxer who announced her retirement in 2014 after serving more than two decades in the Senate.
Described by Obama as "fearless", Harris, who was born in Oakland, California, may push for strong India-US ties.
Considered to be protege of Obama, she is expected to be a fierce advocate of India US relationship.
She headed into the US Senate election with a considerable lead over fellow Democrat Sanchez, whose plan to coalesce Republicans and Latinos behind her could not materialise.
Photograph: Gary Cameron/Reuters