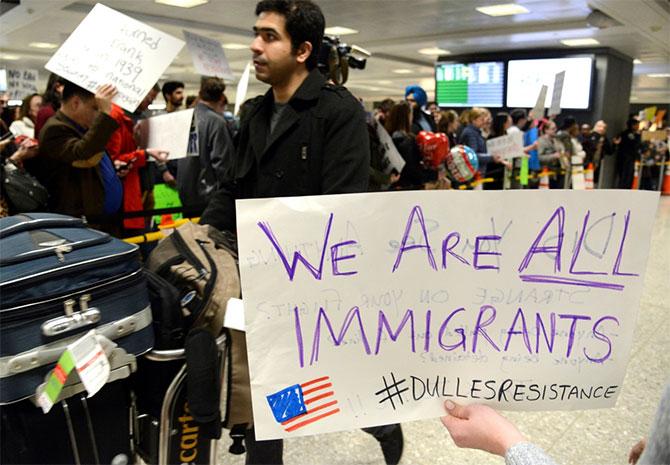 Thousands of people from India, who arrived in the United States illegally as children, are fearing deportation after President Donald Trump's decision to repeal the Deferred Action for Childhood Arrival programme, a South Asian Advocacy group has said.
The number of such people from India, could be more than 20,000, according to an estimate carried out by South Asian Americans Leading Together.
US Attorney General Jeff Sessions on Tuesday announced the rescinding of the DACA, an Obama-era amnesty programme that granted work permits to immigrants who arrived in the country illegally as children.
The announcement, which was anticipated for the past few days, was greeted with protests from across the country.
"Over 27,000 Asian Americans, including 5,500 Indians and Pakistanis, have already received DACA. An additional estimated 17,000 individuals from India and 6,000 Pakistan respectively are eligible for DACA, placing India in the top 10 countries for DACA eligibility," SAALT said.
With the termination of DACA, these individuals could face deportation at the discretion of the administration, it said.
"The President's decision to terminate DACA puts 800,000 individuals at risk of deportation from the only country they've ever called home. Ending DACA is the latest evidence of this administration's utter lack of commitment to our nation's founding values of equality and fairness," Suman Raghunathan, executive director of SAALT, said.
"Our current patchwork of immigration policies and programs is broken, and we demand the Congress does its job to craft a commonsense immigration process that creates a roadmap to citizenship for aspiring new Americans.
"This is the only way to align our immigration laws with the values Americans hold dear," she said.
In a statement, South Asian Bar Association (SABA) president Rishi Bagga said 'DREAMERS' were brought to the US by their parents in hopes of a better life.
'As children, they did not choose to break the law. Most of these young men and women have never returned to the countries of their birth, and many do not even speak the language of their native countries. Rescinding DACA effectually takes away these young people's right to live in the only country they have ever known,' Bagga said.
SABA said when the DACA program ends, the 800,000-plus registrants who relied upon the federal government's representations by coming out of the shadows and willingly shared their information with the federal government will be in danger of deportation.
In the vast majority of cases, DACA recipients who are gainfully employed in a variety of professions, including as doctors, lawyers, and engineers, will be unable to work legally in the United States.
This number includes over 10,000 South Asian DACA recipients, it said.
However, on Tuesday, President Trump said that he has great love for young immigrants who came to America as children and hoped that the Congress would bring in a legislation to help them.
"I have a great heart for the folks we're talking about -- a great love for them. And people think in terms of children, but they're really young adults. I have a love for these people, and hopefully now the Congress will be able to help them and do it properly," Trump told reporters at the White House.
The decision has evoked widespread criticism with former President Barack Obama calling it calling it 'wrong, self-defeating and cruel'.
Hundreds of protesters gathered outside the White House on Tuesday demonstrating against Trump.
The White House has defended the decision to rescind DACA.
"There is a misconception that DACA primarily serves as a shield from deportation. This is misleading. DACA grants work authorisation to nearly 800,000 individuals who are not legally authorised to work. DACA recipients, whose average age is in their 20s, were not an enforcement priority before, and they certainly won't become a priority now," White House Press Secretary Sarah Sanders said.
"The priorities remain the same -- criminals, security threats, and those who repeatedly violate our immigration laws," she said.
Sanders said the main effect of the announcement is that work permits and other government benefits are being gradually phased out.
"No permits will be expiring for another six months, and permits will remain active for up to two full years. The president was elected partly on his promise to deliver meaningful immigration reform that puts the jobs, wages, and security of the American people first.
"He is delivering on that promise every day, and he has put forward serious proposals to Congress that would responsibly end illegal immigration, prevent visa overstays, remove dangerous criminals, protect American jobs and wages," she said.
Responding to questions, Sanders exuded confidence that that the Congress is going to step up and do their job.
"This is something that needs to be fixed legislatively, and we have confidence that they (Congress) are going to do that. And we stand ready and willing to work with them in order to accomplish responsible immigration reform, and DACA is certainly part of that process," she said.
Senator Bob Corker, chairman of the Senate Foreign Relations Committee said the president is right to want this issue to be resolved legislatively.
"Hopefully, while addressing it, we also will deal with a myriad of other issues that need to be corrected with our broken immigration system, including enhancing enforcement and security measures," he said.
Senator Chuck Schumer said most Americans know how heartless this DACA decision is, ripping apart families and telling people who worked so hard to become Americans for years that they now have to leave the country.
"These are folks who were brought here as children, through no fault of their own. They may have known no other country but ours and have voluntarily registered themselves with the government in order to live, work and give back to our great country," he said.
Schumer said 91 per cent of DACA recipients are employed, paying taxes and paying into Social Security.
A study by the Center for American Progress earlier this year found that ending DACA would drain $433 billion from national GDP over 10 years, he said.
"The human and economic toll of rescinding DACA will be far reaching. The Trump administration's action to end DACA is senseless and cruel. California has its eyes on Congress to do what it should have done years ago, but we cannot bank on that.
"So, the governor stands with Attorney General Becerra as he takes our fight to court to defend the Dreamers," California Governor Edmund G Brown said.
House Democratic Whip Steny H Hoyer has written a letter to Speaker Paul Ryan today urging him to allow consideration of amendments to the omnibus appropriations bill on the Floor this week that would prohibit the use of taxpayer funding by the Administration for certain purposes.