'The operation was planned in a manner so as not to alert the terrorists.'
'Every precaution was taken to keep it low-key so as not to alert the terrorists and surprise them and arrest them.'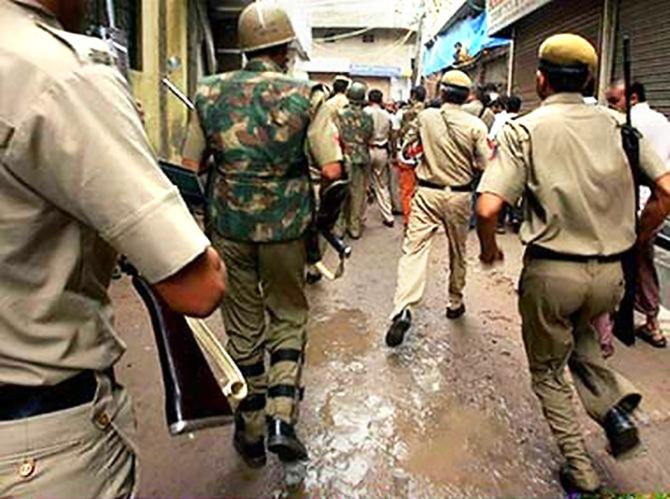 On Monday, March 8, 2021, a Delhi court convicted Ariz Khan, allegedly associated with the Indian Mujahideen terror outfit, for inspector Mohan Chand Sharma's murder in a case related to the 2008 Batla House encounter.
In the final part of an interview with Prasanna D Zore/Rediff.com, retired Indian Police Service officer Karnal Singh, author of Batla House: An Encounter That Shook The Nation, reveals why inspector Mohan Chand Sharma's team did not wear bulletproof jackets when they engaged the terrorists at 108, L-18, Batla House on September 19, 2008.
On the day of the operation, how was the morale of the two teams -- the main team led by inspector Mohan Chand Sharma that would take on the terrorists holed inside Batla House and the back-up team led by ACP (Assistant Commissioner of Police) Sanjeev Yadav -- that were to take on the terrorists at Batla House?
Both the teams had done several such operations before (the Batla House encounter) and so their morale was very high.
They were hoping that they would be able to crack the case, which was very important. The Indian Mujahideen had been doing blasts one after another, but there were no clues (of) who they were.
So, the morale was very high and they knew they were on to something very important.
They had prepared; they had done the recce (reconnaissance) the previous night; they were aware of the terrain; it is a very congested place.
The idea was to conduct the raids quietly. Suppose if there was nobody there then they would have withdrawn equally quietly without anybody noticing that police had come there because at such a place if the police presence is visible, then it doesn't take much time for everybody to know.
The operation was planned in a manner so as not to alert the terrorists. Every precaution was taken to keep it low-key so as not to alert the terrorists and surprise them and arrest them.
If they had even an inkling of the police presence they would have got alerted and escaped from there; they might have then even gone to Pakistan.
So, the team had taken all the precaution.
The second team had the bulletproof jackets and was well-prepared. The first team was carrying small weapons because if you take big weapons, you will be immediately exposed. So, they had taken all the precautions that needed to be taken while conducting an operation of that nature and in those particular circumstances.
Was this the reason why the main team led by inspector Mohan Chand Sharma that entered Batla House at 11 am on the morning of September 19 was not wearing bulletproof jackets?
In hindsight, do you think of this as a lapse, which if it had not been the case, could have saved the lives of inspector Mohan Chand Sharma and head constable Balwant Singh?
It was not a lapse; it was a deliberate decision by the team. And this decision was (taken) because they did not want to alert anybody. Because, you don't know whether they (the terrorists) are there, or, they are not there.
And that's why one of the officers first confirmed their presence by going up there as a mobile phone company executive.
That is the reason why they were not wearing bulletproof (jackets). We must appreciate the (bravery of the) officers, who took this challenge.
Is this a normal practice to go without wearing bulletproof jackets on raids when faced with a similar situation like at Batla House?
All this depends upon the circumstances, locality and area. How congested is the area? What is the terrain? So depends upon area to area and terrain to terrain.
For example, if you were conducting an operation in Kashmir, your presence is immediately noticed (whether you are wearing bulletproof jacket or not).
If you were conducting a search in a house in Kashmir, there is a possibility that there could be a hidden room in the house itself.
So, if you go in such places without a bulletproof jacket, then you are committing suicide because you will be immediately exposed, whether you go there in uniform or you go in plainclothes because you're exposed as an outsider.
However, at other places decision is taken by the team based on situations and there have been many instances wherein raids were conducted without wearing bullet proof jackets by the teams.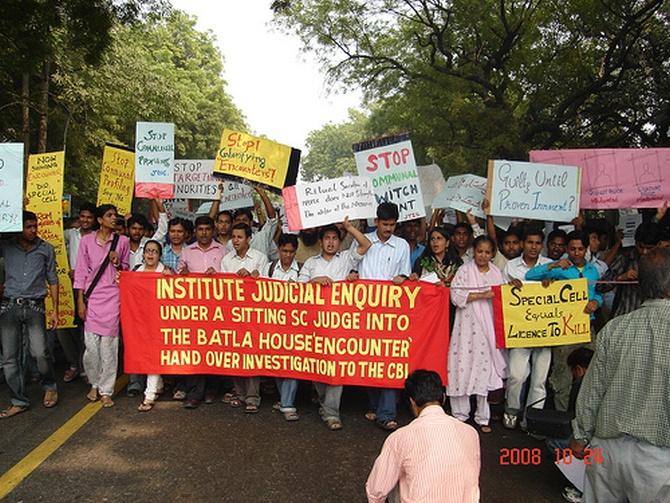 As an investigative officer who was handling such a challenging and sensitive case, did the politics of the time disturb you, or in any way, interfere with the investigations that you were carrying on?
Nobody interferes in the investigation. What disturbs one are the averments made by certain people, without any evidence with them against the (Delhi special cell involved in the Batla House encounter) team and that's why I've written there should be a national consensus on terrorism.
Nobody should speak without evidence and nobody should get away for speaking without evidence and spreading rumours or falsehoods; if this happens then there should be a law to deal with that.
How have the laws enacted in Parliament like TADA, POTA, and UAPA helping India tackle terrorism?
Is there a scope for harsher/bolder laws to deal with terrorism today given that the nature of terrorism has completely changed?
Firstly, I've explained in my book that we had knee-jerk reactions to events and framed laws. If you do not have, for example, laws like TADA, POTA and UAPA, we deal with terrorism under Section 121A of the Indian Penal Code and the Explosive Substances Act.
Then you have the CrPC (Criminal Procedure Code) which is a procedural law. These laws are the best suited to deal with common criminals.
Here we are dealing with terrorists who get terror financing from, and training in, foreign countries. If you catch one terrorist today, the other may not be caught immediately. It may take months together, maybe six months, maybe sometimes one year.
So, laws dealing with terrorism should be more comprehensive to handle terrorism effectively.
TADA (the Terrorist and Disruptive Activities (Prevention) Act) was enacted in 1985 after the assassination of prime minister Indira Gandhi (on October 31, 1984). There were certain allegations (of misuse of TADA) on certain police officers. It was allowed to lapse in 1995.
Then happened the Parliament attack (December 13, 2001). Then POTA (the Prevention of Terrorism Act, 2002) was enacted in 2002 but was withdrawn in 2004. Some amendments were made to the Unlawful Activities (Prevention) Act (UAPA, 1967). And after 26/11 (the Mumbai terror attack), more amendments were made (to the UAPA). Then NIA was formed, which was a very good effort.
I still feel there are certain shortcomings, lacunae, in the way we deal with terrorism.
Could you highlight what these shortcomings are?
We do not have provision of undercover operations. Suppose my officer infiltrates into a terrorist organisation, there's no protection for him in law. Suppose he is caught by another agency, they will treat him as a terrorist and it may be difficult for me to protect him though he has been working for protecting the interests of India. Many countries have these undercover operations legalised; we do not have that in India.
I have mentioned in my book about the D K Basu guidelines (external link; Supreme Court guidelines given in D K Basu versus state of West Bengal -- arrest and detention), they were Supreme Court guidelines, very excellent guidelines to protect normal people caught by the police.
One of these guidelines says that as soon as a person is arrested, somebody known to him must be informed immediately about his arrest.
Now, if you arrest a terrorist and if you inform somebody known to him, his associates get a hint about his arrest and they would vanish, sometimes even to foreign countries and you will not be able to catch them.
Then they may operate from different places; catching a criminal is something else but if a terrorist is not arrested, or escapes, he will kill more people.
So, therefore, there is no provision to hide the arrests (of terrorists) from the general public for a few days so that he is interrogated thoroughly, his associates are located and they too could be arrested. So, certain amendments like these are required.
We also do not have provision of expeditious trials.
Out of all the Indian Mujahideen terrorists who have been arrested since 2008, only two or three cases have been decided till now; they have been lodged in jail at various places and also trials are going on in Gujarat, Karnataka, Rajasthan, Madhya Pradesh, Telangana, Delhi.
So, if a terrorist lodged in a Rajasthan court is not brought to a Delhi court the case against him will not proceed because cross examination must happen in the presence of the accused. It causes delays in finalisation of these cases.
What we could do is we can think of special court for trying terror cases such that blasts may have happened at any place in India, trial would take place only in that court.
In this situation, the issue of not producing the accused in the trial court will not arise (as accused will be lodged in the jail of the state where the special court is located) and unnecessary delay can be avoided.