'Information trickled in that these phone numbers were switched off when there were blasts in Jaipur, Ahmedabad, and at the time of the Delhi blasts.'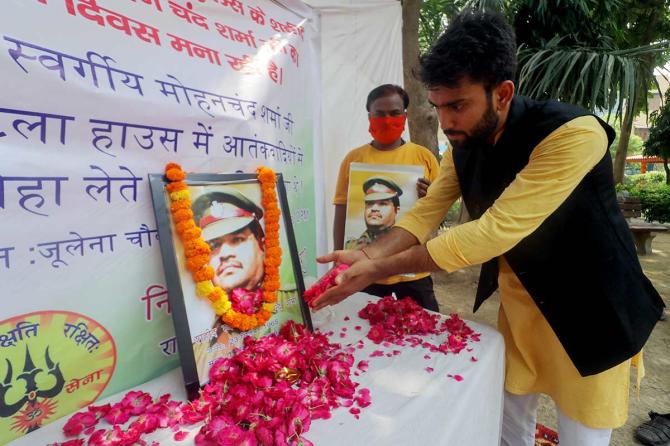 On the evening of September 13, 2008, India's national capital was rocked by five serial bomb blasts that killed 21 people and injured more than 90 people.
Within six days, the Delhi police's special cell then led by Joint Commissioner of Police Karnal Singh had cracked the case and then raided 108, L-18, Batla House in Delhi's Jamia Nagar. Two men were slain, one was captured; two others were later arrested and convicted.
In the September 19, 2008 shootout, the Delhi police lost Inspector Mohan Chand Sharma and Head Constable Balwant Singh.
Twelve years later, Karnal Singh, the police officer who led the operation has come out with a fascinating book -- Batla House: An Encounter That Shook The Nation -- that deep dives into everything that you wanted to know not only about the controversial encounter but also about the lives of the police officers of the special cell whose dedication helped crack the Delhi bomb blasts in just six days.
In the first segment of a three-part interview, the 1984 batch IPS officer, who retired in 2018 as the director of the Enforcement Directiotae, tells Prasanna D Zore/Rediff.com how the Delhi police cracked the case.
How did the idea of writing a book on the Batla House encounter originate? What kind of emotional churn did you go through before you decided to go ahead with writing this book?
One day the special cell officers (of the Delhi police), of the level of constables onwards, had come to meet me after my retirement. While talking, they said that their names appear nowhere (when one discusses the Batla House encounter), nobody knows about them, though, they had worked so hard (to crack the case as well as plan and execute the raid on Batla House).
Then I decided to write about this particular topic, which has created a lot of controversy at that time and even now people speak about it. I decided to project the excellent work done by the Delhi police's special cell.
I also wanted to present the difficulties faced by the special cell or any of the other anti-terror cells in India, or the National Investigation Agency when they investigate cases related to terrorism.
September 19, 2008 when we also lost one of our best officers, Inspector Mohan Chand Sharma.
Remembering what happened that day from morning till evening, it gives lot of emotional pain. Emotional, because he (Sharma) was very close to me. The whole team was in pain at that time.
I met his worried family in hospital that morning; I could not meet him, but I remember the last time I spoke to him was when he gave a call to me before entering 108, L-18 Batla House. That was the last call he made to me.
When I went to the hospital in the morning after the encounter, I could only speak to the doctors and his family members. And when I went there in the evening, around seven o'clock -- I have depicted what was the scene there in my book -- we had lost him. Emotionally, I would say that it was very difficult moment for me.
Could you share your memories of Inspector Mohan Chand Sharma and Head Constable Balwant Singh?
Both these officers were excellent in their areas of expertise.
Inspector Mohan Chand Sharma had done a large number of anti-terror operations in Delhi as well as outside Delhi, including Kashmir, and other parts of the country. He knew his job very well.
In this particular case (the Delhi bomb blasts), there were only two inputs initially. The first input was that the Indian Mujahideen terrorists who operated (executed the serial Ahmedabad bomb blasts and planted bombs in Surat which did not explode in July 2008) in Gujarat had used three phone numbers.
This information was available with everyone; every (intelligence and anti-terror investigation) agency, but Mohan was able to pinpoint a cell phone number in Delhi which came under our radar as a suspected number.
The second bit of information came on September 18 (2008) only from the Intelligence Bureau.
There was a thief caught by the Bombay police who had supplied four vehicles to the Indian Mujahideen, and two of these vehicles were located in the hospitals in Ahmedabad and Surat each with the bombs planted in them.
The terrorists wanted these four vehicles to explode when the injured would be brought into the hospitals by the police or their families and thereby cause huge casualties.
Fortunately, two of these vehicles did not explode in Surat and were found intact. They were found to be stolen from Bombay and the Bombay police interrogated a number of thieves.
One of the thieves confessed to the police on September 18 (2008) that he had supplied these vehicles and he had seen the Indian Mujahideen terrorists who made the bombs and planted the bombs.
And 13 of them (IM terrorists) had gone to Delhi on the same day after planting the bombs in Gujarat (the bombs in Ahmedabad went off on July 26, 2008 and were found unexploded in Surat the next day). So this was the second piece of information.
With these two bits, Mohan Chand Sharma was able to piece everything together.
See, large number of people would be travelling on that day (by the Rajdhani Express in which these 13 IM terrorists were also travelling to Delhi from Gujarat). Where to start our investigation was an issue.
So, we started our investigation saying that if these people were from Delhi or from nearby areas, then there was a possibility that their return reservation would have been got done from Delhi itself.
So when we checked this, we found that 13 people whose return reservation was done from Delhi for that particular day, their addresses were fake. But we could not identify or locate them. So, this was another link.
We were able to find out that these 13 people could be in Delhi, but we did not know who they were or where they could be.
Then I asked Mohan if he could check the location of suspected phone at the time this reservation was made from the Nizamuddin railway station, and surprisingly, the location of this phone number that Mohan had zeroed in on, at that time was also found to be at Nizamuddin railway station.
So, two things got linked at this point. And then this number (which was already under the radar of the special cell), his associate's numbers, they were all examined, and more information trickled in that these phone numbers were switched off when there were blasts in Jaipur, Ahmedabad, and at the time of the Delhi blasts.
We became more suspicious.
Based on this bit, a recce was done by Mohan's team; they located the place (Batla House), and it was decided to conduct searches during the daytime. This was Mohan's brilliance as an investigating officer.
As far as Head Constable Balwant Singh is concerned, he had taken part in many operations along with Inspector Mohan Chand Sharma.
Prior to 18th September, 2008, he was in Kashmir; we had a (special cell) team in Kashmir to get interceptions from there so that if we get some information there, we can work along with the Kashmir police or the (Indian) Army for taking action against the terrorists.
Head Constable Balwant Singh was a very dedicated, very bold, person, and very loyal to his team members. He was coming from Kashmir and he also joined the operation.
What were the most trying times for you as an investigative officer, considering a lot of questions were raised about the genuineness of the Batla House encounter?
I would say the most trying time was when Mohan (Chand Sharma) died. Now the situation at that time was that he had a team which was totally devoted to him.
Emotionally, they were very close to each other. So, putting the team back to work was a bit difficult, in the sense that, because of their attachment, they wanted to be with him (before his death), with his family at that time.
I had a discussion with them at the Holy Family Hospital (in Delhi).
I told them if Mohan would have been there, his whole purpose would have been to follow the leads. I put some people at the hospital and along with others, we started investigating.
Now, surprisingly there were a section of politicians, because there were elections in five states November (2008) onwards, and there were parliamentary elections also, in early 2009, they looked for their vote bank politics and they started making comments on the (Batla House) encounter even without verifying anything.
Some journalists also started spreading rumours.
I'll tell you one rumour which was spread then.
It was about an eyewitness who had seen the whole (Batla House) encounter from his bathroom, and that he could observe what was happening inside the flat and on stairs and what he said according to this media report, that the special cell team went up to the fourth floor (of Batla House), because this 108, L-18 is on the fourth floor. And they (the officers of the special cell) took the people down (stairs) and then they killed them on the ground floor.
After killing them they dragged them up to the fourth floor, and then they brought two more persons from somewhere.
Besides this fake news, the same news item said that Mohan had got three bullet injuries on the back as per the post-mortem report.
The most surprising bit was this news item reported that his own colleague fired at Mohan's back from behind him from a range of a few centimetres. Now, this was very painful to read for anybody.
See, the fact is that this flat (108, L-18) was on the fourth floor. The buildings surrounding Batla House were only two storeys tall. How can one see from a second floor bathroom what was happening on the fourth floor of another building?
If there really was any eyewitness, then this eyewitness would have come to depose at the court or any public hearing. The fact is there was no such eyewitness and this news was a figment of imagination to create sensation.
Then the post-mortem report was also wrongly depicted because Mohan had got only two bullet injuries from the front (not from the back as stated by some media reports) and they were fired from at a distance of more than one foot.
Then there were reports that two of the terrorists were innocent and they never fired at the police. As per the dermal nitrate test -- gun powder has nitrate in it -- when somebody fires, the gunpowder sticks to the person's hand.
The post-mortem of the two terrorists who died at the spot, and who had fired at the officers, their hand wash was sent to the CFSL (Central Forensic Science Laboratory, a wing of the Central Bureau of Investigation that undertakes forensic investigation of crimes and other scientific services), which confirmed that there was gunpowder in the hand wash (of Atif Amin and Mohammed Sajid) confirming that they had fired (at the police).
This whole matter was examined subsequently by the National Human Rights Commission, which too found that the encounter was genuine based on various evidences they went through.
One feels very disturbed that without any evidence, or distorting whatever is available on record, one can go ahead and talk about the encounters (being fake).