'"The end" depends on two things.'
'Either you develop a vaccine which is effective or if you have a drug, you can terminate this infection very quickly.'
'Otherwise, you have to depend on herd immunity.'
'I think it should happen earlier. Far earlier, than we can imagine or achieve 'herd immunity'.'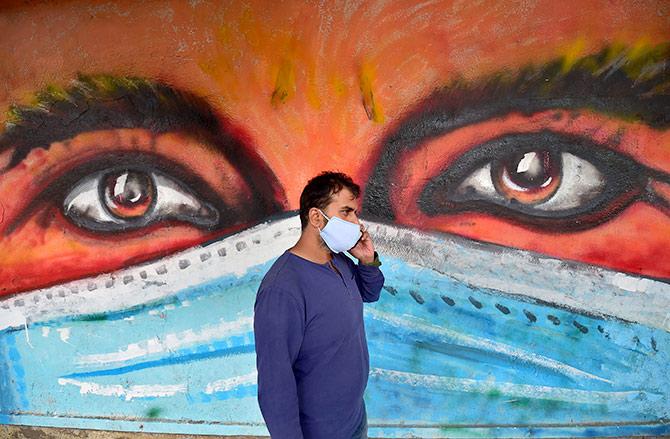 Dr Raman Gangakhedkar, former deputy director, Indian Council of Medical Research and the face of the central government's medical team combating coronavirusm retired on June 30.
The soft-spoken doctor will continue his association with ICMR as the Dr C G Pandit National Chair in Pune.
The narrative of India's mammoth efforts to combat the pandemic and its medical management will be difficult to write without the ICMR's top brass's real-time experiences.
Dr Gangakhedkar was a member of ICMR's crisis management team.
"The lockdown taught everybody in the shortest possible time to how to stop a respiratory infection," Dr Gangakhedkar tells Senior Rediff.com Contributor Sheela Bhatt. The second of a multi-part interview: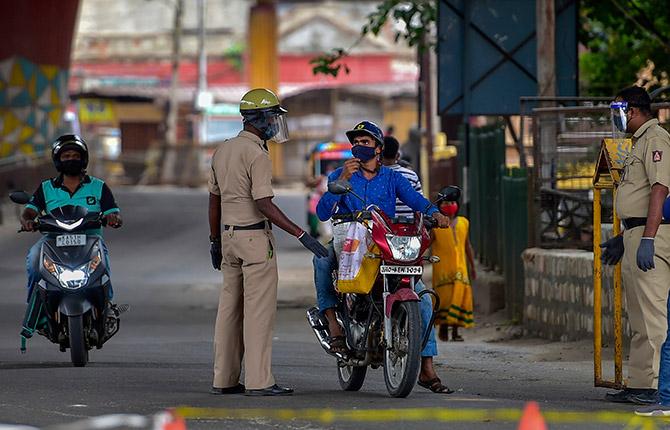 By all yardsticks one can say that the lockdown didn't flatten the curve.
How can you say lockdown has helped?
I said, the moment you lift the lockdown, you should expect that the numbers are going to increase because this is a disease spread by droplets which is not only highly transmissible, its driver is mobility of people.
If I am infected and going to be mobile, then I'm going to transmit infection to others.
So a surge in infections is natural and expected.
You should never compare a few Western countries with India.
Sweden never implemented lockdown, and they are struggling now.
Please don't compare such small countries with India even if you were to talk in terms of Andaman and Nicobar or Goa in terms of population size with them and to add to it the vulnerability related to mobility in and out of the states...
I think the lockdown was a success because far beyond my expectations people followed lockdown rigorously.
See, India isn't China. We should not compare us with China.
If you can implement everything, like what China did using military and coercive measures, outcomes may have been similar.
Ours is a vibrant democracy.
But even if you look at what is happening in China now, despite the very strong lockdown, now the cases are also occurring albeit in small numbers.
I think we as a country actually ensured a delay in the onset of this outbreak.
The way it is occurring rapidly now is far better despite the fact that our vulnerabilities are the highest in terms of population size, huge mobility including that in metropolitan cities and high burden of chronic morbidities.
Just think of Mumbai where the number of people going in the locals with minimum possible physical distance. You would have a huge proportion ending up carrying the virus if there was no lockdown.
We have been able to avert a major disaster for quite sometime. It slowed down the transmission dynamics to a larger extent. However, we still have a long way to go.
See, at so many places things are happening well enough, and at a few places there are serious issues.
But you can't say nothing has been achieved by lockdown.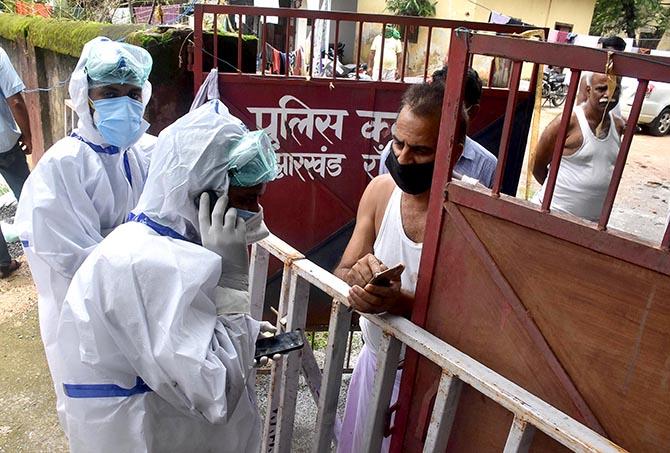 Are you, really, claiming success of the strategy to combat Covid?
Success should ideally be assessed only at the end of the outbreak.
We have slowed down the outbreak to a larger extent.
Lockdown was a new experience for all of us.
The lockdown is like a curfew being ordered across the country.
And the people's expectation was, I have done so much, so many days of lockdown, I am suffering, now at least when it is lifted there should be no new cases.
Just imagine, for a country where the proportion of people who have not been taught or understand basic human biology, leave apart the disease dynamics is so high...
Try and ask them where the ovary is in a woman body or an important organ like kidney. You will be astonished to see that very few will be able to tell it easily.
We have not done adequately in terms of education in science and the basics in health to everybody. Our health literacy is low.
It was the lockdown that taught everybody in the shortest possible time as to how to stop a respiratory infection.
The concept of viruses and how the respiratory viruses or bacteria spread is known to many now.
The ministry also could bring out a promulgation to ban spitting...
You imagine if you were to start a training programme to prevent and control COVID-19 and how many years it would take people to understand the only available non-pharmacologic intervention for adopting them.
If you would try to plead with everybody that please use masks, it would have taken ages to convince people but now almost all are using it.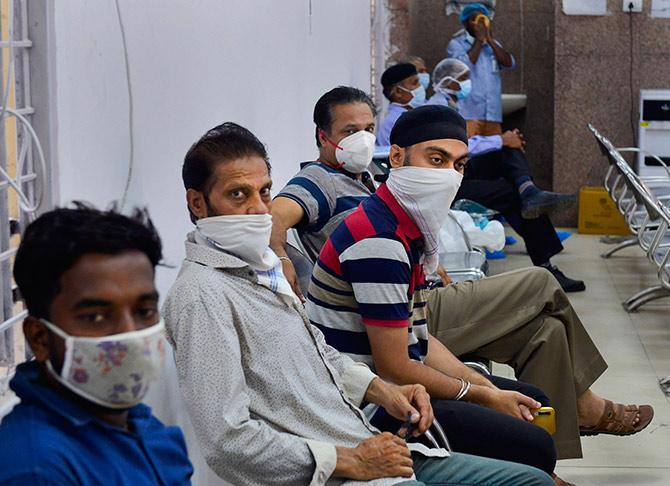 When will COVID-19 end?
When you say 'end', you are assuming the current backdrop that there will be no vaccine, no drug.
Now the issue could be it would end when eventually most of the people acquire this infection a concept described as 'herd immunity'.
This is despite the fact that we don't know how long will this immunity that comes with the infection will last.
We don't know enough about protective immunity after infection because this is only a six- month-old infection that we are continuing to learn...
The world's scientists are putting in their brains in such a short period of time over COVID-19 alone.
In these circumstances, do I think there will be no vaccine, no drug that will come out in the near future?
I am not a pessimistic individual.
I don't think it would appropriate to assume that all of them will fail in finding out any new, effective, intervention.
And everything will rest with God.
It is only six months into the infection and we have almost a hundred groups researching vaccines.
There are some which are going in Phase II human trials.
India has two vaccines that are going to go into phase I/II human trials soon.
Additionally, many scientists are working on new chemical entities or drugs.
So 'the end' depends on two things. Either you develop a vaccine which is effective or if you have a drug, you can terminate this infection very quickly otherwise you have to depend on herd immunity as a concept.
It is a defeatist attitude to say that I would wait for herd immunity to take place and only then will I declare it as ended.
I think it should happen earlier. Far earlier than we can imagine or achieve 'herd immunity'.
Only time will tell...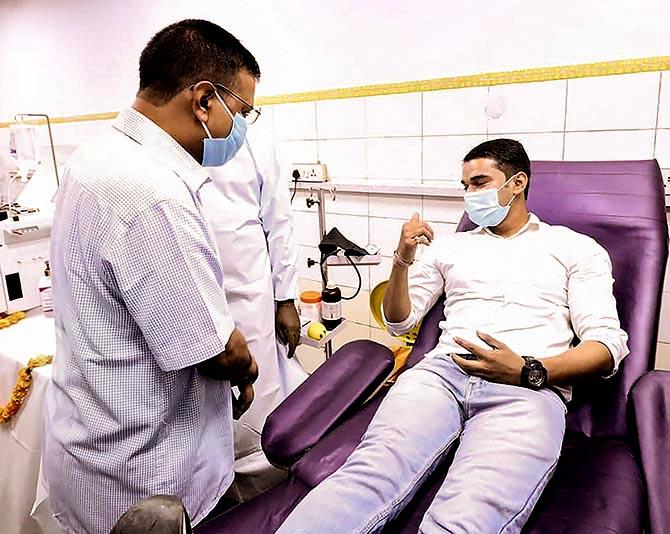 ICMR has recommended hydroxychloroquine.
There are antivirals, plasma therapy etc... Which is more effective and successful?
I think HCQ will be out of vogue in a short period of time.
I come from an HIV background.
There, I remember untested 'magical' remedies allopathic or AYUSH ones were the first things that people tried in different ways.
But when you start using some untested remedies and you want to withdraw them, you must have either adequate evidence to say this doesn't work, or you should have some agent or some medicine which is known to work better than this.
Only then you can keep on shifting your position.
And this is what is precisely happening now.
ICMR gave permission to use in an emergency, Remdesivir.
Even if it is helpful in reducing hospitalisation by four days, the data on efficacy is yet to be available.
The Drug Controller General of India has allowed it for Emergency Use Authorisation in the absence of any effective medicine...
With respect to hydroxychloroquine we did a case control study to find out whether it can perhaps prevent the infection.
The studies assessing efficacy of HCQ as a treatment modality found it to be toxic and not efficacious.
I continue to believe that quality supportive care continues to be the better bet which includes high flow nasal oxygen, ventilator etc as and when required.
The data on the Russian drug Avifavir (Favipiravir) is yet to come into the public domain.
Russia has given only a news item which that they tweaked the original Japanese molecule to some unknown extent.
Their Favipiravir is different than that is described from Japan, if we believe the news report.
But they haven't informed what they have done, what is its organic structure or how it has to be produced...
There was one clinical trial conducted by one of our Indian manufacturers. The results of which are yet to be made public.
Maybe at the end of one year, we would have a different kind of discussion where you might say how successful science was.
Feature Production: Ashish Narsale/Rediff.com