'We need to prove to the world that quality vaccines and R&D are possible in India.'
Dr Krishna Ella, chairman and MD, Bharat Biotech, is the man of the moment.
Bharat Biotech has developed India's first indigenous COVID-19 vaccine, Covaxin, in collaboration with the Indian Council for Medical Research and the National Institute of Virology.
The vaccine has secured the Drug Controller General of India's approval for human clinical trials.
As the company gets ready for clinical trials, the scientist turned serial entrepreneur spoke exclusively to Shobha Warrier/Rediff.com about the challenges of developing a vaccine for COVID-19.
"It will be extremely gratifying to see if the role we played makes India proud," says Dr Ella, below.
When I spoke to you in 2011, you had said, 'Public problems do not figure in academic research in India. On the other hand, whenever there is a public problem in the US, scientists' research moves towards the disease and the problem.'
Is the situation still the same in India, or has the pandemic triggered academic research in India?
There has been good progress in the public-private partnerships within India.
Bharat Biotech has worked with many Indian institutes in the recent past to successfully develop several vaccines which have shown great acceptance.
For example: Rotavirus vaccine -- ROTAVAC™ -- the strain was obtained from AIIMS, Delhi; Japanese Encephalitis -- JENVAC™ -- the strain came from NIV, Kolar; SARS-CoV-2 -- COVAXIN™ -- from NIV, Pune.
Research on a vaccine against coronavirus has been going on at a hectic pace all over the world. How did your R&D team produce a vaccine?
We are simultaneously working on three different vaccine projects, and one monoclonal anybody project.
As we do in all our previous projects, we have taken it very seriously to follow all global standards to ensure the safety and efficacy of any vaccine in the lab and later clinical studies.
Our R&D and production teams have been working endlessly these last two months to ensure a good outcome for COVAXIN™.
The partnership with ICMR and NIV, Pune, was instrumental in creating this vaccine.
Now that the vaccine is ready for phase 1 and 2 clinical trials, how will you look back at the days till you reached this day? Were there sleepless nights, or have you always been excited?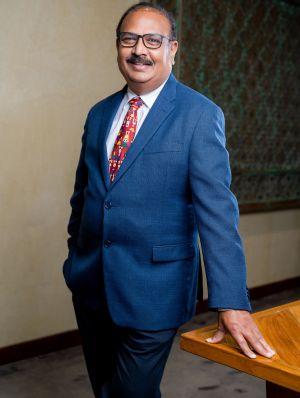 There were many sleepless nights, to ensure that we produced a safe and efficacious vaccine!
Vaccines are given to healthy subjects, as human safety is paramount.
That being said, we are extremely excited about COVAXIN™ and hopeful for a positive outcome in the trials.
It will be extremely gratifying to see if the role we played makes India proud.
The first vaccine you developed was for Hepatitis B. You told me that the price of the vaccine was Rs 4 per dose, and that you had supplied 35 million doses for the national immunisation programme to the Government of India at a price of Rs 10 per dose.
You had also supplied 10 million doses to Pakistan, to UNICEF and also to Latin American markets.
Similarly, if the COVID-19 vaccine succeeds in clinical trials, will you look at supplying the vaccine to all without bothering about profits?
It is too early to speak about the cost of COVAXIN™. We have stopped manufacturing one of our vaccines to develop COVAXIN ™ and the financial and technical investment is large. We are committed as a company to work towards benefiting public health and have always strived to provide affordable vaccine solutions for the world.
Both the Imperial College and the University of Oxford have begun clinical trials on COVID-19 vaccines. Is your aim to come out with a vaccine before them?
We aren't trying to compete with anyone. The competition is to battle COVID-19. I wish the Oxford and Imperial projects well and hope they succeed.
The world needs multiple vaccines and we aim to be one of them.
How has the response been to get volunteers for the trial?
The response has been very good. Many are ready to come forward to participate, and this is very heartwarming to hear.
Science will benefit greatly if there is more awareness and acceptance of such projects in the future.
How big will the success of the vaccine be for your dream project, the Genome Valley, the world-class biotech cluster in Hyderabad?
As you know, Bharat Biotech is the first company of Genome Valley.
I will consider it a big success for science in India. We are good at manufacturing but we need to prove to the world that quality vaccines and R&D are possible in India.
You had told me, 'I am an entrepreneur and I look at the problems Indian society faces and then convert that into a business opportunity.'
Did you look at the pandemic as a problem the world faces or a business opportunity?
Definitely, the pandemic is a world problem. It has not spared anyone and all countries are facing the same challenges.
We must unify and pool in our resources to combat COVID-19. It is very nice to see it being done through various collaborations in the scientific world.
*Kindly note the image has been posted only for representational purposes.