'There is no holistic picture of our own goals and objectives.'
'For some inexplicable reason, the decision makers find it best to listen to their inner souls in dealing with these issues rather devising a carefully thought-out, structured plan,' says Vice Admiral Premvir Das (retd).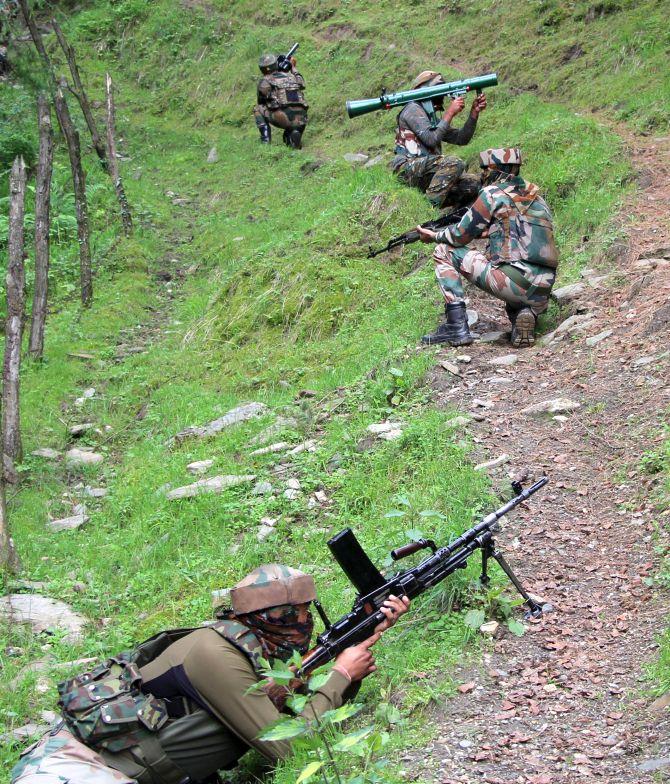 'It was the best of times; it was the worst of times' were the words with which the classic A Tale of Two Cities began. Something not very different seems to confront us in India today.
On the one hand, we have a well-established and popular leader with an unmatched following promising to lead his country to growth; even demonetisation, painful to everyone, will ultimately bring hitherto undisclosed wealth to account.
On the other, many, purporting to be his followers, decry everything modern or remotely developmental.
So, what is happening is a question that might well be asked.
But this is not about politics. It is about some harsh truths which should be a matter of concern to all thinking Indians, as they can have adverse repercussions on the nation's integrity, stability and security.
For one, we had a well-known militant leader killed by security forces in Kashmir with thousands of people thronging to his funeral, not all under threat.
Elections for a Lok Sabha seat are held in Srinagar, and less than eight per cent of the electors turn up to vote; in the subsequent re-poll in some booths, just 700-odd out of 40,000 turn up.
A second by election to be held in Anantnag is postponed because law and order cannot be maintained.
People hurl stones fearlesslessly at the paramilitary forces; army and air force stations are attacked.
A young army officer has to have a man tied to the front of a vehicle to enable his contingent to negotiate a hostile crowd.
Deeper inside the country, more than two dozen CRPF troopers are easily shot up by a band of Maoists (not possible without local support) and their weapons snatched.
If all this is not the truth and only misinformation spewed out of air-conditioned rooms, as some allege, then something really is amiss.
On a different plane, the security scenario around the country is becoming increasingly threatening.
The Chinese, for one, are far more assertive if not aggressive when dealing with our country. It is not the first time that the Dalai Lama has visited Tawang, but China's media, some of it reflecting its government, has gone all out to spew venom, even calling for 'a blow for a blow' and warning of instigating problems for us in Kashmir.
This kind of rhetoric has not been heard for quite a while. That country has also consistently refused to accept Masood Azhar as a terrorist even as other members of the United Nations Security Council have. Similarly, China has opposed our membership of the Nuclear Suppliers Group.
China is now supplying military hardware to Pakistan, aimed at enhancing its capabilities versus India. There is occasional talk of cooperation, but the effort is to ensure our containment.
Its naval forces including nuclear submarines are already deployed in the Indian Ocean, where it is setting up facilities in Gwadar and Djibouti, from which such operations can be further enhanced and for sustained periods.
Clearly, the developing situation is ominous and we can afford to treat it lightly only at our cost.
Even otherwise, the situation in our neighbourhood is not satisfactory. Hambantota port, in Sri Lanka, is now being managed by a Chinese company, as is Gwadar.
Several thousand marines are expected to be stationed at the latter port as, indeed, in Djibouti.
The China-Pakistan equation is taking a new and potentially anti-Indian context, with the China Pakistan Economic Corridor directly recognising Pakistan occupied Kashmir (through which it passes) as territory belonging to Pakistan.
In this perceptible change, India's flexibility in dealing with Pakistan has become circumscribed.
With serious American pressure on that country not a realistic possibility, apart from some homilies off and on as seen recently during its national security advisor's visit, there is nothing substantially advantageous that we might expect.
Further away, our interests in Iran are also unlikely to gain momentum with the kind of pressure that the Donald Trump administration could bring to bear upon that country.
In this troublesome scenario, Bangladesh alone seems to be a redeeming factor, even as it has received two submarines from China.
Nepal, presently benign, has recently conducted a joint military exercise with its northern neighbour.
Our responses to this worrisome scenario at home and abroad remain undefined.
To cope with the latter, we are seeking closer ties with the United States and Japan.
This is desirable even though for both, the trade relationship with China is hugely important and even though their geopolitical interests may not be co-terminus with the Chinese, a relationship bordering on 'cooperation with contestation' is likely to pervade the relationship; this does not leave India with much wiggle room.
Russia, a country with which we have had a close relationship for decades, and which helped us indirectly in creating Bangladesh, is now pretty closely engaged with China.
There is no holistic picture of our own goals and objectives, of what comes in their way and, therefore, of the courses that need to be charted to navigate safely.
For some inexplicable reason, and despite having many institutions which can help in doing so, the decision makers find it best to listen to their inner souls in dealing with these issues rather devising a carefully thought-out, structured plan.
The position at home is worse and even scarier.
The guiding theme is the use of force to resolve situations which themselves do not arise out of force.
If every act of militancy in the Kashmir valley is ascribed to Pakistan, there should be a policy to deal with that country.
Either force should be used or negotiation, but to not do anything cannot be strategy; if the problem is more local, then talking to our own people is the only alternative.
Unless there is a thought process, the numbers of our 'brave hearts' will keep increasing.
The army can deal effectively with Pakistan, but cannot neutralise its own people.
The more it tries to do this, the less in awe of it will the populace be.
These are not the best of times.
Vice Admiral Premvir Das (retd) is a former Commander-in-Chief of the Eastern Naval Command. He has been a member of the National Security Advisory Board.
IMAGE: Indian Army soldiers on the look out for terrorists in Nowgam, north Kashmir, May 20, 2017. Three jawans and four terrorists were killed in the encounter. Photograph: Umar Ganie for Rediff.com