Recent events underscore the belief that wealth and politics go together. You have wealth and so get into politics. Or, you are in politics so naturally accumulate wealth, writes Mahesh Vijapurkar.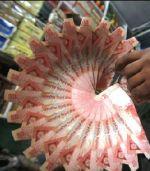 A recent under-reported piece of news was this: Rajya Sabha member Vijay Darda -- newspaper baron, who also got coal allocations and is now under the scanner -- got a call from someone claiming to be Goa's former chief minister Digambar Kamat. He was asked to provide Rs 34 lakh for someone's election expenses. According to an FIR registered, he realised he was conned after he had handed over the money to the caller, since arrested, "a man near Sasoon Hospital in Pune".
Simple but startling, especially given the fact that a phone call from one politician to another can enable such swift and easy movement of cash, despite total strangers being involved in the transactions. Apparently, such sums would not be handed over in such fashion unless it was par for the course. This is what -- when used for elections -- makes elections expensive, fuels further corruption, and keeps the other well-meaning citizens out of reckoning in politics.
It is normally assumed, and not incorrectly, that politicians are rich. They are rich enough to get into it by oiling their way with cash, or once they manage to get elected because of other reasons, soon accumulate more wealth. The affidavits filed with the Election Commission when filing nominations indicate the level of their wealth, which only grows at each subsequent election.
Nowhere do we get to know where the money comes from. And no one is asking -- not the income-tax department, not Election Commission. And the presumption is that the assets we get to know about are only the declared, not the actual. People who can transact huge cash flows must be having another set of assets we will never come to know about.
Time all that is changed.
Standing on technicalities, hiding behind rhetoric, saying that principles of natural justice need proof prior to accusations etc does not and will not wash with the public. They know that the worst offenders hide behind the law books. They know that the corrupt official machinery can never nail one of their own. They may be going through the motions of going after an exposed culprit, but that is about all.
In the context of Robert Vadra's land deals and his unexplained relationship with realty major DLF, a question is being asked: why do politicians seek and gain so much of wealth? The context is not misplaced. Vadra is after all the son-in-law of the Congress president Sonia Gandhi and hence in the line of succession in the Nehru-Gandhi Family, or more precisely, Indian prime ministership. During the Uttar Pradesh elections he had said he may join politics. In 2010, he had said he would "if he could make a difference".
Now he knows he does: look at the long list of defenders who stepped up and said Vadra was being needlessly attacked by Arvind Kejriwal. Everyone without an idea of what he was up to certified, in their stout defence, that he was clean. But, ironically, it happens that he cannot make a positive difference to any party, including the Congress. That is their misfortune.
This underscores the belief that wealth and politics go together. You have wealth and get into politics. Or, you are in politics, so naturally accumulate wealth. Even if you are on the fringes of a powerful family, you can. It is axiomatic in India. And when you bring in a dynasty, something so endemic to the country, with the Nehru Gandhi Family being the top-most in the food chain, it is such a given that we have stopped being surprised about it.
But the question remains: why do they need so much?
Because, everyone wants more and more, so much that even business leaders do not want to share a part of their wealth even for charity even as they talk about how concerned they are about progress and the trickledowns but not letting a drop drip out of their pockets. There are exceptions -- Wipro's Azim Premji, Infosys's Narayanamurthy and Nandan Nilekani; they have given, but quietly.
Politicians have only taken, and if there is anything that has been given out, they are a whole lot of pie-in-the-sky promises. Vote and in return you get this, vote and get that. That seems to be a period when all politicians' black money -- their own and what they can access from supporters -- flood the country.  Mostly to buy votes. No single event brings out the moolah in one go.
This gluttony for money is unabashed. At every turn, there is perhaps the 10 per cent which oils someone else's business -- a licence, a protection, even a partnership, which in the last mentioned case, would be of a higher proportion. Often, it is a sleeping partnership which means about a third of the profits a businessman makes in his constituency.
The 2G scam, the CWG scam etc have only indicated that the country had hitherto underestimated the quantum swallowed up by the corrupt. The cornering of a flat for favour in Adarsh building in Mumbai, for instance, despite the headlines it helped blazon, was only petty change. As they say in Hindi, haath ka mayil -- the dirt on the palm, too insignificant to merit even a second thought. One just washes it off.
Apart from the public offices they hold, wealth helps them show off that they have arrived. And if that wealth does not keep pouring in, it means the politician's validity is on the wane. Striving is therefore the required thing. To keep it coming, one has to keep winning elections, ensure the coterie keeps winning. And often, what is shared is not from their personal purses but what has been looted from the government coffers. And ensure a cut from that too.
That explains why the constable on the street takes a bribe. It goes upwards. That explains why a small engineer on a critical job has his patrons to keep in good humour. That explains why the public distribution system's owner of an outlet cheats the poor of his rice, his wheat, his kerosene. It has to be shared, the flow being anti-gravitational: upwards. Everywhere, deals are made; even to get plum postings because such 'good' postings yield cash.
Mahesh Vijapurkar is a Thane-based commentator who takes the commoners' views seriously