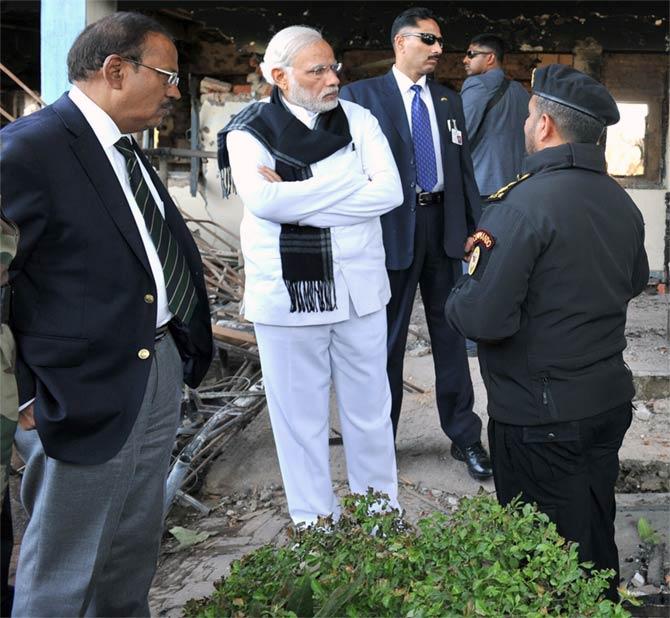 IMAGE: Prime Minister Narendra Modi and National Security Adviser Ajit Doval at the scene of the encounter with the terrorists at the Indian Air Force base in Pathankot January 9. Photograph: Press Information Bureau
The army and more recently the navy have set up dedicated intelligence branches. It is surprising that the IAF, where real time and timely intelligence is most vital for effective and safe prosecution of the air war, has still not done so, says Group Captain P I Muralidharan (retd).
The terrorist attack on the Pathankot airbase is bound to throw up some vital lessons once all the announced inquiries do their job. At this juncture it appears that the collection, analysis and dissemination of local intelligence were weak areas.
The Indian Air Force for one needs to rethink the entire gamut of how it gets its tactical/operational intelligence during peace and war and how this vital requirement gets factored into the IAF doctrine as well as Key Result Areas for our base commanders.
Anything left to chance or to corruption-ridden agencies such as the state police organisations would lead to more embarrassing vulnerabilities in the future for the service and the nation.
While the existing intelligence procurement process at the national (or grand strategic level) is time-tested, operating as it does through the Intelligence Bureau/Research and Analysis Wing inputs dovetailed through state level and international inputs through the National Security Council, the continuous monitoring, analysis and factoring of ground level 'local intelligence' needs urgent attention. This is even more so because of the morphing undergone in the threat spectrum in recent times.
It is not that systemic mechanisms do not exist for this, but these have been too diffused and rather generic over the past several years.
At Pathankot itself during the 1971 war, a cobbler was apprehended outside the gate who was transmitting real time information on fighter aircraft take offs (from the sound of jet engines) on a wireless set to his handlers across the border. A similar incident occurred during the Kargil war in Awantipura in the Srinagar valley.
Air operations by their very complexity, nature and speed are more vulnerable to such intelligence goof ups or snafus especially at the launch base level, with obvious adverse impacts on mission accomplishment and safety.
The newfound threats to the IAF's operational stance from the cyber/social media regime are indeed playing out now, what with the arrest of a technician from Bhatinda who had been allegedly 'cyber honey trapped'! The need to constantly watch over disgruntled or vulnerable elements at the station level has never been more important.
In the past a squadron commander or station commander was expected to 'feel the pulse', so to say, through informal social contact and perhaps even through unofficial informants, but over time this requirement may have been 'eye off the ball-ed.'
The new dangers from close proximity of civilian infrastructure to airbases have not been understood seriously. It is not without reason that down the ages the military has traditionally been garrisoned or cantonmentalised.
Proximity to civilian facilities, entertainment centres and media offer new avenues for the young air force recruit to give in to anti-national temptation. The only way to ensure that this trend does not adversely impact security of information and physical security are through professional monitoring, surveillance, cyber snooping, local contacts/sources and other tools of intelligence fieldcraft.
The IAF needs to bolster its tactical intelligence gathering and timely dissemination through proactive local targeting of assets and the cyber domain.
This can best be achieved by having a dedicated bunch of professional intelligence operatives at all levels of war -- tactical, operational and strategic. A dedicated air force intelligence branch may well be the answer.
Administrative considerations
The flying branch in the IAF was called the 'general duties' branch. A flier was expected to be a jack of all trades, being assigned to air traffic control, fighter controlling, pure administration, security, intelligence, flight safety duties at the field level.
A hilarious misadventure some decades ago was a directive for fighter pilots to undertake 'cloud flying' on transport aircraft to bring up their instrument rating requirements!
Over time not only has the flying branch itself diversified into specialist sub-branches such as fighter, helicopter, transport, navigator/weapons systems operators etc, but we have specialist officers for every aspect of aerial warfare, such as administration, Garud, air traffic control, fighter control, aeronautical engineering (mechanical and electronic), medical and legal.
There are specialised 'other rank' cadres in each of these branches for support tasks, whilst the officers lend directorial/conceptual guidance.
The Indian Army and more recently the Indian Navy have already set up dedicated intelligence branches. It is surprising indeed that the IAF, where real time and timely intelligence is most vital for effective and safe prosecution of the air war, has still not done so itself.
Convincing the government and catering for career progression, monetary incentives, deployment at tactical/operational/strategic levels etc are not Herculean tasks, given the expected positive fallout of the measure.
Services of the civil consultancy services may also be commissioned, if required, to obtain more in depth studies into what would be the pros and cons of setting up a new branch. As far as career progression is concerned, vacancies at higher senior levels in the service itself may not be necessary should lateral mobility into other government organisations such as IB, R&AW and the National Technical Research Organisation be considered.
The IAF may have suffered over the years from lack of frequent cadre reviews or quadrennial defence review or the like as the Americans undertake. Any organisation, especially a military one, demands constant reviews of its cadre, operational doctrines and force structures. Not doing so would indeed be at great cost to operational efficiency and national security in the long term.
Whilst the jury is still out on whether there were any lapses at the field level in the Pathankot fiasco, calling in the National Investigative Agency to conduct an inquiry, I believe, is a gross failure of the leadership in the IAF at the highest level.
How can an investigative police organisation do a performance audit of a military installation?
Outside the airbase events maybe, but how will they comment on failings in ground defence within the airbase? The outcome of this inquiry is bound to be suspect. The IAF needs its own soul searching and correctives.
Training aspects
Presently the station/command/intelligence staff are seconded from other branches. There is perhaps no selection as such and even the in-service courses are routine and not sought after. We need to reorient our intelligence from recruitment upwards.
Training syllabi at IAF training institutions would need suitable adaptation by cooption of existing regimen (including aspects such as the boot camp) from agencies such as the R&AW/IB, the National Police Academy, the Border Security Force, and other world air forces.
Training should involve realistic intelligence exercises and 'tele battles', followed by suitable on the job training with sister agencies and different levels in the IAF itself. These are once again not difficult to put in place.
Suffice to say that once the requirement is accepted and approvals obtained from the government there would be an inevitable gestation period for results to show on the ground. Time cannot be wasted over this key requirement any longer.
Counter intelligence
At the field formation level as well as at command/air HQ levels the need for an effective counter intelligence effort needs emphasis.
A case in point is the advancements in mobile phone technology in recent times. It takes but a few seconds for a trouble maker to transmit text/images of important air aspects to a hostile quarter.
This is the reason why even advanced entities such as NATO, the US/UK militaries have imposed embargoes on the use of cell phones in office premises, including at their embassies worldwide.
I do not think we are that circumspect in all our government officialdom, about the vulnerabilities if mobile phone technology or the dangers of social media.
In the business of intelligence traditional SOPs often give results than fancy ones. The vital man behind the machine needs to be constantly watched for any adverse traits/lapses and corrective action taken. This can only be done through a professional counter intelligence organisation.
Set ups such as liaison units and provost & security flights may have seen their good days, but are in dire need of upgrades. A dedicated bunch of IAF officials manning such outfits would go a long way in getting the desired results. Needless to say, this effort has to be under the local IAF commander.
Presently, we also have some wireless experimental units under the army's ambit and whose inputs trickle down to IAF users much too late.
The only answer is to have such monitoring, direction finding and cyber monitoring facilities at the IAF field level. Besides, station authorities need to have their fingers into public call offices and cybercafes in the vicinity of their stations.
Technology spectrum and air force leadership
The IAF is a technology-intensive fighting service. The local commander is expected to marshal all his resources for prosecuting the air war, during peace or war. Thus also entities such as UAVs, helicopters, local radars need to be optimised to give him the best inputs intelligence wise.
Such dynamic leadership criteria need emphasis at various levels of officer training and the professional in-service training milieu.
A dedicated station/command intelligence officer, trained in all aspects of an intelligence operative-cum-targeting officer rolled into would go a long way in assisting with critical intelligence tasks at the field level.
Besides, when one looks at the entire spectrum of military leadership challenges at the air station level, the emphasis on key policies such as choosing commanders with proven track record across assignments need emphasis. Command tenures may perhaps need to be increased if need be to provide more experience and tenure stability to commanders.
And, of course, the system needs to come down hard on those who do not deliver operationally during peace or war.
The vastly widespread 24/7 media attention on all national matters and especially those pertaining to defence, behoves the Indian armed forces to ensure accountability at all levels for any operational failure.
The higher leadership need backbones to stand up to unreasonable demands from senior government functionaries such as the national security advisor or the defence ministry.
With the increasing trends towards integrated defence forces, the probity on matters military would increasingly make life difficult for service headquarters to explain away non- performance.
The day is not far off when senior defence functionaries would be called upon to testify on events in Parliament. Our own backyard has therefore to be kept clean, providing assurance to the political masters and the general public at large that the nation always gets 'the bang for the buck.'
Only then can we articulate our rights for issues such as the one rank one pension with a broad chest.
A dedicated air intelligence branch would be something the IAF needs to weigh in on.