'If this were to happen, it won't exactly be a game changer because Pakistan is known for treating arrested terrorists as 'political prisoners', who are generally given VIP treatment,' says Rajeev Sharma.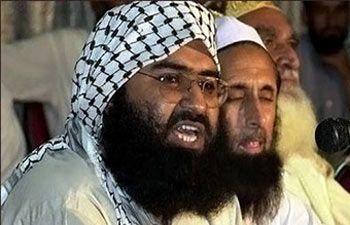 Is Pakistan going to act, and act big, to satisfy India and keep the talks momentum going?
Will Pakistan arrest the prime movers and shakers of the Pathankot terror attack to keep India engaged and continue the talks-for-the-sake of-talks business with Pakistan?
Well, the indications emanating from Pakistan to India are rather positive.
Pakistan is believed to be seriously considering detaining or arresting several people, including Jaish-e-Mohammed chief Maulana Masood Azhar, to save the foreign secretary-level talks between India and Pakistan.
The talks are scheduled to be held in Islamabad on January 14-15 and there is no official word from India yet if Foreign Secretary Dr S Jaishankar will travel to Pakistan for kickstarting the stalled peace process.
India has linked the future of these talks to Pakistan first taking concrete steps to assuage Indian feelings in wake of the Pathankot attack.
Chances are that Masood Azhar may well be arrested or detained by the Pakistani authorities to keep India interested in talks.
It will definitely be a big moment for India if Pakistan were to put Masood Azhar behind bars. If this were to happen, as indeed it is likely to happen, it will keep the bilateral dialogue process alive.
However, India also knows in its hearts-of-heart that such a scenario would only be window dressing even if the move were to come true in the first place. But this window dressing should be enough for India to keep the dialogue process alive and settle down to a working deal kind of a scenario with Pakistan.
The Modi government is expecting such a move from Pakistan -- arresting Masood Azhar -- in the next 48 hours. Should this happen, India may agree to play ball with Pakistan and send Dr Jaishankar to Islamabad either on the scheduled date or a slightly deferred date.
But if this were to happen, it won't exactly be a game changer because Pakistan is known for treating arrested terrorists as 'political prisoners', who are generally given VIP treatment.
Besides, such a move will make India vulnerable for yet another high profile terror attack.
The Pakistan government is under tremendous pressure to do something tangible and do it fast on the Pathankot incident as the international community is watching it closely.
Prime Minister Narendra Modi has invested huge political capital in improving relations with Pakistan as evident from his surprise visit to Lahore on Christmas Day.
Having come this far and letting things go back to square one will be a personal loss of face for Modi. His Pakistani counterpart Nawaz Sharif is in the same boat.
It is quite obvious that the political clearance for arresting Azhar would have to come from Rawalpindi, where the Pakistan army headquarters is located.
The Pakistan government will find it hard to let the resumed dialogue process fall through. This may make Islamabad take some hard decisions, like arresting Masood Azhar.
The ball is in Pakistan's court. The next big move has to come from Pakistan. It is for Islamabad to decide how to respond -- by arresting Azhar or by choreographing yet another terror attack on India.
Ironically, this scenario is rather conducive to India and presents New Delhi with the 'Tails I win, heads you lose' kind of situation. After all, it is India, which currently enjoys an upper hand diplomatically with Pakistan.
The international community won't exactly be hauling India over the coals should it cancel the foreign secretary-level talks. The fact that India hasn't done so thus far adds to the diplomatic pressure on Pakistan.
It is Pakistan, not India, which is set to pay a diplomatic price this way or that post Pathankot. Pakistan runs a serious risk of losing out heavily to India if it were to drag its feet on ordering a crackdown on its own terror apparatus.
Rajeev Sharma is a New Delhi-based independent journalist and strategic analyst who tweets @Kishkindha.