'One does not understand why you should launch your attack against the Constitution, against Gandhiji, against the Left and Congress regimes at a moment when the Hindutva regime needs such attacks against them.'
'By doing so, don't you think you are playing into the hands of Hindutva forces?', Mohammad Sajjad, who teaches history at Aligarh Muslim University, asks Sharjeel Imam who was arrested on charges of sedition on Tuesday, January 28.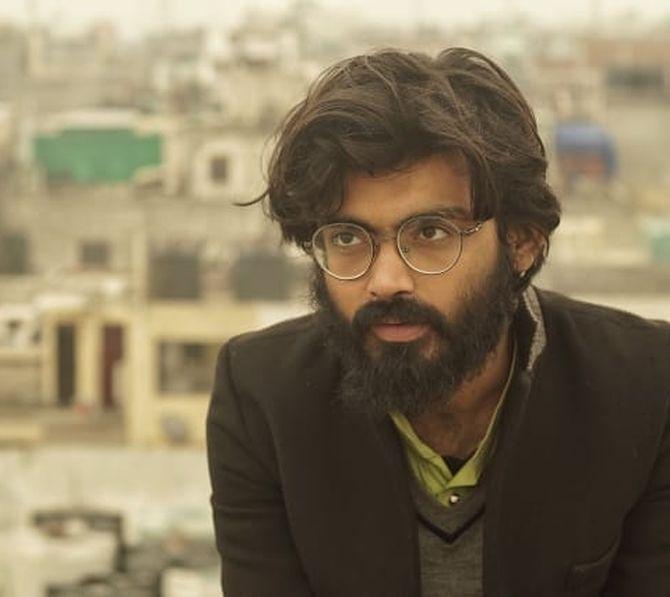 Dear Sharjeel Imam:
You are pursuing research in modern Indian history from the prestigious Centre for Historical Studies at Jawaharlal Nehru University, after graduating in computer engineering from the premier IIT-Bombay.
Someone with this kind of education slipping towards right-wing Islamism makes me feel sad and disappointed.
In the very brief telephonic conversations that I had with you almost a year ago, before snapping any contact with you and others of your ilk, I had become almost sure about your rightward deviation.
Yet, I kept praying that some day in the near future your education will lead you to mend your ways and it will help you change your worldview.
That has not happened with you -- as yet.
Some academics, academic-politicians and others kept indulging and encouraging you, to help you develop certitudes about your ideational misadventures. To me, they have contributed to your ruin.
University students keep experimenting with adventures and misadventures, with ideas, and many settle down with certain conclusions about their worldview by the time they reach their 30s.
These (mis)adventures of ideas are hardly taken as errant behaviour or as deviance. These are taken as journeys in the realm of ideas.
I had hoped that with patience, in course of time, you would evolve as a curious learner to look into all these multi-layered historical dimensions, rather than playing exclusionary politics upon Muslim victimhood.
Meanwhile, I came to hear about your visits to AMU. In your efforts towards persuading/indoctrinating some students, I am told (please correct me if I am misinformed), you ran a small group of students, in the name of the 'Iqbal Study Circle'. Your recruits mostly came from the Islamist student outfit.
In the name of identity assertion, this Islamist fringe group asserted its politics into the anti-NRC protests. This partial overlap of identity assertion and right-wing Islamism made many people apprehensive and cautious about endorsing such a move, even though they did agree with the identity assertion.
You also said that you will shout 'Nara-e-takbeer' and that the Hindus shall have to respond by saying 'Allah-o-Akbar'. You further added that the Hindus can't ask Muslims to chant 'Jai Shri Ram'.
How do you justify this? Does not this alienate Hindus who would otherwise be quite willing to join the protest to safeguard the Constitution?
Earlier, you withdrew yourself from the Shaheen Bagh protests. Many suspect you did so only at the behest of the Amit Shah controlled Delhi police. Surprisingly, despite your withdrawal, you continued with your agitation and landed up at AMU to address the protesting students on January 16.
The Aligarh police and AMU administration were aware of your moves, yet you were allowed to come and deliver a long speech. Why did you get such a privilege of protection?
In your long speech you made many condemnable and silly remarks. You declared Gandhi as the biggest fascist of the 20th century. You warned historian Irfan Habib not to speak on modern Indian history, something the right-wing majoritarian forces have always been saying.
One does not understand why you should launch your attack against the Constitution, against Gandhiji, against the Left and Congress regimes at a moment when the Hindutva regime needs such attacks against them.
By doing so, don't you think you are merely playing into the hands of the Hindutva forces?
While many academics have been raising objections to certain provisions of the Constitution, you declared the whole text to be a fascist one! To me, many of these remarks are either condemnable/deplorable or debatable, or both.
Don't you know that this very document is derided by Hindutva forces as an impediment in their way to a Hindu Rashtra?
But we all know, and people of your worldview know even better, that a majoritarian State is always looking for a Muslim in India to prove him/her a seditious fifth columnist.
A desperate Bharatiya Janata Party regime, having been cornered and exposed for its blatantly discriminatory citizenship law, was frantically looking for someone like you as a scapegoat to declare all the protests across India to be unpatriotic, run by fifth columnists.
Yet, you chose to tread this kind of path, which impedes the ongoing protests against the NRC.
This is what makes us further suspicious about your intent and credentials.
Your withdrawal did not deter the Shaheen Bagh protestors. It did not help the BJP in sabotaging the protests either. Rather, the protests went on to intensify and widen its social base.
Your withdrawal from the Shaheen Bagh protest and then joining the AMU protest further raises suspicion about your intent and credentials. Many ask: If you are passionately peripatetic about addressing protesting crowds, rather than educating a university, you could have chosen to educate the rural/mofussil masses.
The State has slapped sedition charges against you, an archaic colonial law, a lethal weapon in the hands of the State to go on a selective witch-hunt against dissenters. In my considered opinion, it is disproportionate victimisation that you are subjected to.
Reports are coming in that members of your family (at Kako, Jehanabad, Bihar) are being harassed by the police. The police of as many as five provinces are after you.
A Pragya Thakur, praising Gandhiji's killer Godse, a Puja Pandey (of the Hindu Mahasabha who shot at Gandhiji's effigy in Aligarh), a Giriraj Singh, pouring out hate-filled, divisive, remarks day in and day out and many more of the Hindutva brigade are not only left off, some of them go on to win election after election.
Sharjeel Imam, you can't be let off for bearing a Muslim name. You, being an aspirant political trader of Muslim victimisation, know the discriminatory practices better than most of us do.
I would urge you not only to give up right-wing Islamism, but also to stand up to resist all kinds of chauvinists across communities. Need I remind you that they feed upon each other?
I think the police will not be able to produce evidence of sedition against you. My worry is once you emerge from this episode, your stature among Islamists will grow further. And this is what the State, more so when led by the majoritarian right-wing, would wish for you.
Islamism would thus come to the rescue of Hindutva.
We, the students of history, know better that this happens often.
This is what makes me worried as a citizen of India who at the moment is scared and dreads the regime and its ways.
---
Mohammad Sajjad teaches Modern and Contemporary Indian History at the Aligarh Muslim University.