Manoj Sinha's greatest asset is his capacity to get on with everyone regardless of political affiliation, notes Aditi Phadnis.
After two serially disastrous appointments for the top job in arguably India's most complex administrative arrangement -- it is after all, neither a state nor a Union Territory -- the Union government might have got it right at last by appointing Manoj Sinha Jammu and Kashmir's lieutenant governor.
Sinha may have come to the Bharatiya Janata Party via the Akhil Bharatiya Vidyarthi Parishad, but his role model was Sarju Pandey, legendary Communist and among the tallest leaders eastern UP has produced.
Pandey participated in the independence movement, and when the British slapped sedition charges on him, he demanded to be punished.
He represented Ghazipur in the Lok Sabha twice, in 1967 and 1971. As long as he was politically active, Ghazipur, which has a sizeable Muslim population, saw no rioting.
The rot began in the 1970s and 1980s, when the Union government began pumping in funds for the infrastructure development of eastern UP, and Lucknow sold the contracts to local heavies.
Mukhtar Ansari and Afzal Ansari entered politics through the Bahujan Samaj Party, having battened on licences and quotas, and when one of their gang members, Brijesh Singh, fell out with them, a war broke out that had nothing to do with religion but, willy-nilly, took on religious overtones.
The murder of BJP legislator Krishnanand Rai in 2005 revealed the seamy underbelly of a corner of India that saw no development but high unemployment and an economy based on demand generated via extortion and the drugs trade.
This is where Mr Sinha grew up and learnt politics.
As a Bhumihar, his caste was marginal to UP's power politics.
But Ghazipur doesn't teach its most talented sons to sit back and twiddle their thumbs simply because they're not the right caste.
When he got admission into the prestigious B Tech programme at Banaras Hindu University, the institution was a heaving confluence of political opinion.
It had a strong Socialist tradition because of the legacy of Acharya Narendra Dev, Mukut Behari Lal, and others.
The Congress also had a presence. The extreme Left, represented by Nagbhushan Patnaik's Indian People's Front, was also a thought stream.
All this was overlaid by intense caste politics.
Sinha stood first (he got top place most of his student life) in the final exam.
He could have got a lucrative job, but he opted to jump into politics and contested for president of the students union.
In Banaras, everyone came to know him as a young idealistic firebrand.
And he got on with everyone. In fact, when Socialist leader Janeshwar Mishra used to visit Banaras, he would seek the young Sinha out, asking for the 'mota ladka (plump lad).'
Both were fond of food and Sinha would procure the best gulab jamuns Banaras could offer for the leader.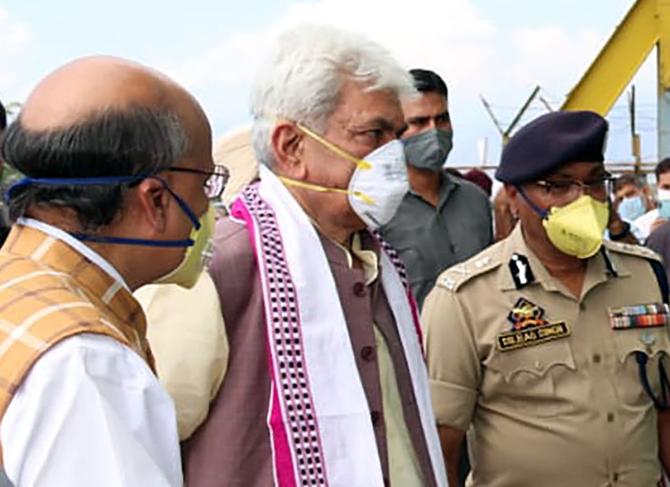 However, Sinha stayed away from state politics.
Instead, he represented Ghazipur thrice in Parliament: 1996, 1999, and 2014, becoming minister of state for railways with independent charge of telecom added later.
When the 2019 elections came around, the BJP warned him that things didn't look good for him, and that he should shift to neighbouring Ballia.
He refused because he felt all the development done by him in Ghazipur would see him through.
It didn't. At the height of the Modi wave, he lost to Afzal Ansari of the BSP.
After the UP elections in 2017, there was chatter that he would become chief minister, though he started no such rumour and is generous enough to concede to friends that it damaged him.
He had all but moved back to Banaras till he got a call from Home Minister Amit Shah a few days ago.
He is a product of politics where guns are passe.
So he doesn't scare easily. And while his greatest asset is his capacity to get on with everyone regardless of political affiliation, his officials have heard him raise his voice and bend them to his will as well.
So if officials had thought they could run Kashmir, they would do well to review this belief now.
He is considered incorruptible.
Sinha's career trajectory bears a close parallel to that of Arjun Singh though there could not be two men more dissimilar in personality.
Soon after Arjun Singh delivered a Congress victory in Madhya Pradesh, Rajiv Gandhi sent him to Punjab as governor to prepare the state for elections.
Many predicted that it would be his political graveyard. He turned it into an opportunity.
Kashmir represents somewhat similar challenges. If anyone can take everyone along, win trust, and restore confidence, it is Manoj Sinha.
Feature Presentation: Aslam Hunani/Rediff.com