Some of the BJP panches and councillors who attended the meeting with Manoj Sinha said they were not impressed with what the new lieutenant governor told them.
David Devadas reports.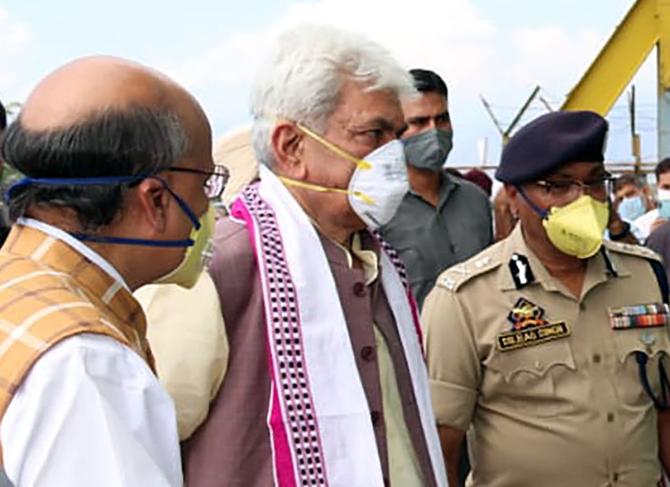 A divergence between the hopes and aspirations of the administration and of grassroots activists in Jammu and Kashmir became obvious at a function in Srinagar on Wednesday morning.
Most of the activists were panches, sarpanches, municipal councillors, block development councillors, and some unelected activists, mainly from the Bharatiya Janata Party. They were drawn from different parts of the Kashmir Valley, as well as other parts of the Union territory.
A very large number of them have been accommodated in various safe places over the past few days, following a series of militant attacks on grassroots workers and elected representatives such as them.
Obviously, they are very frightened. "Yahan dehshat ka mahaul hai (there is an atmosphere of terror here)" about their homes, their families, and even their futures, said one of them, speaking from the safe location to which he has been taken.
Most of those at the function were under the impression that they were going to interact with the new lieutenant governor, Manoj Sinha, and would be able to apprise him of their security concerns.
They were eager to talk to the head of the administration about their problems at these safe places and their concerns about their own future, that of the people they represent, and the entire Union territory.
They found instead that they were there as the audience for the release of a coffee table books on the achievements of each department and every district of the Union territory.
With all the top figures in the Union territory's administration present, the event was held at the plush Sher-e-Kashmir International Convention Centre on the Dal Lake.
Renewed promises
Some of the grassroots representatives were also given awards. Sinha told them he was sure that many more of them would win awards as they did even better work in their communities.
A few of them found this ironic at a time when they have been herded into safe places away from even their homes, leave alone their towns and villages.
Sinha told them he had heard what some of them had said about their security concerns when they were given an opportunity during the function, and would take up what could be done for them.
He told the representatives that he was convinced that his team of advisors and officers were totally committed to work for the poor, and that his doors were always open to the grassroots representatives.
Sinha held that Jammu and Kashmir had a better panchayati raj act than some other states, leading to speculation on whether the act of the erstwhile state was still being followed in the Union territory.
The lieutenant governor told his audience he would involve them in the running of the place. Further, he assured them that he would improve accounting systems and not allow one paisa of corruption in his administration.
Corruption has been a perennial issue in the place, and those who have ruled have often said they would root it out. Sinha also told his audience that the rich natural resources of their place was incomparable with any other state.
Series of attacks
Many of these points have often been repeated by leaders of Jammu and Kashmir, and some of the BJP panches and councillors who attended said they had not been impressed. Some of Sinha's points sounded ironic at a time when they live in fear for their lives, away from their homes, and sometimes their families.
Several grassroots political figures have been killed in the last month, beginning with the president of the BJP's Bandipora unit, Wasim Bari, who was killed on July 9 along with his father and brother.
As a result of the wave of violence, BJP grassroots representatives from the valley have been taken to secure locations since the beginning of this month.
Since last Friday, non-BJP grassroots representatives too have been taken to these locations, following a series of attacks last week on grassroots political workers, including at Ompura in Budgam district, Askhran near Qazigund, and at Vessoo in another part of Kulgam district.
Ironically, this larger number has been kept isolated from the very day on which Sinha took charge of the Union territory. The new head of the administration will have to sort out how to move forward from this emergency step.
The danger continues to lurk. For, even with such a large number transferred to safe places, a grenade was hurled at the house of a Sikh panch at Diver near Tral on Monday.
Extra security is normally in place around Independence Day in any case.
After August 15, Sinha will have to undertake a review to decide whether these security arrangements should be extended, or if stepped up security is to be provided in different villages across the valley instead.