G C Murmu rarely speaks in public and when he does, his statements are always in lockstep with the thinking within this government.
Subhomoy Bhattacharjee reports.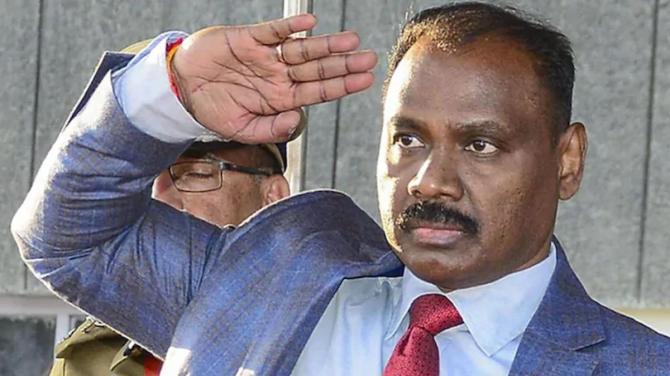 In the span of less than a week, a former bureaucrat close to Prime Minister Narendra Modi has found himself in hot water.
Since the officer concerned is Girish Chandra Murmu, then lieutenant governor of Jammu & Kashmir, the developments are striking.
Murmu, always the quintessential low-profile mandarin, rarely speaks in public and when he does, his statements are always in lockstep with the thinking within this government.
First, Murmu batted for restoration of 4G telecom services in J&K, according to a report in the Indian Express.
The newspaper quoted him as saying, 'I feel that 4G will not be a problem. I am not afraid how people will use this...'
But within 24 hours, the Centre told the Supreme Court it stands by its position that it is not yet time to relax the restriction on the speed of Internet usage in the Valley.
The affidavit filed by Attorney General K K Venugopal noted that a special panel of the government has decided against any relaxations for now.
The panel was formed in response to an order by the court in May to examine if the restrictions could be relaxed.
Then, Murmu earned the Election Commission's displeasure.
In an interview to the Hindustan Times, he said elections to the legislature of the Union Territory could be held as soon as a delimitation exercise was over.
His observation immediately earned a reprimand from the EC.
'Timings etc of elections is the sole remit of the Election Commission of India,' the Constitutional body noted.
'It would be proper for authorities other than the EC to refrain from making such statements,' the EC sternly stated.
It is not as if the EC has never rapped governors or lieutenant governors, but when the official concerned is Murmu, who is supposed to be extremely aware of such niceties, it is surprising.
When two such events happen so rapidly, there is reason to sit up and take notice.
Murmu was a surprise appointment as lieutenant governor last year as soon as the erstwhile undivided state was officially split into two Union Territories.
It was certainly a challenging assignment, given the opposition to the realignment of the former state's constitutional position, but Murmu, a Gujarat cadre Indian Administrative Service officer (1985 batch), was uniquely placed to fulfil the Modi government's programme of keeping the political and administrative pressures in the state under control.
Indeed, there was one crucial way in which Girish Chandra Murmu was seen to be separate from his batchmates.
As a Business Standard report noted in November 2018: 'His colleagues were known to be close to either (then) Chief Minister Narendra Modi or state Home Minister Amit Shah. Murmu, it is said, enjoyed their confidence in equal measure.'
He served as Modi's principal secretary in the chief minister's office and played a key role in advising him and Shah at critical junctures in their political careers.
He had to face questions from the Central Bureau of Investigation in 2013 in connection with the alleged fake encounter case involving Ishrat Jahan.
The officer from Mayurbhanj district in Odisha has a reputation for industriousness, which has helped him pick up the nuances of any department in which he has served.
He holds a master's degree from Utkal University, Bhubaneswar, and an MBA from the University of Birmingham.
From Gujarat he came to New Delhi in 2015 in the finance ministry and remained there till he moved on to govern J&K.
He joined the finance ministry as joint secretary (expenditure), moved to the revenue department, became additional secretary (banking) in the department of financial services.
And then on promotion he became secretary, expenditure, in the same ministry.
Incidentally, one of his predecessors at the post in the ministry, Ashok Lavasa, is now one of the three election commissioners.
Though he is now far away from his native state of Odisha, 60-year-old Murmu is a celebrity of sorts in his district.
Some of his siblings (Murmu is the eldest among six sons and two daughters) still live in Betnoti, a small town in Mayurbhanj district.
His father worked as a station manager with the Railways and his mother retired as a postmaster.
A media report said a large number of people in Mayurbhanj gathered before television sets to watch the live telecast of the local boy's swearing-in ceremony as lieutenant governor.
Murmu has them rooting for him just as evocatively as he has the support of the prime minister and the home minister.
Feature Presentation: Aslam Hunani/Rediff.com