'India need to look beyond the economic prism.'
'China had no qualms in taking the Kashmir issue to the UN Security Council last year -- not once, but thrice -- thus violating Indian sensitivities,' observes China expert Srikanth Kondapalli.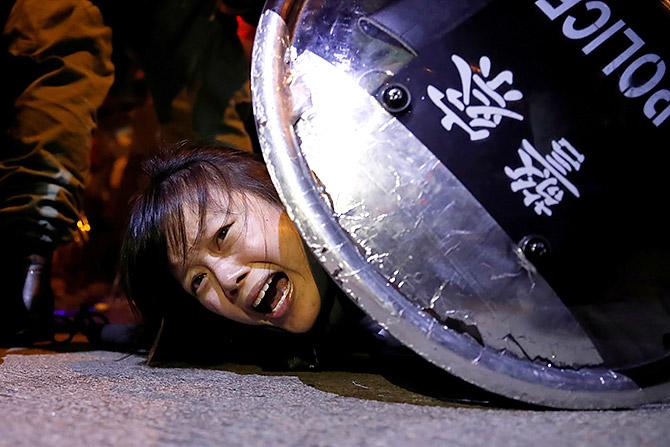 Hong Kong historically is known for its rule of law -- a legacy of British colonialism.
Indeed, strict rules were the cornerstone for Hong Kong's success in becoming one of the largest sea ports, global transport, trade and financial hub, free enterprise and the nascent democracy.
During the last four decades of reform, China as well learnt from the island's legal fraternity for the success of its own legal processes.
However, today Hong Kong's legal structure and basic freedoms are being challenged by China first by the botched-up plan last year for introduction of extradition law and now with a new security law.
This week's session of China's parliament in Beijing has adopted a new national security law for Hong Kong in disregard of public opinion and the opposition of several elected Hong Kong Legislative Council members who were physically ousted from the LegCo last week.
Just a few weeks ago, many prominent pro-democracy activists were arrested in Hong Kong including veterans like Martin Lee, Jimmy Lai, Margaret Ng and others.
This is despite massive support pro-democracy activists received at the elections in November last year.
China plans to enact and implement the new law in a few weeks that seeks to ban and punish any external influence, separatist activities, sedition and others.
In addition, as Premier Li Keqiang vowed, Beijing will set up 'legal and enforcement mechanisms' -- euphemism for intelligence and police agencies -- in Hong Kong.
Critics point out that the proposed national security law violates the solemn promises made by Beijing before the handover of Hong Kong in 1997 as a part of the 'one country, two systems'.
The Hong Kong Special Administrative Region (HKSAR) according to the Basic Law Article 12 that says the city 'will enjoy a high degree of autonomy' from China and promised by the then paramount leader Deng Xiaoping.
Such autonomy will be lost at the altar of China's new security law.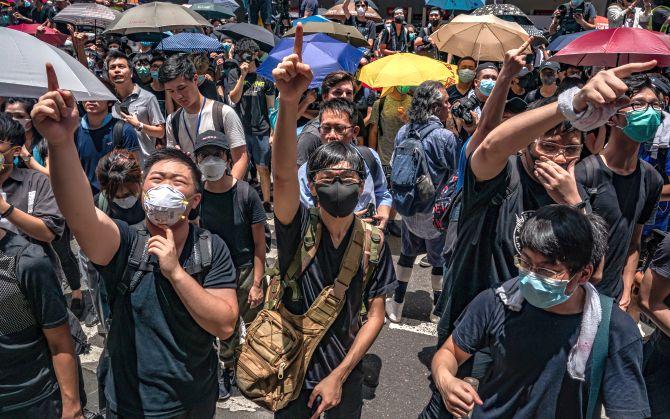 The Basic Law also mentioned that public order will be maintained by Hong Kong, and Article 22 is specific that no central government agency can interfere in Hong Kong, although the current parliamentary intervention precisely intends to jettison this provision.
Since early last year Hong Kong has witnessed massive and periodic protests with nearly half of over seven million people participation against the now withdrawn extradition law.
The law suggested to extraditing anyone accused in Hong Kong to be tried in China's courts.
In 2003, a similar move to single out Article 23 of the Basic Law, that sought to curb the freedoms of press, assembly, protest and distribution of information,witnessed half-a-million people protesting.
Again, the Basic Law stipulated that 'the election of the 5th Chief Executive of the HKSAR in the year 2017 may be implemented by the method of universal suffrage'.
However, with the intervention from the politburo of the Chinese Communist Party, not only was this provision not implemented but a political vetting of candidates for the chief executive position was introduced.
Clearly, the Communist party wanted the chief executive to serve its interests. This move has further alienated Hong Kong's people from mainland China.
It has been a saving grace that Article 5 of the Basic Law, which states that China will nor impose its socialist system in Hong Kong for the next five decades has not been abrogated.
However, Beijing's surreptitious methods are seen in Hong Kong as a backdoor entry into the Hong Kong system.
That China has been making such preparations for tight control over Hong Kong affairs was reflected in the new appointments early this year for the administrative body, the Hong Kong and Macao Affairs Office with Luo Huining in January and Xia Baolong in February as the head.
This office comes under the 'Central Coordination Group' headed by a Politburo Standing Committee member, now Han Zheng and others such as Vice Premier Sun Chunlan and former foreign minister Yang Jiechi and You Quan of the United Front Work Department.
Critics suggest these bodies are making efforts to deplete the 'high degree of autonomy' that was promised to be implemented till 2047.
China thinks this is the appropriate moment when the world is focused on tackling the pandemic.
Within Hong Kong, its residents, businesses and medical fraternity criticised the local government's refusal to shut down border check posts with China in the light of the spread of the COVID-19 contagion early this year.
For them the tragedy of the SARS virus spread in 2002-2003, that rampaged Hong Kong, is still fresh in memory.
Elsewhere, the global community is in disarray partly due to the COVID-19 shocks.
China also issued demarches to several countries, including India, to keep away from criticising the new security law so that they do not lose out on their 'own legitimate interests' in Hong Kong.
The United States enacted the Hong Kong Human Rights and Democracy Act last year. Canada, the European Union and others criticised Beijing's moves, but they lack gumption.
While India has been pre-empted by the Chinese demarche, New Delhi, which has been only concerned so far about trade and investments with Hong Kong, need to look beyond the economic prism.
For China had no qualms in taking the Kashmir issue to the United Nations Security Council last year -- not once, but thrice -- thus violating Indian sensitivities.
The sum and substance of Beijing's move is to emphasise on the 'one country' and integrate Hong Kong.
It is instructive to note that tempted by such a prospect, Mao Zedong on August 9, 1963 said, 'If we get control of it right now, it won't benefit world trade, nor will it benefit our trade relations with other countries.'
By adopting the new security law, the current political leadership in China seems to be throwing away all ominous signals, specially the resolve of Hong Kong citizens who were never consulted on what they wanted.
---
Srikanth Kondapalli is Professor in Chinese Studies, Jawaharlal Nehru University, at New Delhi.
Production: Rajesh Alva/Rediff.com