'There are many among us who will feel content and proud if occasion rises for us to hear his name on a flight announcement,' says Nikita Puri.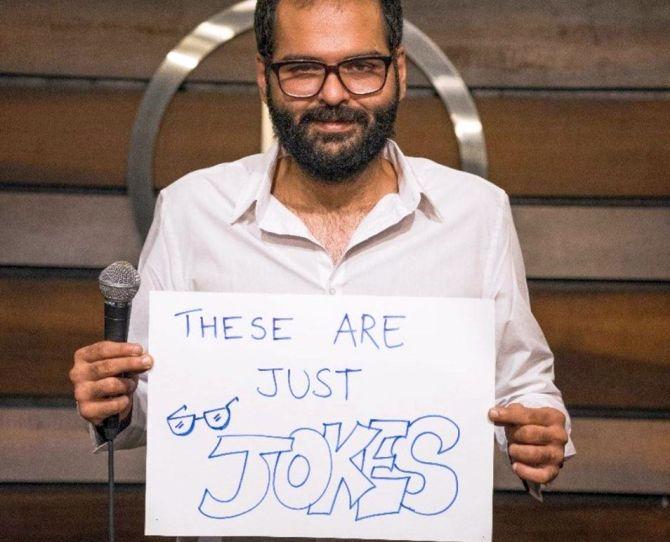 Who: It's hard to keep tabs on all the developments in India, but you have to have taken up residence in a cave in, say, Australia if you haven't followed this story.
And it's an unedifying one: Of the extraordinary pace at which four airlines -- Indigo, Air India, SpiceJet and GoAir -- banded to ban comedian Kunal Kamra after a video of him heckling infamous television anchor Arnab Goswami began trending on social media.
This unleashed a tidal wave of memes with parody accounts of auto and bus driver federations lining up to announce they were banning Kamra too, for six months, like the flock of four were doing.
More importantly, the incident also raised the question of whether due process of law was followed before announcing the ban on Kamra.
This development gave social media a new hero, Rohit Mateti, the man who captained the Goswami-Kamra flight and who has written to his airline Indigo's management expressing his discontent at how rules were circumvented to ban someone.
In the strange times that we live, the simple act of wanting to hold the rule book up is now an act of remarkable courage.
What: In a detailed (and politely worded) letter to his bosses, the captain's letter lays bare the fact that due process was effectively dropped out of the plane mid-air sans parachute in the case of Kamra versus Goswami, which morphed into Kamra versus the airline brigade.
Mateti says he was disheartened that his airline had acted solely on the basis of social media posts, with no consultation with the pilot, as the rule book outlines.
The captain may or may not have meant others to read between the lines, but it's impossible not to do so.
'Moving forward, am I to understand that the bar for interpretation of a disruptive passenger is lower/different when it comes to high profile cases?...
I would like a clarification from the airline as this leaves a lot of room for ambiguity,' reads the letter.
The video of Kamra heckling Goswami makes for unattractive viewing, even if one accepts that Kamra was giving Goswami a taste of his own bitter pill.
This is also a 'medicine' that Goswami's reporters use generously: see the face of someone opposing the channel's politics and fly in for a brutal tackle (politicians Shashi Tharoor and Tejashwi Yadav are some who've been caught unawares by Goswami's team).
In times as divisive as these, after nine years of service, Mateti's actions are bound to be read as an act of rebellion, even if they weren't meant to be.
How: The running joke on social media is that the now-famous Indigo's captain might be forced to jump ships, or airlines.
And blessed be the airline that takes on the weight of both Kamra and the captain.
But the fact remains that incidents such as these have now reignited a debate around how long one can work with a company to pay for roti, kapda and makaan if it goes against personal principles.
Good folks on social media are already sending out feelers to reporters in Goswami's Republic who cannot align themselves with their employers's politics anymore.
We agree with the poet Walt Whitman when he writes in O Captain! My Captain! that that particular fearful trip is done.
But that's where our stories diverge.
What our captain, blessed with a strong backbone, needs is solidarity from his crew and passengers as he holds up the rule book.
There are many among us who will feel content and proud if occasion rises for us to hear his name on a flight announcement.