'India has ramped up infrastructure on its side, so the Chinese military is finding Indian soldiers in locations where they are not used to seeing an Indian footprint,' points out Harsh V Pant.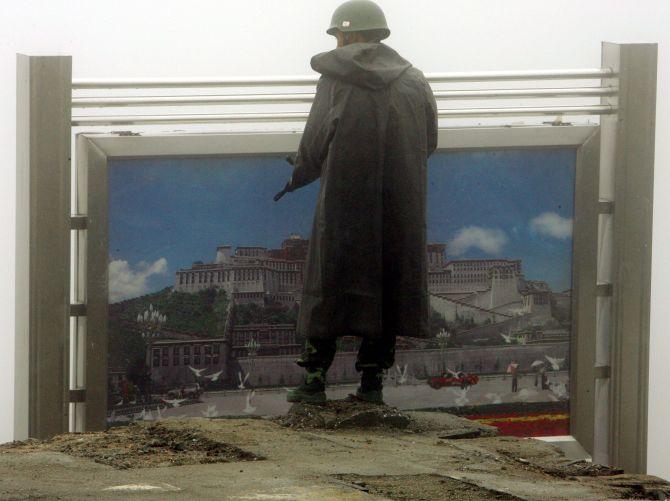 Photograph: Desmond Boylan/Reuters
The Line of Actual Control is once again on the boil with border clashes between the militaries of India and China seemingly at their highest since 2015.
Talks to resolve tensions have not had an impact so far and there remains the perpetual danger of crisis escalation with neither side willing to budge.
As per Indian ministry of defence records, Chinese transgressions have increased significantly, in particular in Ladakh where around 130 transgressions were witnessed till April.
Indian and Chinese troops have been eyeball to eyeball in eastern Ladakh after China objected to the construction of a road in the Galwan river area, well within Indian territory.
The Chinese foreign ministry has warned of 'necessary counter-measures', underlining that 'Chinese border troops are committed to upholding peace and tranquillity in China-India border areas', but will 'resolutely defend the sovereignty and security of our homeland'.
The Indian-China border is not fully demarcated and the LAC remains highly contested.
What is also true is that barring the middle sector, the two nations have not even had a mutual exchange of maps about their respective perceptions which has led to operational challenges whereby soldiers from either side have ventured into areas deemed as theirs by the opposite side.
As a consequence, local instability has been a perpetual feature of this terrain for decades.
But in recent years, border clashes have become routine though most have remained localised and defused at the local commander level.
The 73-day Doklam standoff on the Sikkim-Bhutan border in 2017 became a major flashpoint, waking Indian policymakers from their slumber that China is not to be taken for granted.
Prime Minister Narendra Damodardas Modi tried to deal with this problem by reaching out directly to the Chinese president. Their first informal summit at Wuhan in April 2018 resulted in 'strategic guidance to their respective militaries to strengthen communication in order to build trust and mutual understanding and enhance predictability and effectiveness in the management of border affairs.'
They also 'directed their militaries to earnestly implement various confidence building measures agreed upon between the two sides, including the principle of mutual and equal security, and strengthen existing institutional arrangements and information sharing mechanisms to prevent incidents in border regions.'
While it did manage to stabilise a seemingly free-falling Sino-Indian relationship in 2018, it has clearly failed to bring any stability at the border.
A number of factors can be attributed to the border clashes.
There is the perpetual issues of differing perception of the border.
More significantly, India has ramped up infrastructure on its side, so the Chinese military is finding Indian soldiers in locations where they are not used to seeing an Indian footprint.
The Indian Army's patrolling is also more effective than in the past, forcing Chinese military to up the ante.
The fact that more Chinese soldiers are now crossing over into the Indian side can also be the result of growing Chinese aggressiveness on territorial issues.
Flaring up of tensions between India and China in 2020 even at a time both the countries are grappling with containing the spread of COVID-19 cannot, but be linked to the larger approach the Communist Party of China is following in its engagement with the outside world.
Despite growing worldwide rancour about Beijing's behaviour in the initial phases of the pandemic, the Communist party is busy demonstrating its military prowess vis-a-vis its weaker neighbours on various territorial issues.
And New Delhi's evolving posture supporting the demand for an independent enquiry into the origins of coronavirus as well as reinstating Taiwan as an observer into the World Health Organisation means that the Communist party would like to draw some red lines for India by upping the ante on the border question.
The US has reacted by challenging China on its behaviour with Alice Wells -- the outgoing principal deputy assistant secretary of state for South and Central Asian affairs -- suggesting, 'There is a method here to Chinese operation'.
Arguing the need to resist China's 'constant aggression, the constant attempt to shift the norms, to shift what is the status quo,' Wells called for a strong pushback 'whether it's in the South China Sea where we've done a group sail with India, or whether it's in India's own backyard, both, on land as well as in the Indian Ocean.'
A new report submitted to the US Congress as mandated by the National Defense Authorisation Act 2019, United States Strategic Approach to the People's Republic of China, also makes this point by underlining that 'Beijing contradicts its rhetoric and flouts its commitments to its neighbours by engaging in provocative and coercive military and paramilitary activities in the Yellow Sea, the East and South China Seas, the Taiwan Strait, and Sino-Indian border areas'.
For New Delhi, it has now become imperative to assess the implications of Chinese behaviour not simply by looking at the bilateral matrix but also by integrating China's role as a global power into its calculations.
The present border turmoil can be calmed down temporarily, but so long as the Communist party continues to face internal pressure to use the military instrumentality for injecting a sense of nationalism into the nation's body politic, India will have no option but to continue to build up its deterrence capabilities by enhancing its internal strength and by developing more robust external partnerships.
---
Harsh V Pant is professor of International Relations, Department of Defence Studies, King's College London.