'Today's India is fearless and is on track to be a great power. But this is definitely not happening without women, who form 48 per cent of our population.'
Ajai Shukla reports.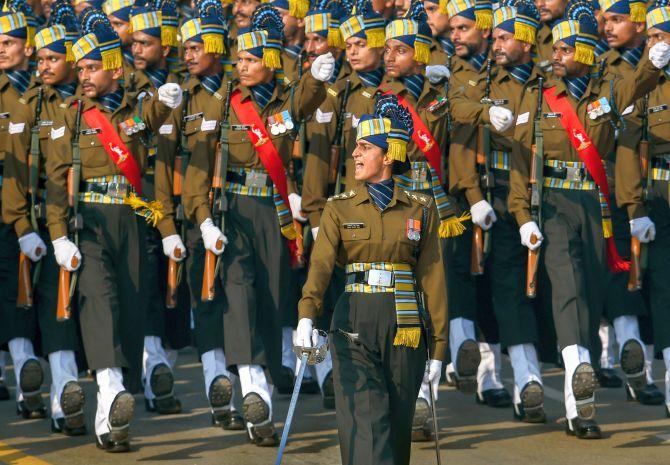 A highly regarded American scholar of military leadership and personnel policy, Lieutenant Colonel Fred Dibella (retd) wrote this about women in combat: 'Up to now, we have recognised the blatantly obvious: that battles and wars are won by Alpha Males. And why is that? Uh... because men and women may well be equal in the eyes of God, but they damned sure ain't identical in the laws of physics and psychology.'
'Men are, by and large, bigger, stronger, faster, more aggressive, more violent, more ferocious, more intense, more powerful, more brutal, more belligerent, more destructive, AND THEREFORE MORE LETHAL than women.'
Prejudice against women doing military service, particularly those aspiring to combat roles, is hardly the preserve of the US.
Women have struggled against entrenched male resistance in every major military, not least our own.
A perfect summary of institutional patriarchal prejudice was provided by India's senior-most soldier, Chief of Defence Staff General Bipin Rawat, while speaking on television as army chief in 2018.
General Rawat argued that our soldiers are not ready to accept women leading them in combat; women officers would have to be 'cocooned' from the ogling eyes of subordinate soldiers; women commanding officers might demand long maternity leave; and the society is not ready for women coming back in body bags.
Undeterred by such views, numerous brave women have battled for equality with men, with many demanding the right to go into combat.
Last month, they won another battle in this long struggle when the government issued an order 'paving the way for empowering women officers to shoulder larger roles in the organisation'.
This was in response to a landmark Supreme Court judgment five months ago, ruling that women army officers be granted 'permanent commission' that allow them to serve beyond 20 years, subject to being cleared by a selection board.
Before this, except for three branches, women have been granted only 'short service commission' that restrict their service tenure to 14 years.
Being restricted to short service commission denied the bulk of the army's 1,600 women officers promotion to higher rank; most went home as major.
They were also ineligible for pensions, for which an officer must serve at least 20 years -- an option open to the vast majority of the army's 43,000 officers.
The three branches where women officers were already allowed long-service permanent commission are: The Army Medical Corps, including its ancillary Military Nursing Service, the Judge Advocate General branch and the Army Educational Corps.
The government order opens the door to permanent commission for women officers in another eight branches: Army Air Defence, Signals, Engineers, Army Aviation, Electronics and Mechanical Engineers, Army Service Corps, Army Ordnance Corps, and the Intelligence Corps.
As with male SSC officers, the grant of permament commission will have to be earned.
Only women officers selected by a Permanent Commission Selection Board would be offered permanent commission.
Army Headquarters is finalising the modalities for such a selection board, which will begin functioning soon, said the defence ministry.
'The Indian Army is committed to provide equal opportunities to all personnel, including women officers, to serve the nation,' stated the defence ministry.
In fact, that is hardly the case, with women still facing many glass ceilings.
Amongst the most controversial is the army's bar on allowing women into combat.
While the Indian Air Force and the Indian Navy allow women to discharge combat roles, the army continues to keep them out of the four fighting arms -- the armoured corps, infantry, mechanised infantry and special forces -- or even the artillery, which is a combat support arm.
Women remain excluded from the fighting arms four years after Pranab Mukherjee (then President), while inaugurating the Budget session of Parliament in February 2016, stated that they would soon be inducted into the combat streams of all three services.
The IAF has long allowed women to pilot transport aircraft and helicopters, both of which routinely operate in combat conditions.
Since 2016, when the IAF announced it would allow them to fly fighter aircraft, it has trained and operationalised eight women fighter pilots.
Meanwhile, the navy permits women officers on board warships, even when they sail into battle, subject to women-only cabins and bathrooms being available on board.
All new naval warships are being built with separate living and toilet facilities for women.
Another glaring omission is the fact that women are permitted to serve in the military only as officers, not as soldiers, sailors and airwomen.
The first step towards breaking this glass ceiling was taken in December 2019 with the recruitment of 100 women soldiers for the Corps of Military Police.
But that is a small number in an army of 1.3 million personnel.
Until 1992, women could only serve in the military as doctors and nurses.
That year women officers were allowed into four non-combat army branches: tThe logistics branches of ASC and AOC; the AEC, which trains and educates soldiers; and the military's internal legal department, the JAG branch.
In these limited billets, women short service commission officers could serve five years, extendable to 10 years. Later, it was increased to 14 years.
In 1996, four more departments were opened to SSC women officers, including two combat support arms: Engineers and Signals.
Also opening their doors to women were the Intelligence Corps and EME.
Subsequently, Army Aviation and AAD also opened to women.
In 2008, women officers in the AEC and JAG branches were permitted permanent commission.
There is growing pressure from women, including from those within the military, for a larger role.
Actor Gul Panag, the daughter of a combat veteran, says she always aspired to join the army until she learnt women were not allowed into combat arms.
"I welcome this first step towards parity with men in the armed forces. The onus is now on women to demonstrate equal capability in all fields so that the government takes the logical next step of allowing women direct permanent commission, like men, through the National Defence Academy and the three service academies," says Panag
Wing Commander Neelu Khatri (retd), one of the IAF's earliest woman officers, laments that allowing women permanent commission has taken so long.
"Today's India is fearless and is on track to be a great power. But this is definitely not happening without women, who form 48 per cent of our population," she says.
"Women must be inducted into the military in much larger numbers and entrusted with combat roles."
Feature Presentation: Aslam Hunani/Rediff.com