'Every bit of the parade is important. Everything that is being executed, you have to be completely in it,' Captain Tania Shergill, the first woman adjutant at a Republic Day parade, tells Archana Masih/Rediff.com.
Two-and-a-half years after she joined the Indian Army, Captain Tania Shergill will be the first woman adjutant at a Republic Day parade.
But the officer is not one to be defined by that label alone.
"A fauji is a fauji. There is no male or female, Hindu or Muslim, Punjabi or Marathi. Once you wear the uniform, you are all officers," says Captain Shergill whose father, grandfather and great grandfather have all served the Indian Army.
As adjutant, Captain Shergill will be responsible for the overall conduct of the Republic Day parade and ensure that all the marching contingents are in position and ready before the commencement of the march past on Rajpath.
She will also lead a 146 all-male contingent from her regiment, the Corps of Signals. The men will be under her command and will salute President Ram Nath Kovind on hearing her loud call.
On Wednesday, January 15, after she led her contingent at the Army Day parade, the officer was surrounded by spectators for photographs. Her mother, who travelled from Punjab to see her daughter, was overwhelmed with the number of people congratulating her after the Army Day parade.
Media crews also arrived at the family home near Hoshiarpur to cover the event.
"The feeling of seeing your daughter as an army officer is indescribable. Mostly men become army officers. After 72 years, there is a woman parade adjutant, it is a matter of great pride," says Lakhwinder Kaur Gill, Captain Shergill's mother.
"When I was living in the cantonment and saw women officers being saluted, I used to wish that she too becomes an officer someday, and she has worked very hard for it."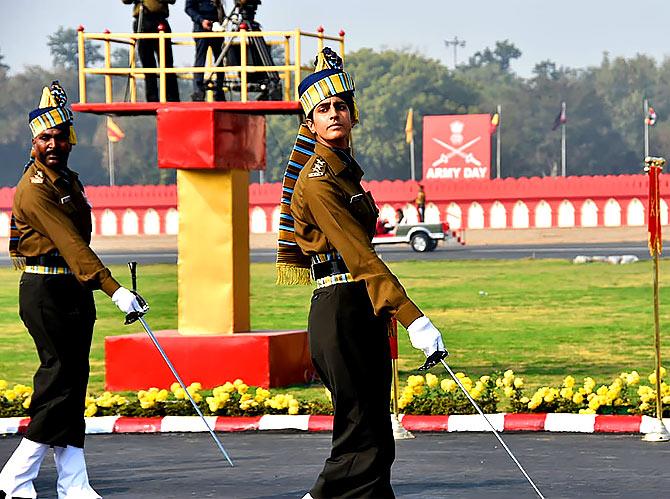 The fauj is a family tradition and Captain Shergill has carried that heritage forward. Her father was in the artillery regiment, grandfather in the armoured corps, great grandfather in the infantry, who participated in the Burma campaign in the Second World War.
Armed with a BTech in electronics and communication from the University of Nagpur, Captain Shergill did most of her schooling at the Kendriya Vidyalaya Mumbai, where the family lived while her father was posted in Jammu and Kashmir and the north east.
The officer and her men have been practicing for the parade since July at their regimental centre. They arrived in Delhi a few weeks ago and follow a strict schedule from 8 am to 12 noon and between 3 pm and 6 pm.
All the military and paramilitary contingents, who are part of the Republic Day parade, arrive in New Delhi and then the whole parade is fully coordinated.
"It needs a lot of hard work. We are constantly working on the tiniest bits to keep improving for the final day," says Captain Shergill, who likes hiking and wildlife photography.
"Every bit of this parade is important. Everything that is being executed, you have to be completely in it. The word of command has to be practiced. You have to acclimatise your throat because it has to be said very loudly so that all your men can hear you clearly."
"For any officer it is a matter of great pride to lead your regiment. You definitely feel worthy."
Last year, a senior at the Officer's Training Academy and fellow Signals officer, Lieutenant Bhavna Kasturi, became the first woman officer to lead an all-male contingent at the Republic Day parade.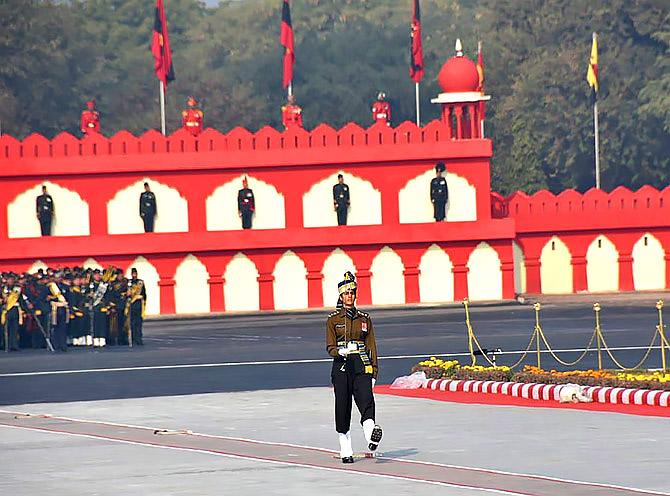 As Captain Shergill prepares for her big moment on Republic Day, when the nation will be watching and cheering her, she is overwhelmed with everything the army stands for -- courage, integrity, discipline, loyalty, selfless service.
"Once you are part of it and wear the uniform every day, you feel grateful that you have earned it and doing what you have always dreamt of -- serving the nation."
To those who want a career in the armed forces, she has this to say: "Just go for it. If you have it in you, you will definitely make it. Do your best and forget the rest."