'Those 10 years in the IAF has made me what I am today.'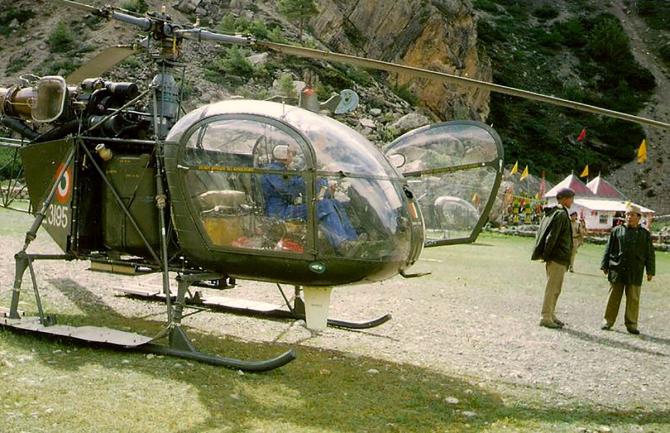 Flight Lieutenant Guneet Kaur was among the first batch of women helicopter pilots inducted into the Indian Air Force in December 1995.
She flew extensively in high altitudes of the Himalayas and at the China border.
During the Kargil War, she was posted near the western border with Pakistan and conducted several reconnaissance missions which required low-level flying to evade Pakistani radar.
In her ten years of service in the IAF, she conducted numerous search and rescue operations and casualty evacuations in different terrain.
The officer retired after competing her short service commission in 2004.
Now settled in Vancouver, Canada, the former IAF pilot tells Rediff.com's Archana Masih about her varied experience as the first lady pilot in her unit and how the IAF shaped her into what she is today.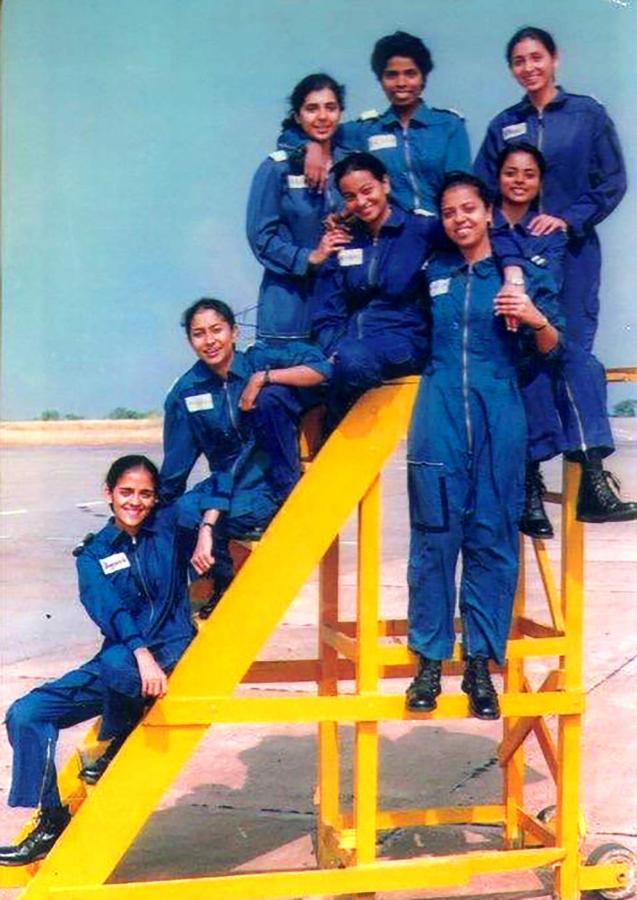 You were the first batch of women helicopter pilots to join the IAF. What made you sign up?
I was in the final year of BSc when I saw the ad that the IAF was going to induct lady helicopter pilots. I was jumping with joy and applied without even telling my parents!
I told them after I got the call for the SSB (Services Selection Board) interview. My parents were very happy and my twin brother helped because we were both in the NCC.
I knew the SSB will be tough so I started going for my runs. My father, who was an engineer in the IAF, advised me to be honest and truthful in the interview.
I passed the SSB which is a series of tests. After that I went for a week-long medical test. There were 6-7 other girls who were selected.
In those days there were no cell phones and I called my parents from a landline to tell them the news.
The medical test was very thorough. After that your name has to feature in the merit list and only then you get a call letter.
The call letter comes with a list of items you need to bring with you. It was a long list of things that you put inside that typical (defence services) black box and take with you.
At that time I was also enrolled in a two-year NIIT progamme in the evenings. After I returned from the SSB, the counselor told me why are you going to the air force. Is it only for the salutes? I was told that I would make more money in IT.
I told them it's not about choosing a career with money, but about feeling that there is a purpose to my life.
That was the whole reason behind joining the Indian Air Force.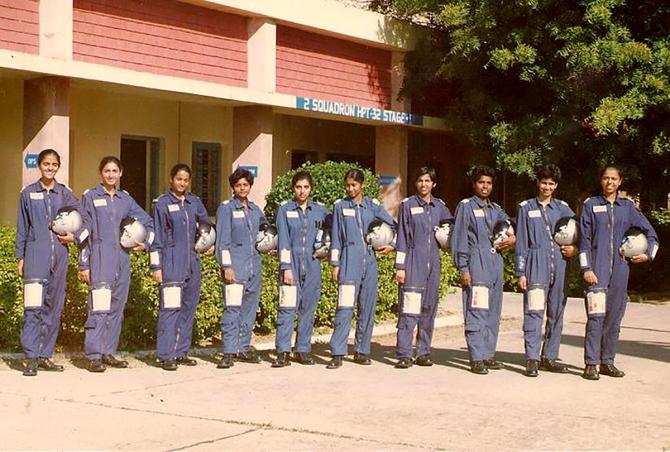 What was the experience at the training academy where you trained with male cadets?
There were two batches of women pilots before us, we were the third short service commission, and the first course of women helicopter pilots.
We were 10 of us and trained with male counterparts in the academy for one-and-a-half years.
The first six months was basic flight training on a fixed wing aircraft and after that it was pure helicopter training in Hakimpet.
There were already lady officers doing administration duties at the academy before us.
At the academy, we also had some army officers who were training on helicopters apart from IAF pilots.
We all trained together and were put through the wringer together.
When we signed up, we knew we are joining the military and it was not going to be easy.
My father was in the IAF and I had travelled around the country wherever he was posted. So that brought in a lot of resilience and adaptability very early in early in life.
Where was your first posting and what was the experience?
I was posted to Bareilly and was the only woman pilot in the unit. There was one more lady accounts officer at that base.
The first few years were challenging. It was tough, but it's tough for even male officers.
It must have been tough for the IAF too because it was transitioning into something new.
I remember when I reached Bareilly station, a pilot officer had come to receive me at the railway station. It was a weekend and I had to report on Monday. I was allotted accommodation in the Officers Mess.
My unit had a commanding officer, flight commander who is in charge of all the operations and training, 4-5 married officers and a bunch of bachelors -- around 15 to 20 officers.
I heard from people that before I arrived they had had a meeting about a lady officer from the first batch of helicopters who was coming to the unit.
I think they also removed some posters from the crew room and knew that they could no longer zip down their overalls and crash onto a couch in the crew room in the summer heat of 40 degrees!
I was told all this later because we all had become so friendly in the crew room. There was a curiosity from the male officers also, but never was there any hesitation in accepting me. Never were officers or airmen disrespectful.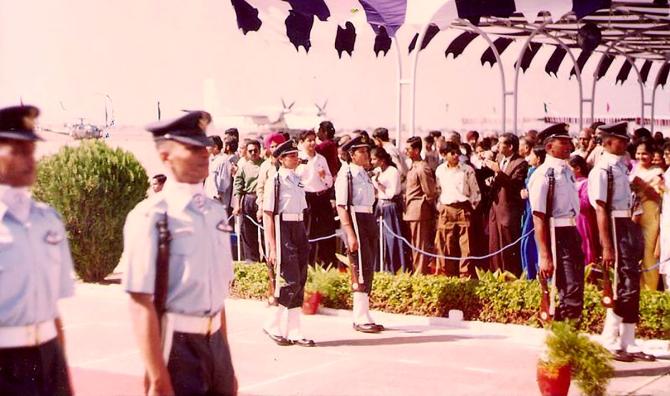 What was your flying experience and opportunities in those early months?
I did extensive high altitude flying in the Himalayan region for three-and-a-half years in Bareilly as the IAF was supporting the ITBP in high altitude operations.
I had to prove myself, which I did. My accommodation was a distance from the office so my father sent me my scooter.
When you enter any male dominated organisation, women have to work a little more hard for the simple reason that we are putting ourselves into something which was male dominated.
There was no separate toilet for ladies in the initial days, it was constructed later, but I was told to use the commanding officer's bathroom. I could use one of the spare rooms to change into overalls, so these arrangements were made.
By the time the next batch of lady officers came six months later, separate toilets and changing rooms were already in in place.
I used to go for detachments where you take the helicopter to another base and stay there for a week or two to support another squadron for casualty evacuation or maintenance, etc.
I never saw any hesitation in the flight commander assigning me on a detachment. Two separate rooms would be provided in that particular mess for our accommodation. Male pilots usually had to share a room.
I think after my first or second detachment, I could see the change in the attitude. Everyone felt that she is one of us.
We became friends in the unit.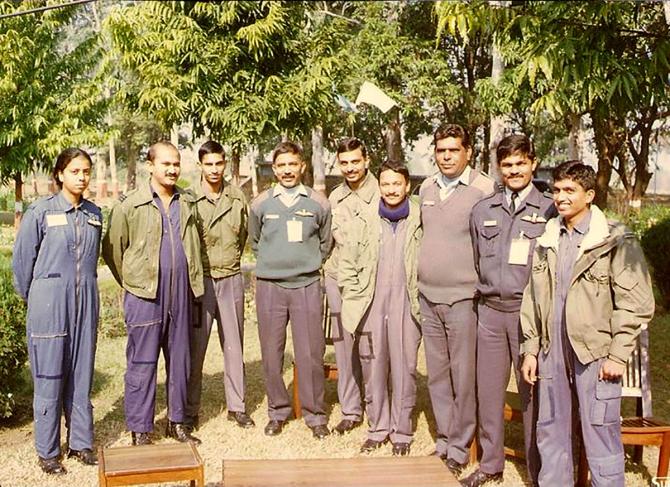 What was the experience with the CO and flight commander?
My CO and flight commander were strict, but very encouraging.
The middle rung of officers like the squadron leaders were like our mentors who taught us a lot about flying and operations.
Even if they scolded me when flying alongside, I took it in my stride because they never treated my male counterparts differently.
What arrangements were made for you to change into your flying gear before a sortie?
Initially, there was a temporary arrangement where an extra room, maybe a file room was made available. I used to just bolt it and change.
In the mess, our rooms were side by side. In the evenings we played games together and went for dinner together.
We built a camaraderie and it was so beautiful. I'm in touch with most of my first unit officers because learning together is something else.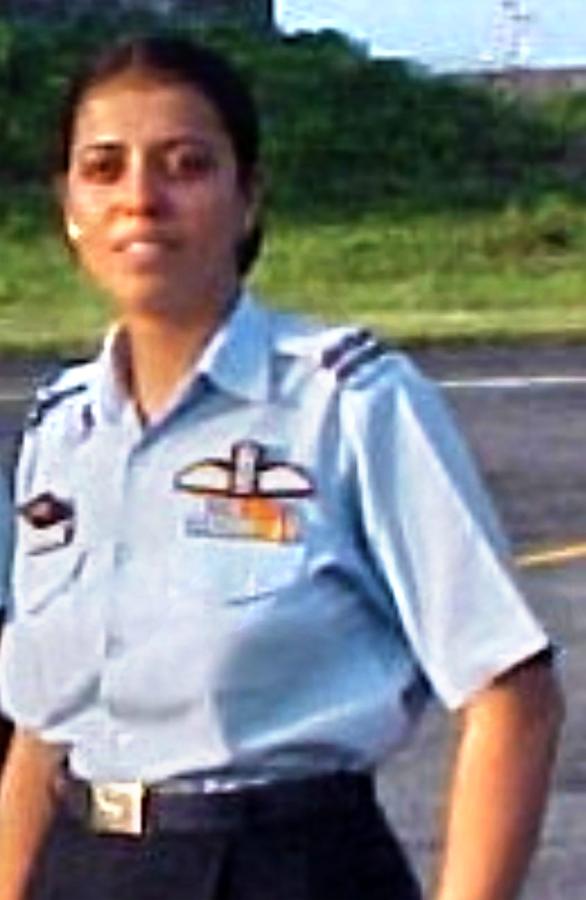 Where were you posted during the Kargil war?
During Kargil, I was posted to Jodhpur in Rajasthan where we have a border with Pakistan.
We had to fly all over the western border. We did a lot of low-level recce flying so that we were not caught on the Pakistani radar. The Cheetah aircraft has no armament and all we had was our own revolvers!
It used to be hot and we flew in 50 degrees inside a glass bubble helicopter with bucket seats! I would just keep wetting my face.
It was such a great experience.
I loved flying the Cheetah. In my third and final posting in Bagdogra, I used to fly to Bhutan and the China border. There were places we flew to that were at 16,500 feet, we carried oxygen cylinders with us. High altitude flying needs a lot of skill.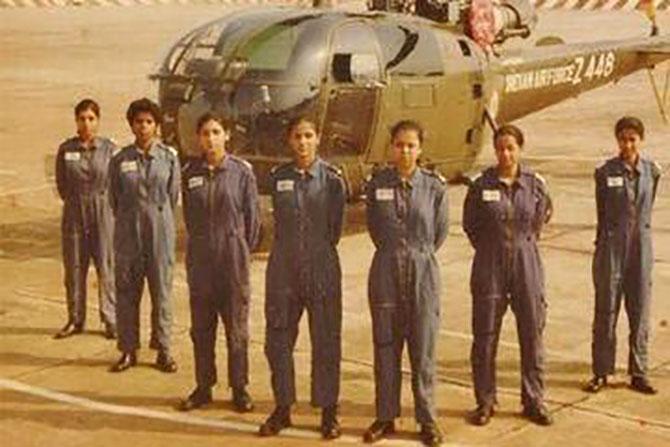 How many years did you serve in the IAF?
I was a short service commission officer and women could only serve for 10 years at that time. I could get a five-year extension, but I decided against it. My husband was also in the IAF and left service before me because he was also a short service commissioned officer.
I joined Sahara and flew with them for many years. In 2013, we migrated to Canada.
I look back at the IAF with great appreciation and pride. The experience shaped me into what I am today.
It has been such an important phase of my life. Those 10 years in the IAF has made me what I am today.
Feature Presentation: Aslam Hunani/Rediff.com