How do people with less education than me and my several degrees navigate the Internet with such ease, asks Geetanjali Krishna.
Illustration: Dominic Xavier/Rediff.com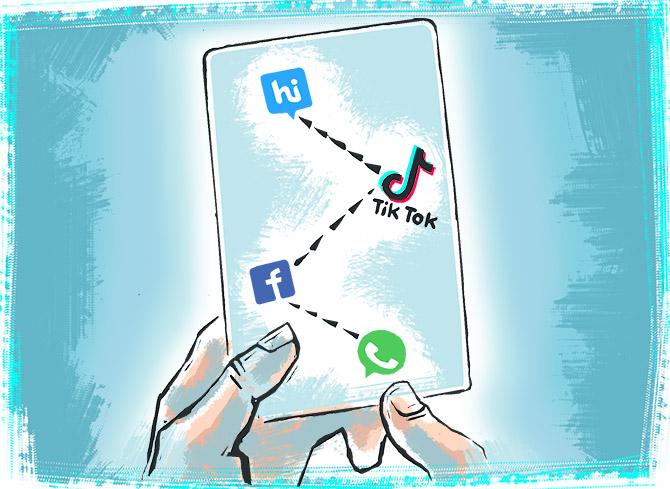 Last week, I saw a group of drivers and security guards outside our building watching videos of the protests against the Citizenship (Amendment) Act and National Register of Citizens on their smartphones.
Each one of them was on a different social media platforms -- from Hike to Facebook Lite to TikTok and even Instagram.
"To think that till last year, I would have watched television to stay abreast with what's happening," one commented.
"I think if 2019 was the year of the smartphone -- in 2020, cheap Internet and social networking sites will probably rule our lives..."
I couldn't agree more, but something rankled.
Even for someone like me, who spends her days hammering away on the computer, the Internet sometimes manages to confound, perplex and deeply frustrate.
Like, for example, when prior to the December 27, 2019 -- the deadline for submitting nursery admission forms -- Mary asked me to submit a few online for her little girl.
School number one had extra weightage for Catholics, but needed details of her parish, church and more.
She didn't have a clue and the form refused to let me proceed.
She went off to ask if her husband had a clue.
By then, my session timed out.
School number two refused to let me proceed after I disclosed the child's age.
She was overage by two days and all I could do was swear at the computer as there was no human I could explain the situation to.
School number three's application also found her exceeding the age cut-off by two days, but its rules said it would extend the eligibility age for girls.
Unfortunately, the form did not ask for the child's gender.
So I failed to fill that one out either.
How, I wondered, did people with less education than me and my several degrees, navigate the Internet? With great ease, I discovered to my chagrin.
Mary asked her young brother-in-law for help.
The man hadn't completed school, but it took him an hour to sort out her forms.
He got the parish details from their church Whatsapp group for school number one.
A Facebook forum advised him to apply not for nursery, but KG in school number two.
He was connected with a teacher in school number three on Hike, who, in turn, connected him with someone in the admissions department.
I asked him how he did it.
He said he had become a social media nerd ever since he discovered that his new Rs 3,000 phone came preloaded with Facebook Lite.
Within days of use, he found it not only helped him stay connected but also to make several new connections.
So he ventured to other social platforms. Hike Messenger worked online and offline, he discovered.
TikTok and WhatsApp helped him communicate with his unlettered mother and other relatives: "Since she can't read, I either send her a voice message on Whatsapp or a short video on Tik Tok," he said.
Cheap Internet on the phone not only gave him connectivity and connections, it simplified his life in other ways.
He could now pay mobile bills, school fees and more online.
"The only thing I don't do which I would love to do, is buy groceries and vegetables online for the sheer convenience of it," he sighed.
When I asked why, he replied: "Not that I can't navigate the apps, but groceries are just cheaper in the local market..."