Shamsheer Ustaad refused to become collateral damage when his industry modernised, discovers Geetanjali Krishna.
Illustration: Dominic Xavier/Rediff.com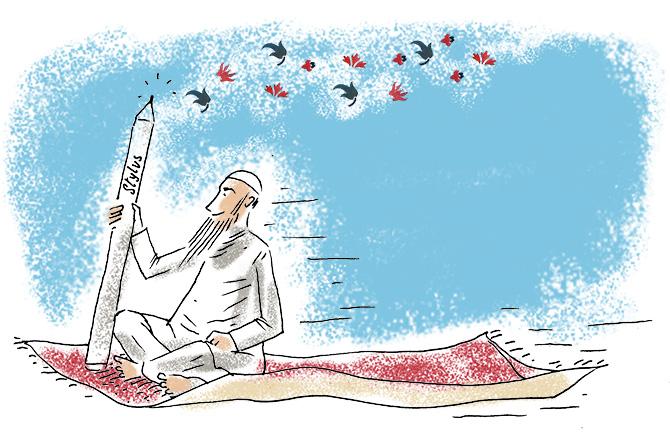 We often hear of people who have lost their jobs and livelihoods to technology.
Typewriters, pagers, fax machines and so many more objects -- and skillsets -- they entailed, have disappeared in front of our eyes.
With the advent of Artificial Intelligence, I'm guessing that this rate of obsolescence will increase substantially.
I often wonder what will happen to all that lost human capital, and remind myself of the story of Shamsheer Ustaad -- the man who refused to become collateral damage when his industry modernised.
Shamsheer Ali used to be one of the finest naqsha (carpet design) makers in Mirzapur-Bhadohi's carpet belt.
These artists would paint carpet designs freehand -- first on art paper to show buyers, and once approved, on graph paper for weavers to copy on the loom.
He lived in a generations-old community where fine squirrel hair brushes and slick shell palettes passed from father to son, and almost everyone painted.
About 20 years ago, new computer aided designing and manufacturing (CAD/CAM) applications rendered this relatively unknown aspect of carpet-making obsolete, and entire villages in Bhadohi suddenly faced the prospect of loss of livelihood.
"At first, my heart didn't accept this change," said Ali when I met him in his house in Khamaria, Bhadohi. "How could a computer compete with a skill that had been passed down generations?"
Then, while his peers continued to prophesise the imminent failure of this invasive technology, the then middle-aged Ali decided to learn to use CAD/CAM.
Although he had never been to school, his innate talent and colour sense helped him to adapt to it quickly.
"Initially, I did it because it was the only way to stay relevant in the industry," he said.
But when Ali started making carpet designs on the computer, he realised it was much more than simply replacing his paintbrush with the stylus.
"It suddenly became so easy to create colour variations in the same design on the computer," he recounted.
"And one could replicate motifs so quickly with the click of a mouse! In fact, soon we had to introduce slight aberrations in the design to mimic the human hand..."
Around that time, his sons were growing up. "Of course I wanted them to learn to paint because that was the family tradition!" he said. But the canny father ensured they learnt to use CAD/CAM too.
Today, two of his five sons are CAD/CAM operators while one is a designer.
"When I look back, I realise that if I had not moved with the times, I could've fallen by the wayside because the demand for hand-painted naqshas is very low today," Ali told me.
Instead, he not only ensured his own livelihood, but also inspired many young people in his village to keep up with changing technology.
Then, very apologetically, he said our conversation would have to conclude; he had an appointment that he just couldn't delay.
That's when I learnt that Shamsheer 'Ustaad' had become such a legend in his community, that after he retired, they requested him to recite the azaan (call to prayer) at the local mosque every day.
As his figure, clad in a spotless white kurta, disappeared from view, I mused that few traditional craftsmen have been able to migrate their skills to an entirely new medium as he has done.
No wonder they call him Ustaad...