Who'd have imagined that a bunch of poor, illiterate women in a slum would be able to achieve this? asks Geetanjali Krishna.
Illustration: Dominic Xavier/Rediff.com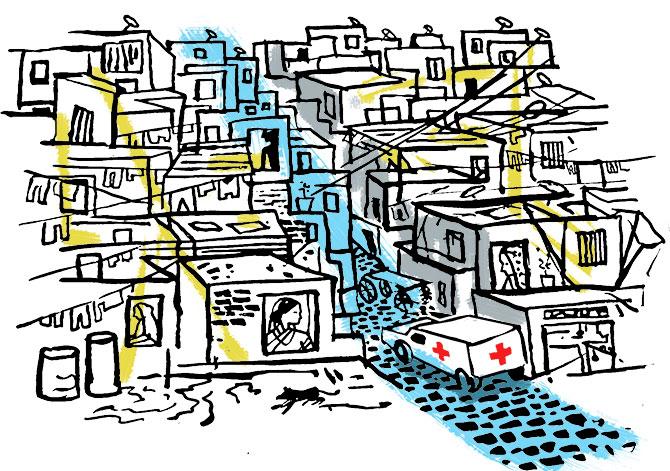 There was a time when families of eligible girls rejected wedding proposals from families belonging to Purvideen Khera, a huge denotified urban settlement in Lucknow.
There was something that this slum lacked, which many of Lucknow's other 700-plus slums had -- a road.
Ambulances, school vans and trucks carrying vital goods would have to stop outside the slum that sprawls over a kilometre on both sides of the Haider canal.
The single alley inside the slum was so narrow that if someone even parked a two-wheeler there, another couldn't pass.
It seemed difficult to imagine this as I, with community activist Rampati Devi, walked down the road that dissects the community today. Here's what she told me.
Over the years, many people in Purvideen Khera had demanded a road. No official addressed the issue as the slum wasn't recognised by the municipality.
More importantly, space for a road would have to be created by breaking parts of houses on either side of it. It seemed like an impossible task.
"We realised that only we as a community can get this done," said Rampati. "We'd all have to sacrifice parts of our houses for the collective good," she added saying that many of her neighbours were no strangers to collective action.
These women were already organised into a collective, Shahri Garib Sangharsh Morcha through Lucknow-based Vigyan Foundation to demand their tenurial rights.
However, when the same group placed their proposal to the community, many ridiculed the idea. "No one was willing to relinquish even an inch of space," she said.
Help came in the form of Phoolmati Devi.
Phoolmati and her husband had one of the few pucca houses in the slum and operated a general store out of a room in front of their house. "We became the first in our lane to demolish a room and our shop to make way for the road," she recalled. This had a cascading effect.
If the couple could demolish part of their expensive pucca house, couldn't their next-door neighbour give up a mud wall?
"Before our eyes, the space for our road was getting created because one by one, everyone was feeling compelled to demolish the fronts of their houses," she narrated.
In this manner, the morcha activists were able to clear an astounding one-and-a-half kilometres of area.
Next, the intrepid women had to convince the community to contribute for the actual levelling of the road. Initially, they collected Rs 2,000 from every household.
With this money they hired a JCB at Rs 800 an hour to level the road. Funds quickly ran out. They had to collect more. The road was finally levelled after 22 days of work spread over four months at the cost of Rs 450,000.
Who'd have imagined that a bunch of poor, illiterate women in a slum would be able to achieve this?
As Rampati strode down the road she helped build, I mused that perhaps when a disempowered and disadvantaged community is organised into a cohesive group, the consequences are far-reaching.
And that it shouldn't come as a surprise that the women of Purvideen Khera who originally came together only to demand their tenurial rights, also ended up building a one-and-a-half kilometre road along the way.