No one in Bihar will deny Nitish Kumar's contribution to governance, notes Aditi Phadnis.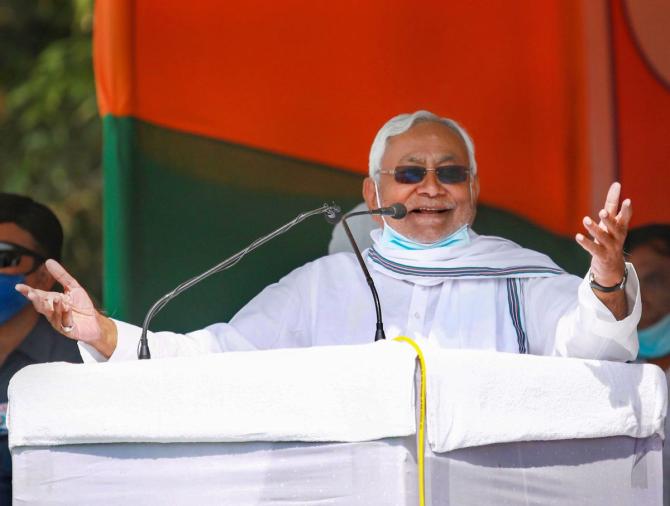 'Tis the season of elections: Across many seas, in the United States; and in our very own Bihar, which will decide on November 10 who the best person is to lead the state.
Though Nitish Kumar and his Janata Dal-United have ruled the state for 15 years (barring the less-than-one-year stint of Jitan Ram Manjhi) with different alliance partners, the voters have many political options.
In the 243-member assembly, the Bharatiya Janata Party, with its alliance partner, the Vikassheel Insaan Party , is contesting 121 seats.
The JD-U, with its ally, the Hindustani Awam Morcha, is fighting 122.
If the BJP scores really high and the JD-U scores really low, then it is possible that the BJP might have to negotiate, holding its nose, with another ally to cobble together a government: And that ally could be Chirag Paswan (although Prime Minister Narendra Modi has said publicly that Mr Paswan is no longer in the National Democratic Alliance and is not a BJP ally).
Nityanand Rai could be a candidate for the top job to prevent the tail from wagging the dog.
But if it exercises that option, having repeatedly committed itself to Nitish Kumar as chief minister, the BJP will have to bear for years to come the bad odours wafting from reneging on that deal.
But that's politics!
However, such a scenario seems quite remote.
Given that passions in Bihar are running high over a variety of grievances, it doesn't seem the state is heading for a hung assembly.
In the first phase of the election, pandemic notwithstanding, the turnout, at 55.69 per cent, was higher than both the previous assembly elections (comparable constituencies) and the Lok Sabha poll.
Which leaves us with one of the two -- Tejashwi Yadav and Nitish Kumar.
Chalk and cheese.
Much is being made of the power of the young.
To be sure, the data available with the Bihar chief electoral officer says that 24.9 per cent of all voters in Bihar are between 18 and 29.
But do young voters necessarily identify with the youth alone? The example of Narendra Modi and Rahul Gandhi; Akhilesh Yadav and Yogi Adityanath is before us.
Also, before us are stark facts.
There was a time the distance between Patna and Muzaffarpur would not be measured in kilometres: It was measured in hours, because there were no roads to speak of.
Read this with the other fact: Against 384.6 km of roads in Bihar in 2004-05 (Nitish Kumar took over the reins of the state in November 2005), by 2010 the state had 23,990.6 km of roads.
This is according to a statement by Pratyay Amrit, then secretary (roads), who got an Asian Development Bank award for his work.
Bihar used to have school buildings, however ramshackle, but no teachers.
By introducing incentives for girls to go to school (free bicycles, free uniforms, free meals, free schoolbooks...), Bihar's dropout rates for girls fell by half.
School buildings were refurbished, and teachers were appointed by the same panchayats that had women in command.
Many of those young women who got an education then will vote in this election.
Bihar was also the first state in India (2006) to ensure 50 per cent reservation for women in panchayats, which numbered more than 8,000.
The chief minister followed this up with imposing prohibition.
You can argue that because of prohibition, there is now home delivery of alcohol if you can afford it.
But in many homes, the hammering of women that routinely followed an evening of revelry has stopped.
Fifteen years is a long time.
Of course there will be fatigue.
Nitish Kumar has to think of new governance ideas and ensure the ones he's already introduced are implemented properly.
And if there had been an alternative, no doubt people would have buried him.
But the alternative stands before them, two boys who swagger with a sense of entitlement and who have wanted for nothing their entire lives.
Nitish Kumar might win the election, he might lose.
But there is no one in Bihar who will deny his contribution to governance.
It is this instinct that made him follow, to the letter, the Centre's guideline when COVID-19 first hit -- that no one must leave their home.
While Adityanath arranged buses for migrants, breaking the lockdown and possibly contributing his ha'penny's worth to its spread, Nitish Kumar was criticised for inactivity.
But today the state has just over 11,000 active cases and its reported case fatality rate of 0.5 per cent is among the lowest in the country.
Officials say only 10 per cent of the total 56,370 beds earmarked for COVID-19 patients are currently occupied.
Yet Bihar mostly lives in the grey.
Politics in the state is notorious for creating optical illusions.
Caste and other social factors can further distort judgement. If these take over the election, it will be a pity for Bihar.
Feature Presentation: Aslam Hunani/Rediff.com