'No one, Mr Kohli, holds any kind of a franchise on nationalism and patriotism.'
'And there is no 'our' that owns India,' says Suhit Sen.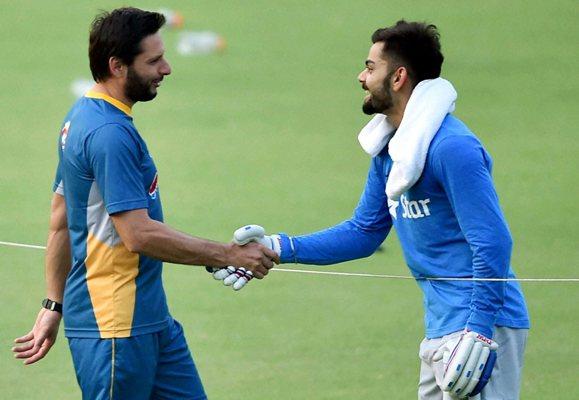 Virat Kohli, India's cricket captain, has not exactly covered himself in glory with his reaction to criticism from a cricket fan. The person in question had tweeted an unfavourable message: Mr Kohli was a much over-rated batsman and he preferred to watch English and Australian batsmen.
The best possible reaction would have been to take this comment in good spirit. After all, Mr Kohli may well have said, India was a free country and everyone was entitled to his or her opinion on such, and other, matters.
But Mr Kohli's reaction was not only intolerant of the criticism aired, it was also conflated with patriotism and nationalism. This is a contagion.
Mr Kohli's command to the unnamed cricket enthusiast was that living in India and loving other countries was not on. If he did, he should not live in India. 'OK I don't think you should live in India then... you should go live somewhere else, no? Why are you living in our country and loving other countries?...Get your priorities right,' Mr Kohli was reported to have said in a video clip. We shall return to the substance of this pithy statement later.
Before that, the delicious irony of Mr Kohli himself having been the target of similar criticism for hosting his wedding reception in Tuscany, Italy, must be noted.
When Kohli and film actress Anushka Sharma got married in those foreign climes, Pannalal Shakya, a Bharatiya Janata Party MLA from Madhya Pradesh, had questioned his patriotism for earning in India and hosting the wedding in Italy.
Rafiq Wani, a BJP MLA from Anantnag, had put a different spin on Mr Kohli's decision. It wasn't a problem that they had got married abroad, he had said. But they shouldn't have had their honeymoon abroad; they should have gone to Kashmir -- 'Heaven on Earth'. Tourism would also have been boosted.
Unfortunately, this kind of intolerance has assumed epidemic proportions in India. There really is no reason to assume that cricketers, other sportspersons and 'role models' in general will remain impervious to the spirit that is abroad, though Mr Kohli's exposure to other cultures and other peoples could be thought to have immunised him from such parochialism.
It obviously hasn't. Let us examine the assumptions that are hardwired into Mr Kohli's statement. Explicitly, to begin with, is the assertion of ownership, shared with Mr Shakya, Mr Wani and millions of others in these troubled times.
Thus, Mr Kohli asks his critic why he is living in 'our country'. Our? Who exactly is the 'we' here?
Those who prefer Mr Kohli's batting to, say, Steve Smith's? Or those who don't share the assumptions about patriotism and nationalism that Mr Kohli and his ilk valorise?
It must not be assumed any more that only hard-line, fundamentalist nationalists with a determinate political agenda think that they have some kind of ownership of, or monopoly over, patriotism and nationalism. This sense is shared by many ordinary people, Mr Kohli amongst them.
India's cricket captain would perhaps be outraged by the Tebbit Test, if he knew about it. This test, devised by Norman Tebbit, a British Conservative politician, was a test of 'loyalty' -- or patriotism -- towards England amongst immigrants, mainly from South Asia and the Caribbean.
If such migrants supported England in a cricket Test, Lord Tebbit had suggested, they could be assumed to be loyal to the United Kingdom, or England.
If they supported the countries they came from -- India, Pakistan, Sri Lanka or the West Indies -- this assumption would not hold.
In India, this test has been reprised for Muslims: If you support Pakistan in a cricket Test you are anti-national. You must support India.
Whether this holds or not for Indian Christians when India is playing England (or Australia, South Africa, etc) we do not quite know.
Both the tests are outrageous and differentiating between the two would be illogical and hypocritical, but people often do so.
The point that Mr Kohli would do well to remember is that no one holds any kind of a franchise on nationalism and patriotism.
And there is no 'our' that owns India.
The essence of the liberal credo is that differences can exist between citizens and they must learn to live with it.
Everybody must have the right to dissent to a viewpoint or a frame of reference, however widely it may be held.
In other words, for instance, anyone can love another country and still live in India as a fully enfranchised citizen.
In fact, many who live in India constantly strive to leave for more inviting shores.
Before the rise of the intolerant right, especially the revanchist Hindu right-wing forces, it was assumed that this liberal credo, in some ways enshrined in the Constitution, was the basis of 'our' public life.
Increasingly, it appears that this idea is being seriously eroded. People of this country are being socialised into a sense of personal ownership of it and an our-versus-their mentality.
That is why, today, a man who lives so much on the public stage does not even think that he is committing an egregious act of fundamentalism when he makes such a statement and thus does it publicly and unashamedly.