'...of the non-availability of doctor expertise or appropriate treatment.'
'That's because of the nature of the disease at this point of time, it is very difficult to contain.'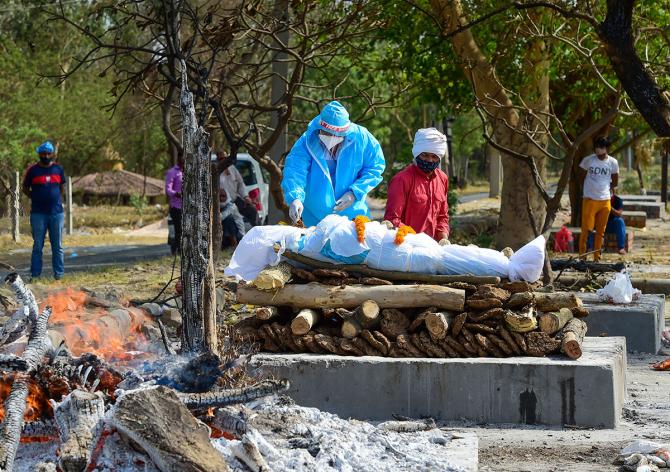 It's the mathematics that tells you just how grim the pandemic situation is in Lucknow, Uttar Pradesh's capital today.
The city, which has a population of 37.6 lakhs (2021)*, has totally 2,753 COVID-19 beds**, of which only 1,459 beds can accommodate the seriously COVID-19 ill.
Over the last few days, Lucknow has reported a hurriedly surging number of new COVID-19 cases. Figures for new cases stood at 5,913** on April 17 and 5,551** on April 18.
Active cases in the city are easily upwards of 35,000 (on April 15 Lucknow recorded 31,687 active cases**)
Where do these 35,000 plus and rising, go for treatment?
Where will they find doctors, in a state that has one government doctor per 18,000 people*** till recently? Or oxygen?
If this is the situation in Lucknow, the state's most important metropolis, how much worse is it in other key cities of Uttar Pradesh, like Varanasi, Allahabad, Kanpur?
In an interview to Vaihayasi Pande Daniel/Rediff.com, Dr Mayank Somani, CEO of Lucknow's 330-bedded Apollomedics Hospital and a practicing emergency and critical care specialist, with top degrees from Lucknow, London and the US, carefully, guardedly answers question on the COVID-19 conditions in his city and the state and on where UP's COVID-19 case curve is headed.
Incidentally, Uttar Pradesh added another 30,596** fresh cases in the last 24 hours.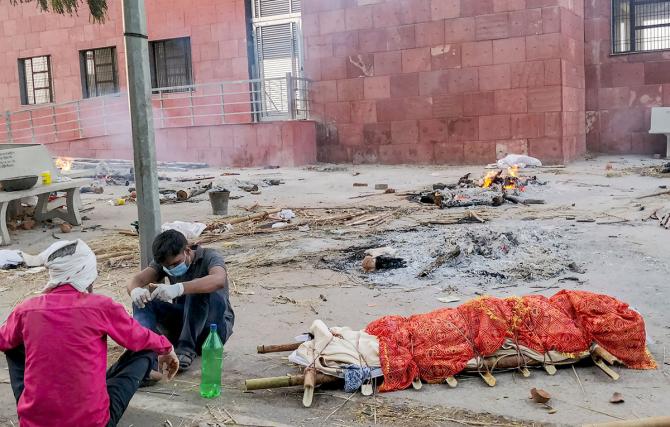 What is the update, as of today, on the COVID-19 situation in your hospital, in Lucknow, and, as per your knowledge, other parts of Uttar Pradesh?
The situation in Lucknow, Uttar Pradesh or anywhere else is largely not new.
It is just the way the numbers are and the population density. Uttar Pradesh is the most populated state of our country, obviously the numbers are going to be high.
We're just catching up with other states -- initial days it was Maharashtra...
The way COVID-19 is, the entire world wasn't prepared for it -- if you look at New York or LA or anywhere else -- no government, no healthcare system can be prepared for a pandemic like this.
In that situation, yes, the beds will never be enough, the oxygen will never be enough, the ventilators are not going to be enough. We will have to make sure, in a very prudent fashion, that whoever we can home quarantine and home treat, we will home treat and whoever is really sick can have a bed.
In my hospital we only treat the (most) sick COVID-19 patients -- those who really require high-flow oxygen, ventilators, BiPAP****.
Also, the non-COVID-19 diseases are not going anywhere. They also need an equal amount of importance in treatment. We are still getting our heart attacks and strokes.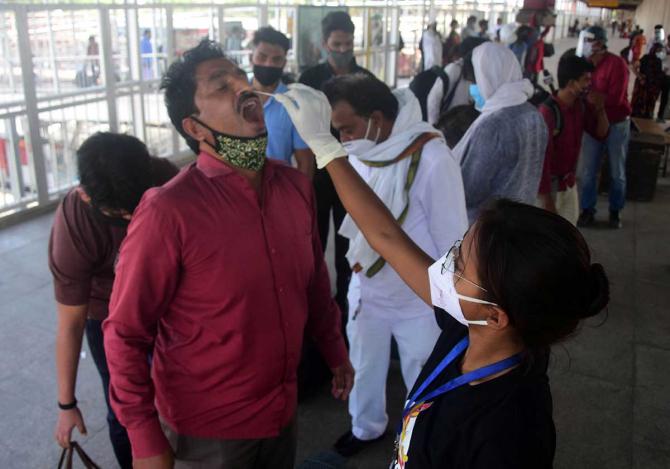 But what is the present situation in Lucknow?
Yes, it is a crisis situation, obviously because, the number of beds are not enough.
Some 7,000-8,000 people are getting infected today. Possibly the number is higher, because there will be people who still think that they just have a fever and will get tested (after a delay).
Also, test reports are getting delayed because of the load, although we have a turnaround time of 24 to 36 hours now because of the number of tests which are there.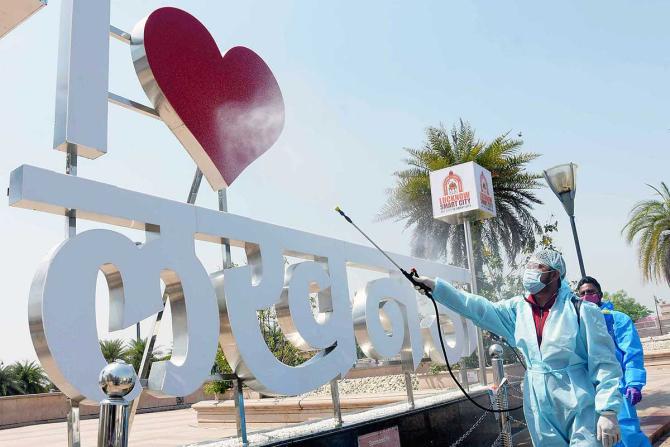 Are the numbers still rising? When do you expect them to start dipping?
I wouldn't be able to answer that -- an epidemiologist will have to answer that.
But I think it is still going to rise. We are still on the rising curve.
The reason is we are looking at a 10 per cent positivity rate across our population in India.
So, we have a long way to go now.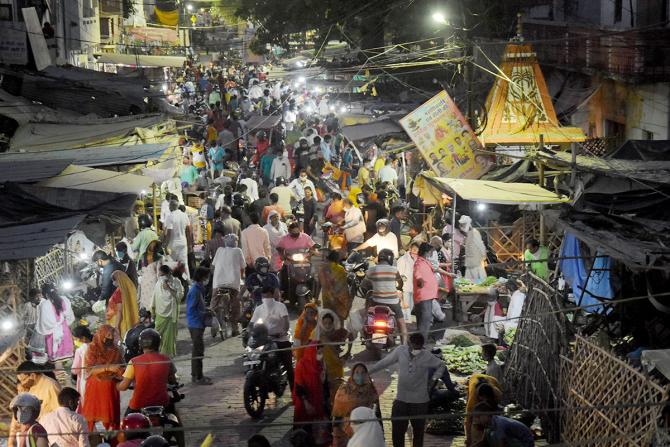 As a senior doctor, the CEO of a large hospital in Lucknow, what do you know about the situation in other cities in the state like Allahabad, Varanasi
Allahabad is getting worse day by day. Kanpur is getting worse day by day.
It's largely because of the infectivity rate -- it's a double-mutated strain. Plus, also if you look at the recent The Lancet article, which says that they are convinced that it is airborne and not just person to person transmission, we think that it's going to be even more difficult to actually contain it.
That is, until we really have a very robust vaccine programme, a very robust vaccine per se, or a very robust treatment available, which can kill the virus and good anti-viral treatment.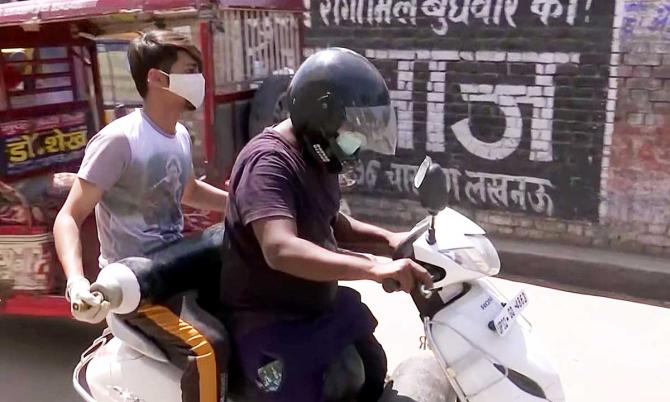 And what are you hearing about Varanasi? Is it getting better in Varanasi? Is it still on an upward curve?
No, I don't think that anywhere in UP is it getting better.
It will follow the curve and we are on the rising curve now.
We will have to go through this and we will need to prepare: Gradually get more and more beds available, more oxygen available, ventilators.
Gradually, we will have to improvise and cater to the maximum number possible. I think everybody's doing their bit, be it the government, be it the private healthcare system, the public healthcare system, but obviously, nobody was ever prepared for this kind of pandemic.
And as far as you know, as per whatever facts are available to you, what is roughly the bed count in Lucknow? What is the ICU bed count? And what is the ventilated bed count?
That's not something which is freely available.
Even approximately?
It's very difficult to say.
A few days back they added 2,000 beds. But 2,000 beds was added to what bed ratio available in the public domain?
We are assuming that there must be about 7,000 to 10,000 beds, out of which about 40 to 50 per cent cater to L-2 and L-3 (L2 and L3 category beds/hospitals that have oxygen, BiPAP**** and ventilators).
Combined, I think they are trying to achieve 40 to 50 per cent capacity of whatever total beds are available, assuming that 8,000 to 10,000 beds are available across Lucknow.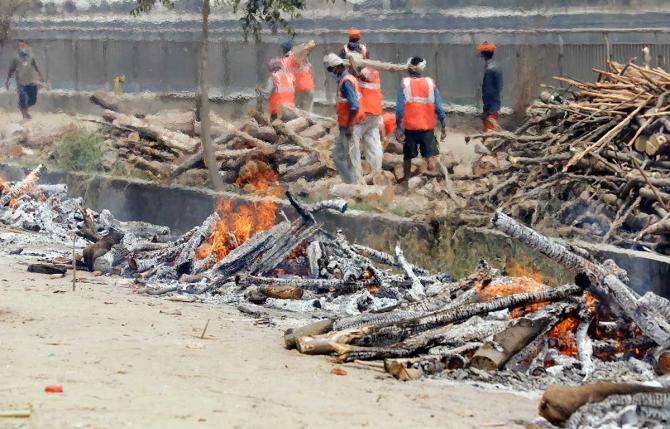 In a situation like this -- where beds and treatment are not available, patients are severely sick and have nowhere to go and their relatives are dying -- what do people do, what do we tell people?
I have also been at the receiving end because people are requiring beds, and beyond a point you can't help, because you need that kind of doctor expertise, nurse expertise and beds availability.
So yes, things are difficult, no doubt.
This is happening. People are losing their relatives because of the non-availability of doctor expertise or appropriate treatment. That's because of the nature of the disease at this point of time, it is very difficult to contain.
All we can do is keep adding beds.
**According to worldpopulationreview.com(external link)
**Sources: According to district health department statistics referenced by PTI, The Times of India, Mint
Uttar Pradesh records highest one-day Covid death toll, over 27,000 cases (external link)
Lucknow: Efforts on to increase beds, but huge surge puts stress on hospitals (external link)
COVID-19: Active infections cross 1 lakh-mark in Uttar Pradesh, 54,000 of them are in hospitals (external link)
*** Only 1 doctor for 18,000 people in Uttar Pradesh (external link)
**** BiPAP or BPAP=Bilevel Positive Airway Pressure. This machine offers non-invasive form of oxygen therapy.
Feature Presentation: Ashish Narsale/Rediff.com