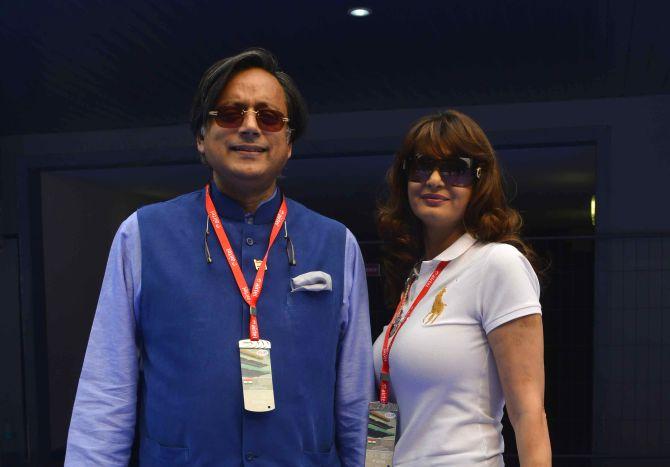 'From envy, heartburn and broken hearts to broken marriages, much damage has been done by unintended revelations in the social media. Suspicious partners bring out hidden relationships, which may never have come to light and hell breaks lose in many lives,' warns T P Sreenivasan.
Twitter posts have saved lives. A man lost on a ski slope in Switzerland got help when he tweeted his predicament. Another got bail from arrest as his friends discovered from a tweet that he was jailed in a foreign country. But there must be an equal number of stories of human tragedies brought about by social media, particularly Twitter and Facebook.
From envy, heartburn and broken hearts to broken marriages, much damage has been done by unintended revelations in the social media. Suspicious partners bring out hidden relationships, which may never have come to light and hell breaks lose in many lives.
'Murder by Twitter,' Suketu Mehta, who wrote Maximum City, said about Sunanda Pushkar's death. 'Twittercide', 'Death by media' and such other words and phrases were used for the new phenomenon of upheavals in private lives, leading, in this case, to a tragic death.
Too much of private life in public inevitably leads to the kind of situation that developed in her case. Many people believe that had it not been for social media, Sunanda Pushkar may have had a less disturbed and more peaceful married life and she would have been even alive today.
Shashi Tharoor had already become a leading 'Twitterati' by August 2010 when he married Sunanda at his ancestral home. Tharoor got hooked onto Twitter simultaneously with his parliamentary career, having been initiated into it by his Dubai-based assistant.
In fact, Twitter had already taken its toll on his political life by then. I remember forwarding to him a story that appeared in the Washington Post entitled 'If you have a political future, do not Twitter it away.' Two senior politicians in the US had been embarrassed by their tweets a day earlier.
Tharoor never regretted his micro-blogging adventures even after he fell victim to his Twitter posts. The most celebrated of them about the 'holy cows' traveling by 'cattle class' haunted him for long.
It was Twitter posts by Lalit Modi that led to his resignation from the Union council of ministers. Tharoor was intoxicated by the adulation he received from his two million 'followers' for his intellectual depth, subtle humour and creativity in his tweets.
He did not seem to realise that 'followers' on Twitter and 'friends' on Facebook are neither in the right sense of the two words. Tharoor introduced Twitter to several politicians, but, instead of walking constantly in minefields by composing their tweets themselves, they engaged ghostwriters to post sanitised and inane tweets. They chose to be boring rather than daring and thus steered clear of Twitter whirlpools.
Pushkar was a recent entrant to the Twitter world. She was probably aware that Twitter was a jinx in her husband's life, but she felt compelled to find utterance in social media. As an emotionally strung and sophisticated socialite, her tweets were interesting and they centred on her married life and the great opportunities she had to move with the high and the mighty.
The influence of Urdu poetry was very much visible in her tweets, but she did not get involved in any controversy. When she greeted me the last time I met her, her first words were: "We follow each other on Twitter!" She was obviously excited about sharing Twitter with friends.
The extraordinary events soon thereafter revealed the risks involved in social media. Spouses have the tendency to comb through social media posts out of curiosity as to what is happening in the lives of their partners.
Any little sign of intimacy outside the family is noticed and challenged. They do not realise that it is difficult to compress all the nuances of relationships in 140 characters and that Twitter trails are prone to misinterpretation.
Pushkar had tried to persuade Tharoor to stop communicating with Mehr Tarar, a journalist in Pakistan. When it did not happen, she pictured herself as a woman spurned and let out her fury on Tarar by going wild on Twitter, by sending confused and angry messages to Tarar from Tharoor's account.
It was too late by the time Tharoor got wind of the storm she had raised and announced the suspension of his account.
It was clear that Pushkar struggled within herself between her desire to take revenge and her wish to not hurt her husband.
The anger was directed against Tarar and only on one occasion she came close to revealing something about the Indian Premiership League, which would have done him damage. No doubt, the emotional outrage was aggravated by Pushkar's illness, which took its toll in the end.
To attribute the entire episode to Twitter may be unfair, particularly since it has done so much good to quick, effective and wide communication of thoughts and ideas. Tragedies of this kind have happened long before the information revolution.
Love letters were written on leaves in the days of Sakuntala and love messages were sent through birds (Nala-Damayanti) and even clouds (Meghdoot). They were also prone to unintended revelations and their consequences.
But no one can deny that personal relationships have become fragile with the erosion of privacy. The golden rule that nothing that should not be seen by spouses or parents should ever be sent to cyberspace is hard to keep.
To turn to the silver lining to the episode, the tweets and Facebook messages of Pushkar, Tharoor and Tarar will be valuable living evidence for those who are seeking to find the truth. The emotional state of the three and its ramifications on developments will have to be considered.
For instance, the premonition of death in Pushkar's tweets establishes that she was critically ill and she knew that her days were numbered. Even after the hospital in Thiruvananthapuram had cleared Pushkar of any major disease, she posted on Twitter in response to a 'Get well soon' message: 'Will try. Will try to get so many issues diagnosed in KIMS that now who knows when I get to go with joy. Hastay hua jayege (will go laughing).'
The charges made in that state of mind will have to be weighed with care before coming to conclusions.
Twitter will flourish till an alternative medium is invented in this highly innovative world, regardless of the tragedies and other mishaps it may have caused.
The Pushkar episode should alert the world to the dangers of the invasion of privacy in its desperate quest for speed and efficiency in communications.
Image: Shashi Tharoor and Sunanda Pushkar. Photograph: Reuters.
T P Sreenivasan is a former Ambassador of India and Governor for India at the International Atomic Energy Agency; Executive Vice-Chairman, Kerala State Higher Education Council; and Director General, Kerala International Centre.
You can read Ambassador Sreenivasan's earlier columns here.