Hand-wringing about human rights rings hollow in light of flawed narratives that have gone before, says David Devadas.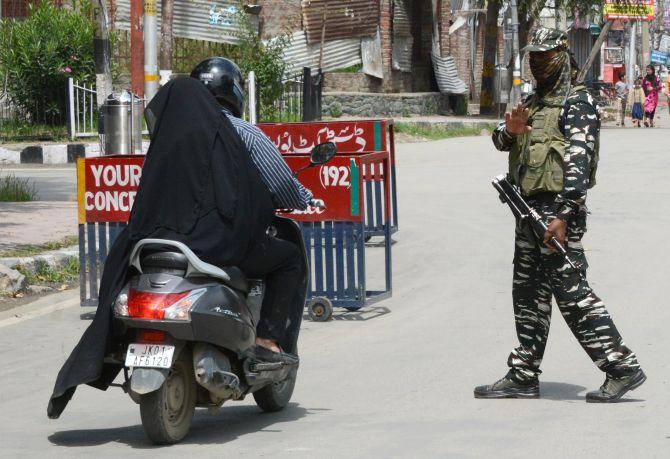 Many of us are deeply concerned about how our countrymen in Jammu and Kashmir have fared under lockdown since last Monday.
But one is a bit flummoxed by the over-the-top reactions from Pakistan -- including fake videos of gruesome brutality.
For 30 years now -- and off and on over the decades before that -- leaders, activists, and propagandists in Pakistan have waxed eloquent about the most horrific human rights abuses in what they call 'occupied Kashmir.'
If those narratives were to be believed, the restrictions currently in place in Kashmir would be a huge relaxation from what they would have us believe is normal there.
For, going by credible accounts, although there is extraordinarily heavy deployment, restrictions are apparently not being cruelly imposed in many places.
There have been injuries from pellet guns, including blindings on at least August 9 -- which are condemnable. Indeed, pellet guns ought to be replaced with a restraining weapon that is not so damaging.
Thankfully, however, no deaths have been reported, other than the teenager who drowned after jumping off a bridge to avoid security men who evidently seemed menacing. His parents said the boy knew nothing about 370 or any sort of political development.
Severe inconvenience
There is no doubt that common people in Kashmir are hurt and distressed. These sentiments stem from the withdrawal of special privileges that they enjoyed compared with other citizens.
Much of the anger stems from the narrative that people in the state are happy over the recent constitutional changes. Triumphalism should have been avoided. Activists of 'mainstream' parties in particular feel betrayed.
In addition, Kashmiris at large have gone through great tension in the absence of communication facilities, not knowing about their relatives and friends.
Communication links have been snapped, there are huge checks on people's movement, and larger numbers of troops are posted all over the place.
But those interviewed by sympathetic media channels have generally not seemed urgently distressed about untreated sickness or hunger. 'We are okay' has been the common response in the little contact one has had.
Old story
In 2016, after Hizb-ul Mujahideen commander Burhan Wani was killed, I witnessed that restrictions by the forces were generally far less harsh than those imposed by groups of civilian boys.
In places where I travelled that year -- Tral, Awantipora, Pulwama, Baramulla, Kupwara, and around Srinagar -- it was gangs of boys that imposed restrictions on movement rather than security forces.
Media hype
However, the media by and large reported the 2016 uprising as if the forces were engaged in a bloodbath. Indeed, that word was used nonchalantly in the local press that year.
Much of the media highlighted the deaths, injuries, and blindings that resulted when the forces fired, with bullets or pellet guns, but not the fact that forces' convoys often turned back in the face of fierce stone-pelting mobs.
I witnessed para-military jeeps turn helter-skelter to get away from a stone-pelting mob, without opening fire or engaging in any other violence. I saw such scenes even on the national highway, which had been taken over by angry mobs of boys.
A para-military soldier got trampled when a convoy reversed hurriedly in the face of stone-pelting on a bridge in Baramulla in mid-August that year.
Even army convoys remained stationary for hours in the middle of the highway on some occasions.
Crying 'wolf'
The problem with crying 'wolf' is that one lacks credibility when the situation really becomes bad.
It seems that the induction of perhaps 40,000 extra para-military troops over the past few weeks has largely succeeded in maintaining calm across much of the Valley.
This puts a question mark over the ad nauseam assertions that 700,000 troops are normally stationed to keep the civilian population down in Kashmir. If that figure was true (officials generally refuse to reveal the true figure), the extra troops would only mean a little more than five per cent of the total already in place.
It seems unlikely that just a five per cent troop increase could make such a huge difference to maintaining calm.
David Devadas is the author of The Story of Kashmir and The Generation of Rage.