'If development, investment, employment, implementation, credibility and commitment are ensured, security will automatically improve and subversive and militant elements will lose ground and be neutralised by the people themselves,' says B S Raghavan, the distinguished civil servant.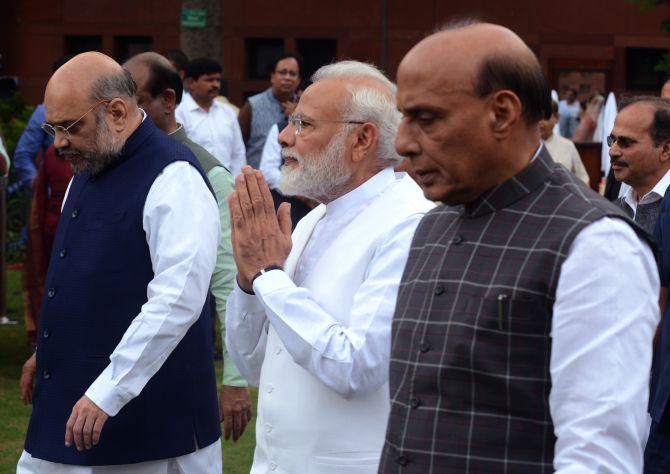 I have begun wondering, and simultaneously worrying, whether the National Democratic Alliance government, especially Prime Minister Narendra Damodardas Modi, has got into the practice of taking momentous decisions before carefully and thoroughly working out the modalities of putting them through devoid of hitches and hiccups, and without properly putting in place a plan of follow-up action to achieve the best results out of them.
Take demonetisation, goods and services tax (GST) and the enactment of the law against instant triple talaq. Barring those who have the fixation that Modi and his government are up to no good whatever they do, all other sections of professional, academic and scholarly opinion, and those closely following public affairs, will readily accept the logical reasoning behind them.
Indeed, it took great courage and political will to carry them out. It was because national opinion too was overwhelmingly with the government, that there was not a whiff of protest or agitation anywhere in the entire length and breadth of India and the Opposition political parties too adopted the devious stratagem of seeming to castigate but walking out at the time of voting in Parliament.
The follow-up in each of these cases was ill-planned. Arrangements to deposit the demonetised notes, and steps for restoring currency circulation and availability, were botched up; implementation of the new rates of taxes under the scheme of GST is still to take a final shape; and there is nothing from the government's side on plans in the offing for Muslim women needing relief and support in case their husbands are found guilty of instant triple talaq and are sent to jail.
Or, take the announcement by the Prime Minister of the creation of the post of Chief of Defence Staff (CDS). It is truly a game-changing decision which has a vital bearing on national defence and security. The announcement has been made, but no CDS is in sight yet, and according to top sources in government, it would take about three months or more for the process of selection and appointment to be completed.
It is not just a matter of having a post: It involves a whole mammoth question of structural reorganisation entailing sea-changes in the relationships, equations and coordination between the civil services and defence establishment wings of the defence ministry set-up, systems for initiation and implementation of purchase and procurement actions and procedures for attendant financial allocations and accountability.
The role and functions of CDS will have to be precisely delineated based on whether he would be the first among equals or have overriding authority over the three Service Chiefs. In other words, the announcement will be in a state of suspended animation for several months after the grandiose proclamation from such an exalted stage as the Red Fort on such an exalted occasion as the Independence Day.
Now let us come to the historic resolution nullifying Article 370 and 35A of the Indian Constitution and the bills creating the two Union territories of Jammu and Kashmir and Ladakh. At one stroke a monumental change has occurred in the entire constitutional profile of India, with One Nation, One Flag and One Constitution becoming a long overdue reality 70 long years after Independence.
The fact that it has been welcomed by all but a minuscule, habitually grouchy, fraction of the Indian people, and that the world community -- including many Islamic countries -- has not taken any exception to what India had done, should not blind anyone to the imperative need for the government to go public with plans demonstrating its concern for the wellbeing of the people of the two new Union territories.
In his Independence Day address, the prime minister with impressive eloquence spoke of the tremendous beneficial results that would flow to the people of Jammu and Kashmir from the latest move. He said, "Now, anybody in Jammu and Kashmir, like the rest of Indians, can reach out to the government in Delhi. There will be no hurdles in between…. The new system that has come into being after the recent step will create facilities that will directly benefit the people of the state."
But he left unsaid the facilities he planned to create and the follow-up plans and schemes he had in mind to create them.
It is clear as noonday Sun that if Government stops with the passing of the resolution and the bills, if the restrictions in J&K continue beyond a month or more and if protests erupt at some point and result in casualties, India will fast lose all the goodwill.
Even one adverse comment from UN or some high-profile democracy (the US, the UK, EU) will set off a barrage of barbs.
It would have been wise, therefore, for the government to have announced at the time of introducing and passing of the resolution and bills themselves at least an outline of some dramatic policy measures for development, investment and employment in Jammu and Kashmir.
With a few days of anticipatory preparatory work, it should have been possible to do this with an indication of commensurate earmarked amount as part of Amit Shah's speech in Parliament and the prime minister's address to the nation.
For instance, it would have had an electrifying effect if the home minister and the prime minister could have made a declaration of the formation of a J&K development and investment consortium with an initial funding of at least one lakh crores of rupees to come part from government, part from banks, part from international financial agencies, part from borrowings through bond internal and external, part from foreign exchange reserves and part from the reserves of the Reserve Bank of India.
A development and investment plan could also have been got ready along with a provision of incentives and subsidies to assure return on investment. Even now it is not too late.
To carry conviction that the government means business, a series of measures should be vigorously put through right now under the President's Rule. To wit:
Demolishing the dynastic stranglehold of Abdullahs, Muftis, Azads etc;
Evicting them from the palatial official mansions they occupy at the cost of crores of rupees of public money;
Removing them from all public bodies;
Reservation for people of J&K in defence forces, para-military forces, educational institutions etc;
Revamping and giving a shake-up to J&K bureaucracy which is below par in competence and performance;
Constituting a standing body of eminent, trusted, reputed industrialists, experts, academics and professionals having knowledge of ground realities of J&K, with Karan Singh being given an assigned role;
Prime minister, home minister, defence minister and finance minister paying a visit to Kashmir and Jammu, including some interior areas, and making the announcements of the plans of the government on the spot; it will do enormous good -- diplomatically, politically, and as a morale-booster and it will put heart and spirit in everybody.
Having handled Kashmir in the Union ministry of home affairs for 10 years 1961-69, and visited the state seven times from 1952, I am sure if development, investment, employment, implementation, credibility and commitment are ensured, security will automatically improve and subversive and militant elements will lose ground and be neutralised by the people themselves.
The sooner, the better.
B S Raghavan is a former member of the Indian Administrative Service who was director, political and security policy planning and in charge of the National Integration Council secretariat in the central government when Jawaharlal Nehru, Lal Bahadur Shastri and Indira Gandhi were prime ministers. He was also the policy adviser to UN(FAO) and US Congressional Fellow.