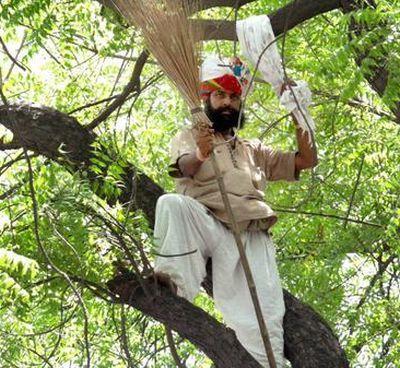 Is there anything any one can say after Gajendra Singh's suicide that will not come across as inadequate, insincere, fatuous or too little too late?
Already the spokespeople of the three parties most interviewed on TV have begun to sound shrill, opportunistic and hopelessly self-serving as they indulge in a blame game or try and score brownie points against each other.

A man has died in front of our eyes, before thousands of people, TV cameras and national leaders and the keepers of the law. His death was not sudden or unexpected. He clambered up a tree, sat there for close to three hours, thinking God knows what kind of thoughts, no one stopped him or tried to persuade him to come down or reasoned with him or showed him some empathy -- not the leaders, the police, the spectators or the journalists present.

We saw it happen again and again on a hundred replays. The death of an Indian farmer who'd climbed up a tree to draw attention to his plight: Unseasonal rains, crop destruction, unserviced debts, hungry children.

A death like that, of a young man at the prime of his life, could stop a nation in its tracks and bring a government to its knees.

Great literature, masterly cinema has dealt with the subject of a death like this.

The beginning paragraph of Gabriel Garcia Marquez' Chronicle of 'A Death Foretold' conjures up the horror of an expected extinguishing in a few words.

Nearer home, Peepli Live (2010), the Indian satirical film on farmer suicides and the subsequent callousness and cynicism of the media, in fact, turns out to be eerily accurate.

A man killed himself in public before New Delhi's chief minister, a crowd of thousands and assembled media.

Is this the final denouement of the state of our humanity? Have we reached a point of no return?

Over the last few weeks I have been watching with great interest an edifying program on NDTV, What's Your Choice?, helmed by Prannoy Roy.

In it, actors are placed in every day situations of friction to ascertain what their spontaneous and unfettered public responses would be. The subjects chosen are the black sheep of the Indian middle class psyche: colour and gender discrimination, domestic violence, callousness towards minorities et cetera.

The show is edifying because time after time, it shows the basic decency and courage of ordinary Indians to take on injustices and perform acts of altruism and courage.

Ordinary people (mostly women) at shopping malls and bhel puri kiosks are seen speaking up against injustices and inequities.

They seethe, mutter angrily and rush in to wag their fingers at offenders.

I have taken to watch this programme as a relief from the horrific 'breaking news' on other channels. And I have never left it without feeling a little more reassured about our moral compass.

And then, handsome, turbaned, defiant Gajendra Singh, looking like a warrior from a forgotten age, climbs a tree and with one small gesture ends his life.

You would think that it would shame people into silence.

That people would be stunned and rendered speechless.

That at least one politician or news anchor would break down in public and admit: 'this is crazy. I have no words to say any thing any more. I give up.'

But no, they carry on as they have done.

And that is the most damning indictment of our times: not that Gajendra Singh died so tragically.

But that he did so in vain.