'The BRICS anthem has to necessarily be an anthem of Vedic times -- Walk together, Dream together, Achieve together.'
'And who knows it better than Modi?' says Tarun Vijay.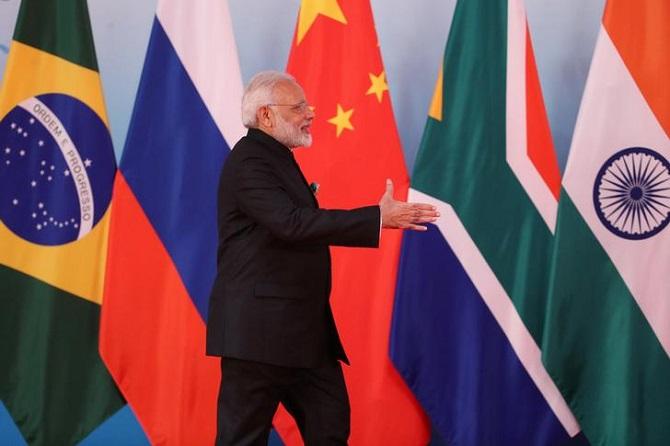 IMAGE: Prime Minister Narendra D Modi prepares to shake hands with Chinese President Xi Jinping (not pictured) at the BRICS summit in Xiamen, China, September 4, 2017.
In case you missed it: The Modi-Xi bonhomie in China!
Photograph: Wu Hong/Reuters
Having finished his talks with President Xi Jinping, Prime Minister Narendra D Modi boarded Air India One for Nay Pyi Taw with a smile.
He was candid in his discussions with President Xi -- stressing that peace and tranquility in border areas must be maintained for walking together.
The Chinese side too came forward with not only becoming a signatory to name Pakistan-based terror outfits (without mentioning Pakistan though, which hardly matters) in the Xiamen declaration, but also specifically underlining the need to push forward Sino-Indian ties on the 'right track', and adding that stable Sino-Indian ties are in line with fundamental interests of the people.
Xi also said that China was prepared to work with India to seek guidance from the five principles of Panchsheel.
Before leaving for China, Modi had achieved what he needed in Doklam and completed a reinvigorating cabinet reshuffle.
He gave a refreshing face to his ministry, specially with Nirmala Sitharaman getting defence, Piyush Goyal railways and Alphons Kannanthanam becoming the first Christian minister from the south in his council of ministers. The rejig pleasantly surprised his friends and foes alike.
He showed his prowess in selecting the best go-getters, re-assigning new responsibilities.
The power of democracy and the mission to take everyone along for a better, stronger and more progressive India was reflected once again in his decisions.
With this, his presence in the highly significant BRICS summit at Xiamen assumed a colour of confidence and power.
Though the Chinese were worried that the Doklam standoff could influence his participation, those who knew Modi were sure of his arrival as India has as much stake in the success of BRICS as any other member. And being the fastest-growing economy among all BRICS nations, it was but natural that Modi would not have missed it.
WATCH: At the Modi-Jinping meeting in Xiamen
Video: ANI
Though bilateral issues are not expected to be raised at a multilateral forum like the BRICS summit, yet when two giants share a dais it is their relations too that make headlines.
Diplomacy is an art of safeguarding your nation's interests without loudly announcing a victory. Both leaders know that in contrast to the ugly rhetoric and war-mongering in the Chinese media, Indian restraint stood out.
It is hoped that walking the long miles with China can be a possibility still, though, post-Doklam, it will be tinged with extra caution.
There are Chinese scholars and academicians who have been appreciating India's development saga under Modi. They do not subscribe to the extreme views that have hurt relations. While analysing India-China relations, we should take note that space has been given to such opinions also.
BRICS is an extension of that ancient Indian idea of Vasudhaiva Kutumbakam -- the world is one family.
Gandhiji had said we should always keep our doors and windows open to all the noble thoughts from all over. And Modi has shown, with his foreign policy, that he wants to realise these dreams by weaving a future of togetherness.
It is a dream that depends on how India and China walk together.
Most of the Chinese I have met still cherish the picture of Modi with Xi on a swing in Gujarat.
We see a hundred success stories of Indian entrepreneurs in China, specially in the field of textiles and machinery.
There are conversely also stories of Chinese protectionism and denying Indian entrepreneurs their due. Indian mangoes were refused entry into China; Indian cotton attracts an atrocious levy of 28 per cent, while the same cotton from Pakistan invites a mere 3 per cent and Myanmar cotton 8 per cent. Indian pharmaceuticals and information technology products face undue delays, which is another way to deny entry in their market.
But all such issues can be resolved within the spirit of Astana's Modi-Xi joint message -- that differences should not be allowed to turn into disputes and rather be taken as opportunities to resolve matters through dialogue. This was my theme at the BRICS seminar on governance last fortnight.
With this spirit, the BRICS success can show a larger picture of hope to the world where we see islands of richness in a sea of poverty, in the spread of violence and terrorism and in the growing demands for a better future among the youth.
WATCH: Why BRICS nations need to speak in one voice.
Video: ANI
Representing 3.6 billion people, or above 40 per cent of the world population, all five members are in the top 25 of the world by population and four are in the top 10.
The five nations have a combined nominal GDP equivalent to (approximately) 22 per cent of the gross world production. The World Bank expects BRICS growth to pick up to 5.3 per cent growth rate in 2017.
Bilateral relations among BRICS nations have mainly been conducted so far on the basis of non-interference, equality and mutual benefit.
It is the ancient cultural and civilisational threads that play a pivotal role in enhancing mutual understanding and giving a sense of belongingness to each other in an inseparable bond of friendship and trust.
India enjoys the ancient civilisational bond with China, Africa and all other BRICS nations and that has been a foundation of our togetherness shown in the shared vision for creating a world of peace, amity and good governance.
Having fought with colonial powers for long, India attained freedom in 1947, and we just celebrated our 71st Independence day.
It has been a great journey as we rose from having 0.00001 per cent growth rate during 1900 to 1947, to becoming the fastest growing economy in the world under Modi's dynamic leadership.
The march of a billion people towards creating a new destiny was never so thrilling and reassuring to the world. As the vibrant and biggest democracy of the world, India today stands as the centre of pluralism, harmony and peaceful development seen in the growing popularity of Modi in various parts of the world.
It is this image of India that is soothing and reassuring to other nations like Brazil, South Africa and Russia.
The quintessential Indian touch is what BRICS need today. Hence, the importance of Modi's participation at Xiamen.
WATCH: Modi discusses emerging markets and developing countries at the BRICS summit.
Video: ANI
BRICS has to be made a successful multilateral forum that can effectively provide an alternative to Western hegemony through the Bretton Woods institutions that have long been seen as tools to spread and strengthen Western control over the economies of developing nations.
It is the leadership of the Indian ethos of togetherness with BRICS nations that will pave the new path of progress and define the success of BRICS as a credible alternative.
In areas of solar power, IT, medical education, engineering and skill development, India can help Brazil and South Africa and enhance trade relations with Russia and China, bridging the huge trade imbalance, too, with the latter.
It is from this perspective that India's participation in the BRICS summit was significant from the strategic viewpoint; it was an opportunity to forge solidarity on issues that are crucial to humanity.
Terrorism is, of course, one significant issue that gets specially underlined with Modi's participation.
One country's terrorist can't be declared a 'shielded person' by another country's diplomatic strategy. BRICS will have to come together on combatting terrorism firmly in the spirit of the BRICS Goa summit.
The Xiamen declaration on terrorism assertively endorsed this stand with China being a signatory to it.
It is in the interest of BRICS nations to use their potential for development and removing hurdles to achieve greater cooperation.
In the centenary year of Pandit Deendayal Upadhyaya, it is necessary for us Indians to introduce his philosophy of Integral Humanism, which speaks of removing poverty (antyodaya), as the first priority and calls for an integrated approach to all human problems encompassing nature and all living beings in its circle of concerns.
The BRICS anthem has to necessarily be an anthem of Vedic times -- Walk together, Dream together, Achieve together.
And who knows it better than Modi?