With PM Modi's visit, the time has come for a relook at India-Myanmar ties, and elevate the relationship to higher levels, says Dr Rahul Mishra.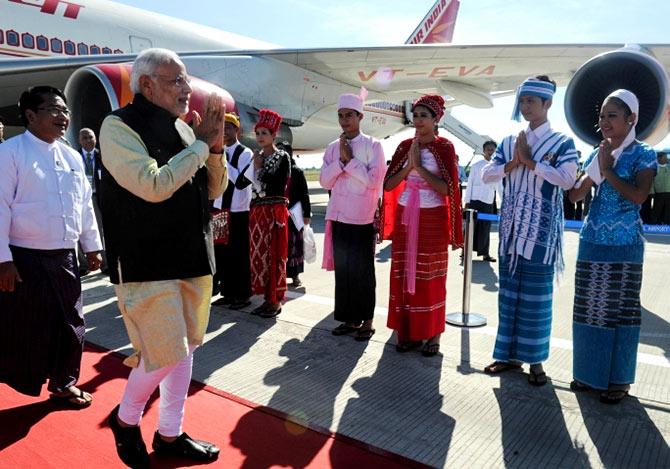 Image: Prime Minister Narendra Modi arrives in Nay Pyi Taw on his maiden visit to Myanmar in November 2014. Photograph: MEA/Flickr.
After registering diplomatic success at the BRICS Summit in Xiamen, China, Prime Minister Modi is heading to Myanmar.
Modi's Myanmar visit will take bilateral relations to new heights and address some of the issues of common interest to the two countries.
During his visit, Modi will visit the capital Nay Pyi Taw, financial capital Yangon, and Bagan. Bagan is one of the richest examples of the Hindu-Buddhist past of both nations, and is waiting to be resurrected. India could contribute immensely in restoring the temples and pagodas of Bagan.
Clearly, the focus of Modi's visit will be on promoting trade ties; strengthening non-traditional and traditional security cooperation, the ground work for which was done with the recent visit of Army Chief General Min Aung Hlaing; and encouraging greater cultural cooperation and people-to-people linkages.
Modi's proposed address to the Indian community in Yangon is aimed exactly at that. There are approximately 2.5 million persons of Indian origin in Myanmar, and mutual interests and common challenges bind the two peoples.
The rising threat of terrorism is one of the fastest growing challenges for India and Myanmar.
The Rohingya crisis is looming over Myanmar. What was earlier believed to be a domestic issue, popularly perceived as a human rights violation by the majority against the Rohingya Muslim inhabitants of the Rakhine province of Myanmar, is turning vicious with each passing day.
This is evident from the formation of the Arakan Rohingya Salvation Army, which was recently involved in clashes with Myanmar's security forces. ARSA is run by a Pakistani origin Rohingya, Attaullah Abu Ammar Jununi, and claims to have about 500 recruits.
The worst part of this is that Myanmar is being increasingly affected by radicals who use terror tools to take revenge against the government and majority community on grounds of perceived injustice.
The ARSA might try to spread wings to neighbouring countries including the Indian sub-continent. India and Myanmar must work together in fighting the menace, especially in terms of information-sharing and preparedness.
Addressing human rights issues also demands their attention. More than 5000 Rohingya refugees have taken shelter in India and the issue is likely to figure in Modi's discussions with President Htin Kyaw and Aung San Suu Kyi.
Security cooperation with Myanmar becomes all the more important as the two countries share a 1640 km long border, with four Indian states abutting Myanmar's Chin, Sagaing, and Kachin provinces. This is particularly important in the context of insurgency in the north-eastern states.
While recent developments like India's hot pursuit against insurgent groups, the Naga accord signed by Modi and NSCN (IM), death of NSCN (K) leader Khaplang, have blunted insurgent activities, coordinated efforts must continue to eliminate insurgency along the border.
India-Myanmar trade and economic ties are much below their potential. In 2016-17, India's trade with Myanmar was US$ 2.1 billion. Amongst the 10 ASEAN countries, only Brunei, Cambodia, Laos and Philippines are behind Myanmar in terms of trade with India. This needs to be expeditiously rectified.
To overcome trade inertia, both have to go beyond trade in primary commodities. With India's Act East Policy in action, the north-eastern states have become emerging centres of trade in processed good and services. Other initiatives could be building world-class medical facilities to make north-east the regional hub of medical tourism. Food processing industries with international standards can help save the wastage of products and trigger exports too.
Establishing robust transport and telecom linkages is critical too. India and Myanmar could work together in enhancing maritime connectivity and trade through the development of the Dawei port, which has been waiting for investors after the withdrawal of the Italian Thai Development PCL.
Notably, both China (Kyaukphyu), and Japan (Thilawa) have already worked with Myanmar on maritime connectivity, which not only caters to their business interests but also gives them greater transport and business access.
China and Japan have also launched ambitious connectivity projects in the form of Belt and Road Initiative and the Partnership for Quality Investment respectively.
India's Sagarmala initiative, lauded as a response to China's Maritime Silk Road, and aimed at upgrading major domestic ports, increase their capacities, and link them robustly with regional transport networks, could be used to reach out to the neighbourhood.
India's other connectivity initiatives include the India-Myanmar-Thailand highway, and BBIN corridor. India is also working on the Kaladan multimodal project which links Sittwe port with Kolkata.
With PM Modi's visit, the time has come for a relook at India-Myanmar ties, and elevate the relationship to higher levels.
Devising joint plans for the development of north-eastern states and Myanmar's bordering provinces, and working closely in terms of investing in the future of Myanmar, should be the first steps in that direction.
Dr Rahul Mishra is a New Delhi-based expert on Asia-Pacific affairs.