The BJP's faces for 2019 will be Dharmendra Pradhan, Piyush Goyal, Nirmala Sitharaman, Yogi Adityanath and Devendra Fadnavis, predicts R Rajagopalan.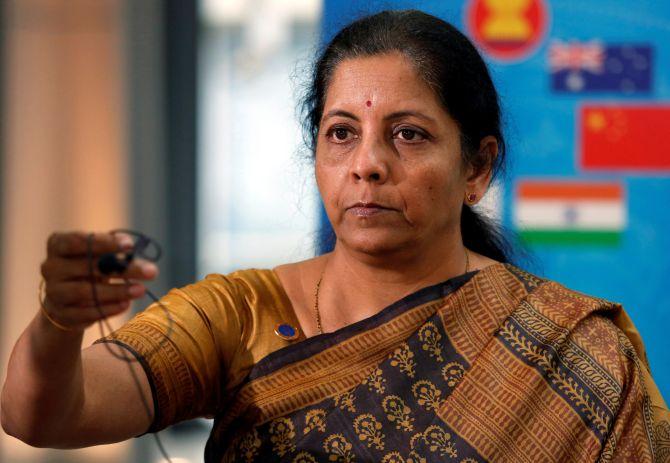 IMAGE: Defence Minister Nirmala Sitharaman. Photograph: Kham/Reuters
Nirmala Sitharaman's elevation as defence minister and into the Cabinet Committee on Security has sent out plenty of messages.
A day after the momentous decision, the questions still abound in officialdom.
Why and how was the decision taken?
Why did Prime Minister Narendra D Modi spring a surprise like this, especially considering the announcement was made within moments of his departure for China.
While a message was also sought to be sent to neighbouring countries like Pakistan and Sri Lanka, the crux of Sitharaman's elevation was meant for the internal audience, especially to seniors in the Bharatiya Janata Party.
Naturally, it has rattled the BJP's top 10 to 15 leaders.
On Monday, when offices reopened in government, most of the RAX telephones of Union ministers were buzzing over one point: Just how did Nirmala make it? What is her strength?
Party insiders know that Sitharaman was the draftsperson of the BJP's 2014 manifesto.
Prior to that she was the BJP's official spokesperson during the Gujarat polls in 2012.
BJP President Amit Shah has included her in the 2017 Gujarat election think-tank.
It is not that Sitharaman had a smooth run; when she encountered difficulties she tackled them in her own style, of course, helped along by Finance Minister Arun Jaitley.
Ranged against her in internal party meetings were Sushma Swaraj and M Venkaiah Naidu.
But for Jaitley neutralising their opposition, Sitharaman would not have been included as the BJP's official spokesperson in New Delhi just before the 2014 elections.
While navigating the rough waters Sitharaman also took care to not go against the party elders now housed in the Margdarshak Mandal. She was respectful, but kept a distance from the seniors.
So what is her strength? Insiders say it is her drafting skills, understanding of issues, ability to go deep into the subject matter and present it to Prime Minister Modi succinctly in two paragraphs.
Perhaps she is the one minister who goes through almost all the pages of thick files, especially the controversial ones.
On international negotiations like at the WTO and G20, she made sure she read the notes of her predecessors like Pranab Mukherjee, Murasoli Maran, Kamal Nath and others, which gave her real knowledge and power during the tough negotiations.
Given this background, if her elevation piqued curiosity within the government, the internal political dynamics of the BJP too has been impacted.
As the shockwaves from the move settle down, many BJP leaders have begun to analyse her elevation.
A few seniors who are privy to the mindsets of Modi and Shah say the decision to promote her over the heads of so many seniors was deliberate.
When Modi hinted to a few top BJP leaders that defence needed a full-timer, around last Wednesday, the murmurs began.
On Friday, a quick ginger group-like meeting was called by Home Minister Rajnath Singh, which was attended by Nitin Gadkari, Jaitley and Sushma Swaraj, at which apprehensions were voiced that their portfolios may now go.
The politics of last Friday's meeting at Rajnath Singh's home holds the key to understanding Modi's mind.
Another crucial meeting was between Sushma Swaraj and Vice-President Venkaiah Naidu.
My own understanding is that Modi's actions over the past two months have been very calculating.
Without others being aware of it, Modi had been moving the pieces carefully like on a chess board.
There was the removal of Venkaiah Naidu, by promoting him as vice-president, which also sent a strong message to the BJP.
It is well known that Naidu went with reluctance, and in his support the Telugu Desam Party even officially released a statement that Naidu's elevation will affect Andhra's capital Amravati being built.
Both Naidu and Sitharaman were not on good terms, given the BJP's internal dynamics in Andhra Pradesh, and Modi was all too aware of it.
After the BJP's resounding victory in the Uttar Pradesh assembly elections a few senior ministers were apprehensive of the Modi Wave continuing even in 2019, and how it may lead to their own marginalisation. This reached the prime minister's ears.
After recovering from her kidney surgery Swaraj too has been politically active.
Before the 2014 polls, at a BJP parliamentary board meeting, Swaraj opposed Sitharaman's candidature for the Rajya Sabha from Rajasthan.
Jaitley had to persuade L K Advani to ensure Sitharaman reached the Rajya Sabha.
In 2017, the tables have been turned.
Sitharaman, with Modi's blessings, is ensconced in the Cabinet Committee on Security, with Swaraj.
According to a senior BJP leader, this is how things will shape up in the BJP.
The Modi-Shah combine sent Advani and Dr Murli Manohar Joshi to the Margdarshak Mandal in 2014.
After 2019, if Modi wins again, he will certainly show the same route to Rajnath Singh and Sushma Swaraj, and possibly three more ministers.
Jaitley, an old associate, will escape this fate.
The BJP's faces for 2019 will be Dharmendra Pradhan, Piyush Goyal, Nirmala Sitharaman, Yogi Adityanath and Devendra Fadnavis.
R Rajagopalan is a veteran political commentator.