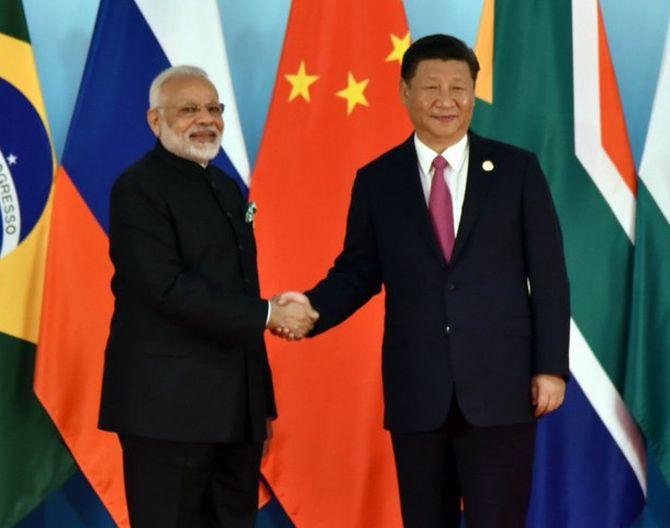 Prime Minister Narendra Modi on Monday sought a strong partnership among BRICS nations (Brazil, Russia, India, China, South Africa) to spur economic growth, saying that the bloc of emerging countries has contributed to the stability in a world 'drifting towards uncertainty'.
Addressing the plenary session of the BRICS Summit in China's Xiamen city, Modi said trade and economy were the foundations of the cooperation among BRICS.
He suggested some steps that can be taken to upgrade mutual cooperation.
He called for the creation of a BRICS rating agency to cater to financing needs of sovereign and corporate entities of developing countries.
The prime minister said a strong partnership among member nations on innovation and digital economy can help spur growth, promote transparency and support the sustainable development goals.
He also urged central banks of the member nations to further strengthen their capabilities and promote cooperation between the Contingent Reserve Arrangement of the grouping and the International Monetary Fund.
The prime minister said BRICS countries can work closely with International Solar Alliance (ISA) launched by Indian and France in November 2015.
"Our five countries have complementary skills and strengths to promote use of renewable and solar energy. The NDB can also establish an effective link with ISA to support such cooperation. We would wish to see more clean energy funding, particularly in solar energy, from the New Development Bank," Modi said.
He also called for scaling up cooperation in skill development and exchange of best practices.
"India would be happy to work towards more focused capacity building engagement between BRICS and African countries in areas of skills, health, infrastructure, manufacturing and connectivity," the prime minister said.
The prime minister also emphasised the need to accelerate track of cooperation in smart cities, urbanisation and disaster management.
He said the New Development Bank has started disbursing loans in pursuit of its mandate to mobilise resources for infrastructure and sustainable development in BRICS countries.
"After more than a decade of existence, BRICS has developed a robust framework for cooperation. We contribute stability and growth in a world drifting towards uncertainty," the prime minister said.
"While trade and economy have been the foundation of our cooperation, our endeavours today touch diverse areas of technology, tradition, culture, agriculture, environment, energy, sports, and and Information and Communications Technology (ICT)," he said.
Highlighting India's achievements, Modi asserted that country was in a 'mission-mode' to eradicate poverty and ensure health, sanitation, skills, food security, gender equality, energy and education.
He said women's empowerment programmes were 'productivity multipliers' that mainstream women in nation building.
He said India has also stepped up the fight against black money and corruption.
"Moving forward, using the springboard of our national experiences, BRICS countries can deepen partnership for win-win results," he added.
"The next decade is crucial. In an environment where we seek stability, sustainable development and prosperity. BRICS leadership will be crucial in driving this transformation. If we as BRICS can set the agenda in these areas, the world will call this its Golden Decade," the prime minister said.
Appreciating China's thrust in people-to-people exchanges, Modi said that such inter-mingling will consolidate our links and deepen our understanding.
President Xi chaired the plenary session and delivered an opening speech, in which he stressed on striking a balance between the speed of growth and quality of growth.
The focus needs to be on sustainable growth, the Chinese President said.
"It is important to strike a balance between the speed of growth and the quality and efficiency of growth. By implementing the 2030 sustainable development agenda, we have the opportunity to achieve balanced economic, social and environmental progress and bring about inter connected and inclusive development," he quoted.
Xi further said, "Though separated by mountains and oceans, BRICS countries have been closely bound by shared commitment to win-win cooperation."
"The BRICS has travelled a glorious journey of one decade, though separated by mountains and oceans, our five countries have been bound by a shared commitment. We owe the rapid development to the BRICS cooperation to our adoption of a right approach and that is the key to the rapid development for the BRICS countries cooperation," he said.
"Guided by this approach, we have respected and supported each other in following the path of development suited to our respective national conditions. We have pushed forward economic, political and people to people cooperation in an open inclusive and spirit and we have worked with other emerging markets and developing countries to uphold international justice and equity and faster sound external environment."
"Past progress shows that BRICS cooperation has met our common need for development and is keeping with the history. Though we have different national conditions, we share the commitment to pursuing common development through partnership. This has enabled us to rise above differences and seek winning results. As the world goes under profound and complex changes, the BRICS cooperation has become more important. Our people expect us to jointly boost development and improve their well being; the international community expects us to make contribution to world peace and common development."
Xi hoped that the second decade of BRICS would be as successful as the first one.
Modi, Putin vow to boost cooperation in oil, natural gas sector
Prime Minister Modi also held talks with Russian President Vladimir Putin and discussed ways for boosting bilateral trade and investment, especially in the oil and natural gas sector.
"The two sides basically touched upon several aspects of the bilateral relationship. President Putin recalled prime minister's visit to Russia earlier this year. And, he thanked the prime minister for high-level participation from India at the Eastern Economic Forum," External Affairs Ministry spokesperson Raveesh Kumar told reporters at a briefing in Xiamen.
He said that during the Modi-Putin meeting several bilateral issues were discussed like the cooperation in the oil and natural gas sector.
Kumar said the two leaders also discussed how they should work together to promote trade and investment.
During the meeting, the two leaders also discussed cultural exchanges.
"President Putin mentioned about the 'Festival of India', which was organised in Russia earlier this year. Discussions also took place on the promotion of tourism between the two countries and also on the student exchange between the two sides," Kumar said.
With ANI inputs
IMAGE: PM Narendra Modi is received by Chinese President Xi Jinping at the BRICS 2017 welcome ceremony. Photograph: @MEAIndia/Twitter