The war of words between the Bharatiya Janata Party and the Samajwadi Party over the killing of a prime witness in the 2005 murder case of a former Bahujan Samaj Party MLA intensified on Tuesday, with both citing pictures of an accused with leaders to point fingers at each other.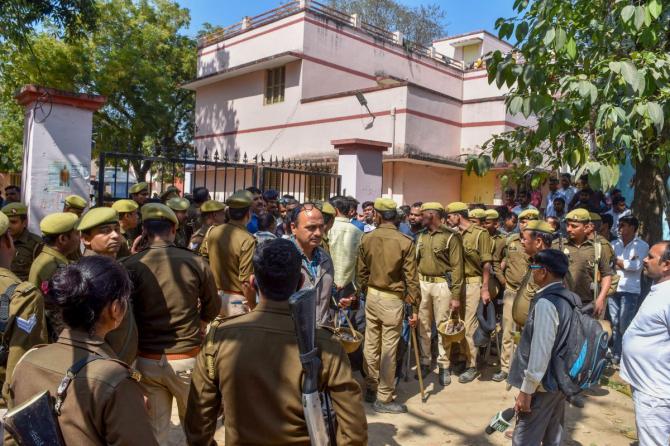 While the BJP attacked the SP over a purported picture of Sadakat Khan, who was arrested from the Allahabad University hostel in connection with last week's killing, with SP president Akhilesh Yadav, the opposition party hit back by posting images of Khan with some BJP leaders.
The Congress, meanwhile, alleged that both the Samajwadi Party and the BJP are hand-in-glove with the criminals and were two sides of the same coin.
"The entire state and the country know that the Samajwadi Party has been strengthening criminals. In other words, I can say that it is a nursery of criminals," Uttar Pradesh deputy Chief Minister Brajesh Pathak said on Akhilesh Yadav's picture that was being shared on social media.
Dismissing the allegation, Samajwadi Party spokesman Rajendra Chaudhary said that in public life many people get their pictures clicked with leaders but this is not an evidence of their having a link with the party or its leadership.
After Umesh Pal, who was the prime witness in then BSP MLA Raju Pal's murder, and his police security guard Sandeep Nishad were shot dead on Friday outside his home in Dhoomanganj area of Prayagraj, Akhilesh Yadav had questioned the law and order situation in the state.
In a counter-attack, Uttar Pradesh Chief Minister Yogi Adityanath had accused the SP of sheltering the mafias and vowed to destroy them.
Among those booked in the case is a gangster-turned politician Atiq Ahmed.
Pathak stressed that the state government has zero tolerance against crime and "no matter what reach any criminal has, he will not be spared".
Samajwadi Party media cell in a tweet alleged that the Pal and the murderers were engaged in transactions worth crores and some BJP leaders were also involved in it.
"Umesh Pal understood this conspiracy of the BJP leaders, that's why the BJP got him killed? If there is an investigation of land and other illegal business with BJP leaders, everything will be revealed," it claimed.
IP Singh, senior Samajwadi party leader, claimed that a picture of Khan with former BJP MLA Uday Bhan Muni Karvariya has emerged on social media and has been retweeted by his party's media cell.
Commissioner of Prayagraj Police Ramit Sharma had on Monday said that the name of Sadakat Khan, a resident of Ghazipur, had come to light in the conspiracy of the Umesh Pal murder case.
He is a student of LLB at Allahabad University and the STF arrested him on Monday.
"Khan has given the names of some people involved in this conspiracy. He has also given information about calls made through social media apps. His room was searched by the police team in his presence. While returning, he tried to flee but fell after colliding with a divider and fell. He has sustained some injuries," Sharma added.
The BJP said that whenever serious crimes take place, pictures of the accused with Akhilesh Yadav have emerged.
"Is it a coincidence or an experiment - this has to be seen by everyone," BJP spokesman Alok Awasthi said.
"There are no two views on this. Even the children of the state know that those who committed this crime are associated with which party," BJP MLA Shalabhmani Tripathi said.
"The challenge before Chief Minister Yogi Adityanath is not just from these criminals but also from those giving political shelter to them to commit crimes and later create an atmosphere that crimes have increased," Tripathi added.
In a tweet, the UP Congress shared the picture of Akhilesh Yadav and said: "Look! Sadakat Khan, the main conspirator of the Umesh Pal murder case, is standing with the former chief minister. Be it BJP or SP, both are two sides of the same coin in holding hands of criminals."
The Uttar Pradesh police on Monday gunned down one of the accused in an encounter.
The police claimed that they retaliated when the accused opened fire at them. A police officer was injured during the encounter, they said.
Deputy commissioner of police Navendu Kumar told PTI that Arbaaz was the driver of the white SUV used by the assailants to attack witness Umesh Pal.