The man who fired the first shot at Umesh Pal, a key witness in the killing of former Bahujan Samaj Party legislator Raju Pal, was gunned down in an encounter with Prayagraj police early Monday, officials said.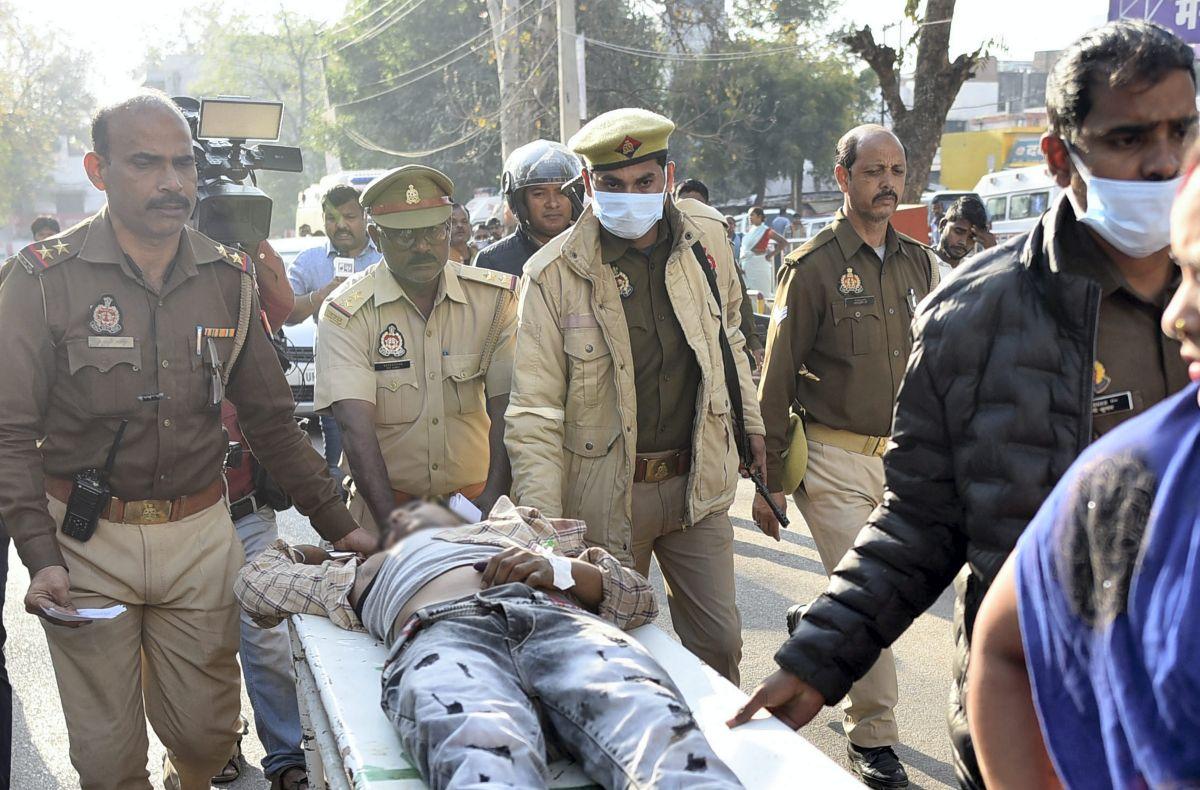 Vijay Chaudhary, alias Usman, suffered bullet injuries in his neck, chest and thigh during the encounter, police said.
The encounter took place between Gothi and Belwa under the Kaundhiyara police station area around 5.30 am, Dhoomanganj Station House Officer Rajesh Kumar Maurya said.
Usman's wife Suhani has accused the police of killing him in a fake encounter after picking him up earlier on Monday.
Constable Narendra Pal also suffered injuries to his hand during the encounter and has been admitted to the local community health centre, Additional Director General, Law and Order, Prashant Kumar told reporters.
Police said the gang members of the gangster-turned-politician Atiq Ahmed, the main accused in the 2005 Raju Pal murder case who is lodged in a Gujarat jail currently, gave Vijay Chaudhary his second name 'Usman'.
His brother Rakesh Chaudhary is lodged in Naini Central Jail and a dozen of cases, including murder, have been registered against him.
Police said Usman was the one who fired the first shot at Umesh Pal on February 24 outside his home in Dhoomanganj.
While Umesh Pal succumbed the same day, his two security personnel died later during treatment. Umesh Pal was a key witness in the Raju Pal murder case.
A video of the killing of Umesh Pal in broad daylight had gone viral on social media and raised questions about law and order in Uttar Pradesh.
Following the incident, Uttar Pradesh Chief Minister Yogi Adityanath vowed in the state assembly that he would destroy the mafia in the state.
ADG Kumar said, "A shooter involved in the February 24 incident was injured in an encounter with police in Prayagraj. He was rushed for treatment to a hospital, where he died."
Kumar said Usman carried a reward of Rs 50,000 for his arrest, adding that a .32 bore pistol and cartridges were recovered from him.
"His video was shown in the media. This is a big achievement. We have made it clear that strict action will be taken against those involved (in the killing) and those who hatched the conspiracy. Separate teams are working on the case," the ADG said.
"I want to tell that UP police is committed to arrest all those involved in this murder case and present them in the court. We will collect evidence and prosecute all those involved in this," he added.
On February 27, Arbaz, who allegedly drove the SUV of the killers of Umesh Pal, was killed in an encounter with the police in Prayagraj and one Sadakat was arrested.
"Our government is determined to take strict action against those involved in this case. We will nab each and every accused and give them the strict punishment under the law," Deputy Chief Minister Brijesh Pathak told reporters Monday.
"How fearless criminals have become that they are not desisting from attacking even the police. Came to know this morning itself that a miscreant was killed in an encounter," he added.
Talking to reporters, Usman's wife Suhani alleged that the police took away her husband and father-in-law in the morning and confiscated their mobile phones.
Accusing the police of misusing the law, Suhani said, "The police have done absolutely wrong. The law is not made to kill someone. The law is made to protect."
She accused Chief Minister Adityanath of getting all this done.
She said that on February 24, the day of Umesh Pal's killing, her husband, who runs his own vehicle (Bolero) at a cement company, had left the house saying he had to leave for work.
Umesh Pal's wife Jaya had filed a complaint against Atiq Ahmed, his brother Ashraf, wife Shaista Parveen, two sons, aides Guddu Muslim and Ghulam and nine others at Dhoomanganj police station for the murder of her husband.
The accused have been booked under Indian Penal Code sections 147 (rioting), 148 (rioting, armed with a deadly weapon), 149 (every member of unlawful assembly guilty of the offence committed in prosecution of common object), 302 (murder), 307 (attempt to murder), 506 (criminal intimidation) and 120B (criminal conspiracy) and provisions of the Explosive Substances Act and the Criminal Law Amendment Act.
Meanwhile, at a press conference, Atiq Ahmed's sister Ayesha Noori accused Prayagraj Mayor Abhilasha Gupta Nandi of conspiring to kill Umesh Pal to embroil Shaista Parveen in the case, so that she could not contest the next mayoral election after the BSP declared her as its candidate.
Noori also accused Nand Gopal Gupta Nandi, a minister in the state government, of not returning Rs 5 crore taken from Atiq Ahmed.
Reacting to the allegations levelled on him, 'Nandi' in a tweet in Hindi said, 'There is rule of law in Uttar Pradesh under the leadership of Chief Minister Yogi Adityanath-ji! The Adityanath government is working on a zero-tolerance policy towards criminals and the mafia. Even in the Umesh Pal murder case, the action initiated is moving in this direction.'
'The baseless allegations are only an unsuccessful attempt to divert attention from the main issue and mislead....Linking this with the mayoral elections is not only irrelevant but also laughable,' he said in another tweet.
In 2006, Atiq Ahmed and his aides abducted Umesh Pal and forced him to give a statement in court in their favour.
Umesh Pal had registered a complaint in this regard and the case was ongoing.
The Uttar Pradesh Police on Sunday announced a reward of Rs 2.5 lakh for information on five people, including Atiq Ahmed's son Asad, allegedly involved in the killing of Umesh Pal.
Besides Asad, the other four accused on whom the reward was announced included Ghulam, Guddu and Sabir.