An independent Taiwan under President Tsai Ing-wen's Democratic Progressive Party is anathema to China, observes Rup Narayan Das.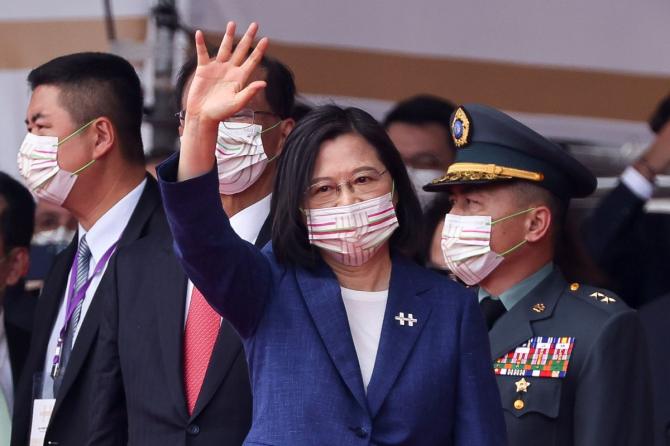 Although Taiwan, regarded by the People's Republic of China as its renegade province which broke away from the mainland after the defeat of Chiang Kai Sheik's Kuo-min-tang party in the civil war in 1949, has been used to intimidation and sabre-rattling by Beijing, China's belligerence has become more menacing in recent times particularly after the outbreak of the pandemic.
The trespassing of Taiwan's air defence identification zone by the Chinese fighter jets for days together in the first week of October in the wake of China's National Day celebration and ahead of Taiwan's National Day falling on October 10 prompted Taiwan's indomitable President Tsai Ing-wen to forewarn of 'catastrophic consequences for regional peace', if Taiwan falls.
With a firm resolve, Tsai vowed to 'do whatever it takes' to guard Taiwan against invasion by Communist China."
She also alluded that without help from the country's allies 'authoritarianism has the upper hand over democracy.'
It is unlikely that China will indulge in military adventurism which will invite reprisal by the USA, which is under obligation to protect Taiwan's territorial integrity.
Military brinkmanship in the straits is detrimental not only to Taiwan, but also the Indo-Pacific and also to China; because in the unlikely scenario of a military confrontation all the democratic countries will get united to foil any attempt by China to threaten Taiwan and its hard earned democracy.
Taiwan's successful handling of COVID-19 and its unsuccessful bid for observer status at the World Health Assembly with the active support of the US and some other countries and Taiwan's international goodwill has exacerbated China's hostility towards Taiwan.
China, however, succeeded in jettisoning Taiwan's bid for a seat at the high table.
While China's position with regard to Taiwan is that 'reunification is inevitable and China would never tolerate Taiwan's independene', Taiwan's Democratic Progressive Party maintains that it cannot accept becoming part of China under 'one country, two systems'.
During the 50 years of Kuo-min-tang rule, the relationship between mainland China and Taiwan had considerably improved, first under martial law which was lifted in 1987, and then under Kuo-min-tang rule.
In 1996, Taiwan held its first ever direct presidential election which was won by the Kuo-min-tang.
The Democratic Progressive Party, which lost the 1996 presidential election, came to power in 2000 and was re-elected in 2004.
It lost the legislative and presidential elections to the Kuo-min-tang in 2008 and 2012.
Democratic Progressive Party Chairperson Tsai Ing-wen was elected president of Taiwan in 2016 and re-elected in January 2020 with a very comfortable majority.
The Democratic Progressive Party is anathema to China because it doesn't subscribe to 'unification' with the mainland; rather proclaims 'independence' and this makes a huge difference.
President Tsai Ing-wen has said that Taiwan is an independent state called the Republic of China and doesn't want to be part of the People's Republic of China.
Taiwan's relationship with China is not just a bilateral issue between China and Taiwan, it has geo-strategic and security implications for the Asia-Pacific, now rechristened the Indo-Pacific.
What kind of equation Taiwan will have with the mainland will have its resonance in the Indo-Pacific, particularly in the context of China's belligerence.
China's reunification with Taiwan, if and when it happens, will exacerbate China's belligerence in the region.
It will enable China to take control of the South China Sea and grip over the strategically important sea lanes to Japan, Korea, and the Indo-Pacific and make China the formidable and indisputable maritime power in the region.
That is why an independent Taiwan under the Democratic Progressive Party is anathema to China.
An independent Taiwan with a strategic alliance with the USA is a bulwark against China's assertive behaviour in the region.
The Democratic Progressive Party's gradual consolidation of political base in Taiwan is detrimental to China's goal of unification with China and for its power projection.
It is in the larger interests of both China and Taiwan, and the Indo-Pacific that the status quo in Taiwan is maintained.
Perhaps it is not known that China's paramount leader Deng Xiaoping had broached the novelty of 'one country, two systems,' allowing two divergent systems to exist, not in Hong Kong first, but in Taiwan.
The failure of China to honour the 'one country, two systems' in China in letter and spirit has dented the faith and confidence of both the people of Hong Kong and Taiwan in the efficacy of the novelty of, 'one country, two systems'.
It is not too late for China to repair and rectify the damage done to one country, two systems in Hong Kong.
Be that as it may, as of now the status quo in Taiwan is the best bet for all concerned.
Dr Rup Narayan Das, a China scholar, is currently a senior fellow at the Indian Council of Social Science Research at the Indian Institute of Public Administration, New Delhi. The views expressed in this column are personal.
Feature Presentation: Aslam Hunani/Rediff.com</pa