A visit to Tibet appears to have become the new touchstone for expressing fealty to Xi Jinping, observes Jayadeva Ranade, the retired senior RA&W officer and distinguished China expert.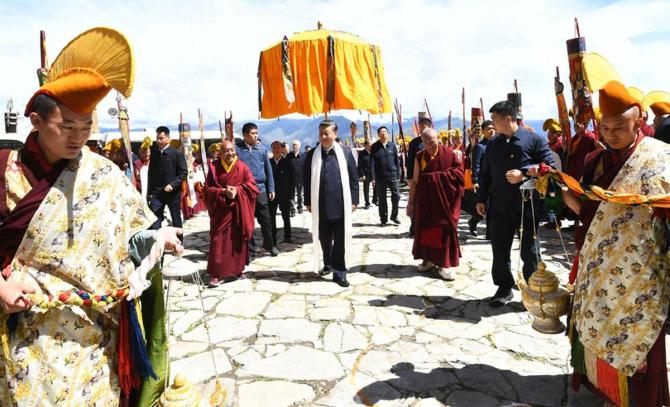 Officials especially in authoritarian regimes are quick to detect hints of change.
Chinese Communist Party (CCP) apparatchiks are even more acutely tuned to sensing any change in political winds.
With the CCP's 20th national congress scheduled for late next year, CCP cadres lobbying for promotions have begun trying to attract CCP General Secretary Xi Jinping's attention.
In doing so they appear to have decided that Xi will stay on for at least another 5-year term.
Following the enhanced attention being paid by the CCP leadership to the Tibet Autonomous Region (TAR) particularly since last year, and specifically Xi's visit to Nyingchi and Lhasa from July 21-23, 2021, a stream of senior CCP cadres has begun travelling to the TAR.
At least seven senior cadres have visited TAR since then.
A visit to Tibet appears to have become the new touchstone for expressing fealty to China's 'leader' Xi Jinping.
Politburo standing committee (PBSC) member and chairman of the Chinese people's consultative conference (CPPCC) Wang Yang, led a high-level delegation to TAR within a month of Xi's tour.
The CPPCC is responsible for China's ethnic minorities, non-party entities and religious affairs.
One of the first senior cadres to visit Tibet after Xi and Wang Yang was Yuan Jiajun, party secretary of Zhejiang province. He inspected the province's Tibet aid work from July 28 to 30.
A meeting convened for the delegation was attended by TAR Party Secretary Wu Yingjie, Chairman of the TAR people's congress Lobsang Gyaltsen, Chairman of the TAR people's government Che Dalha, Executive Deputy Secretary of the TAR Party Committee and Secretary of the TAR People's political consultative conference Zhuang Yan, and the Deputy Secretary of the TAR party committee and party secretary of Lhasa municipality, Yan Jinhai.
The next was Chongqing Party Secretary and Politburo member Chen Mine'r.
Long considered a contender for elevation to the PBSC and one of China's sixth generation leaders, he led a delegation to Chamdo in eastern Tibet from August 25-26, 2021.
He was accompanied by a high-level TAR team comprising Wu Yingjie, TAR party secretary, Liu Jiang, secretary-general, and member of the TAR standing committee, Doto, deputy party TAR leadership group and deputy director of the TAR people's congress, and the party secretary of Chamdo, Norbu Dhondup, which suggested that speculation about Chen Mine'r's elevation to the PBSC is circulating among CCP cadres.
Chen was followed by 1956-born Li Xi, politburo member and Guangdong party secretary, and Ma Xingrui, Guangdong governor, who led a Guangdong party and government delegation to Linzhi (Nyingchi) city and Lhasa from September 2-4, 2021.
Appointed to the politburo at the 19th party Congress, Li Xi will be 66 next year and eligible for promotion.
Guangdong Governor Ma Xingrui is recognised as one of China's top scientists and will be 63 next year.
As a Central Committee (CC) member he would hope to be elevated as a provincial party secretary or equivalent position in a central organisation or promoted to the politburo.
Cai Qi, party secretary, Beijing, led a delegation to TAR from September 5-6, 2021, to inspect 'counterpart' assistance to Tibet.
A Xi Jinping acolyte, Cai Qi worked in the Fujian and Zhejiang provinces before being brought to Beijing by Xi and appointed party secretary of Beijing, a position reserved for persons trusted by the CCP general secretary.
The visit to Tibet by Nei Chenxi, vice minister of the CCP CC propaganda department and director of the state administration of radio and television, is interesting.
Though officially designated a vice minister he holds the rank of minister.
Nei Chenxi is a CC member and will be 65 next year making him eligible for elevation as state councillor or to the politburo.
His inspection visits to Nyingchi and Lhasa suggest there will be an uptick in propaganda work in TAR and Nyingchi, which is opposite Arunachal Pradesh, with a probable focus on border counties.
Similarly interesting is the visit some days ago of Chen Wenqing, minister for state security, who arrived in Lhasa with a high level delegation and convened a meeting attended by TAR Party Secretary Wu Yingjie and the commander of the Tibet military region Lieutenant General Wang Kai, among others.
Among the topics discussed were maintaining unity and stability, 'diluting the influence of religion' and eliminating the Dalai Lama's 'negative influence' among the masses.
Chen Wenqing served as head of Fujian province's state security department from 2006 to 2012, when he was brought to Beijing and appointed deputy secretary of the Central Discipline Inspection Commission.
Among the cadres who accompanied Xi to TAR as part of his entourage is Ding Xuexiang who, born in 1962 and only 60 years old next year, is very much in the running for promotion.
A close associate personally handpicked by Xi for the very sensitive position of head of the CCP CC general office, Ding is already a Politburo member.
He Lifeng, minister of the important national development and reform commission, is a CC member and at 67 next year will just about be eligible for elevation as state councillor or to the politburo.
He was Xiamen's financial chief when Xi was its deputy mayor in charge of finance from 1985-1988.
Politburo member and head of the CCP CC's important organisation department Chen Xi was Xi's roommate and classmate at Tsinghua iniversity.
Xi brought him to Beijing in 2013 and appointed him executive deputy director of the CCP CC organisation department.
69 next year, Chen will be eligible for promotion to the PBSC only if Xi again ignores the informal age limits for promotion of cadres.
With the 20th party congress less than a year away, jostling among cadres to get noticed by the higher echelon of the CCP leadership is expected to increase.
In addition to their having articles published in the CCP's official People's Daily, visits to TAR could be one indicator.
Jayadeva Ranade, former additional secretary, Cabinet Secretariat, Government of India, is the President, Centre for China Analysis and Strategy.
Feature Presentation: Aslam Hunani/Rediff.com