Being made a member of the Cabinet Committee on Political Affairs makes her an important player in BJP politics, observes Rashme Sehgal.
Minister for Women and Child Development Smriti Irani's entry into the Cabinet Committee on Political Affairs has raised eyebrows.
Not because she is in the company of Environment and Labour Minister Bhupender Yadav, Ports Minister Sarbananda Sonowal and Health Minister Mansukh Mandaviya, who have also been appointed members of the CCPA, which is headed by Prime Minister Narendra Damodardas Modi, but because Irani has a reputation of ruffling feathers of both her political colleagues and of bureaucrats in whichever ministry she has headed.
This ambitious minister is a combative political personality who is at her best delivering knockout punches against her political opponents.
This is best illustrated in the way she took on Rahul Gandhi in Amethi after losing to him in the parliamentary election of 2014.
She cultivated the constituency assiduously, visiting it regularly for the next five years, and ensuring the Modi government make a sizeable investment in this prestigious electoral seat.
The result was not unexpected. Rahul received a punch on his chin in the 2019 elections and Irani emerged as the giant killer.
Irani was not rewarded with a high profile ministry which many believe was her due.
The problem is that in 2014, Irani, a ministerial novice, had been given the high profile HRD ministry at a time when she lacked administrative experience.
Much to the prime minister's embarrassment, he found that this young minister was in the news for all the wrong reasons attracting controversy over her questionable educational qualifications.
She then went on to be at loggerheads with leading academics and senior bureaucrats of her ministry.
It was during her tenure that she sacked two university vice chancellors -- a first in the history of the country.
Several senior faculty members including IIT-Delhi director R K Shevgoankar put in his papers in December 2015 as did the well-known nuclear scientist Dr Anil Kakodkar as chairman of IIT-Bombay on the ground that Irani was interfering with the selection of directors of the three IITs.
Amongst mounting criticism, she was divested of the portfolio and given the information and broadcasting ministry.
Here again, she soon found herself in the midst of several controversies.
She went into confrontation mode with Prasar Bharati chairperson Surya Prakash. As she threw her weight around, she did not anticipate that Prakash would stand up to her.
Nor had she taken into account that he had connections with the RSS top brass and was determined to take up this issue with the prime minister.
Irani went to the extent of stopping salaries of the employees of Prasar Bharati, something that has never happened before. Prakash turned to Prasar Bharati's contingency fund to pay the employees to get out of the crisis.
Irani was shifted to the textiles ministry in 2016. Sources in the Textile Ministry speak about how she continued with her imperious style including admonishing her secretary in the course of a public meeting.
The 2019 Lok Sabha election altered the situation dramatically after she emerged as a giant-slayer.
The BJP brass could not ignore her, but they were unwilling to accommodate her with a plum ministerial portfolio.
When Maneka Gandhi was relieved of her ministerial position in the women and child development ministry, Irani was brought in to replace her.
Sources in this ministry say she has stuck pretty much to the script in the past two years.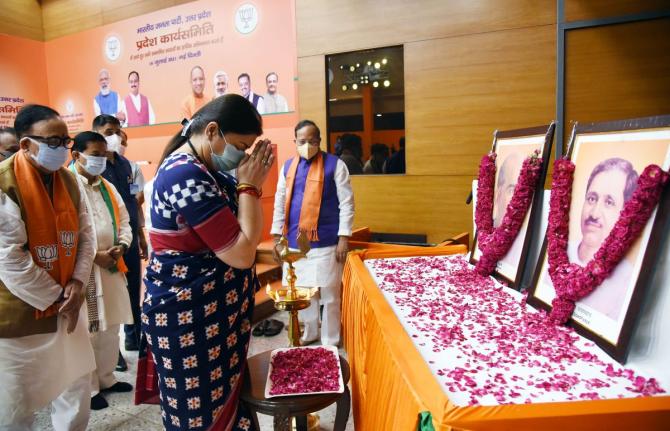 Being made a member of the Cabinet Committee on Political Affairs is a feather in her cap. The CCPA examines economic and political issues that require a wider perspective but have no internal or external security implications.
The reconstituted CCPA consists of the prime minister, and Union Ministers Rajnath Singh, Amit Anilchandra Shah, Nitin Gadkari, Nirmala Sitharaman, Narendra Singh Tomar, Piyush Goyal, Pralhad Joshi, Smriti Irani, Sarbananda Sonowal, Giriraj Singh, Mansukh Mandaviya and Bhupender Yadav.
That she along with several other younger ministers have been included in the CCPA indicates Modi and the RSS top brass are determined to groom a younger generation of leaders so they may take over the reins of governance in the future.
Irani is definitely the most talented of the lot. But she is also the most combative.
It is now to be seen if she will mellow down or continue to show political naivete in her handling of key portfolios.
Feature Presentation: Aslam Hunani/Rediff.com