'Why do the English-speaking class feel they are the only ones who are efficient in work?'
'My own mother was from a village and she was more efficient than me. She used to handle crises better than me.'
'We will have to come out of our elite perception of governance.'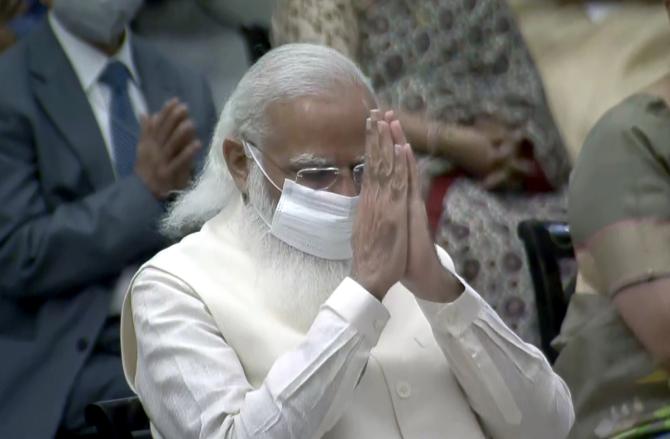 Prime Minister Narendra Damodardas Modi's expansion of the Union council of ministers on Wednesday, July 7, was unlike other ministerial reshuffles he has undertaken since he came into office in May 2014.
In inducting 43 new ministers in his government, Modi has empowered OBCs and SC/STs. 27 of the new ministers come from Other Backward Classes, 12 from the Scheduled Castes and eight are from the Scheduled Tribes.
To find out the impact of Modi's ministerial caste churning, Syed Firdaus Ashraf/Rediff.com spoke to social scientist Badri Narayan whose books Republic Of Hindutva -- How The Sangh Is Reshaping Indian Democracy and Fascinating Hindutva: Saffron Politics And Dalit Mobilisation are a must read to understand how the Sangh Parivar is reshaping India's caste super-structure.
As a political scientist how do you see this jumbo expansion of the Modi ministry?
If you read my book Republic of Hindutva you will understand exactly what happened in this expansion. This expansion will help the Bharatiya Janata Party expand its social roots. Now they are inclusive in their governance.
You are talking of inclusion, but where are the stalwarts like Arun Jaitley or Sushma Swaraj in the Modi government?
What is democracy? Democracy is the politics of aspiration. And whichever government rules in a democracy is itself a reflection of democracy.
Governments and ministries will have to reflect that. Till now it was not done because democracy did not progress that way in our country.
We will have leaders from the lower strata in the future and you might not get a leader like Arun Jaitley in our Parliament.
What you are saying is that the English-speaking elite has made way to others?
India is a country of such people and only they must get representation. We have illiterate people in our masses and they will have to get representation.
But then there are professors and learned people too in this Cabinet. I am only saying that in the 1960s there were many Congress leaders and ministers who could not even sign their name and they used to be in power.
Is this the first time that such a large caste base has been included in the Union council?
Yes, I think so. This is the first time that such a huge community alliance has been formed and provided space in governance.
Which is a good thing so long as government efficiency is not sacrificed at the altar of social re-engineering.
Yes, it will be efficient because many times a simple village man is more efficient than people like us.
Why do the English-speaking class feel they are the only ones who are efficient in work?
My own mother was from a village and she was more efficient than me. She used to handle crises better than me.
We will have to come out of our elite perception of governance.
Don't you feel Modi has expanded his government keeping only elections in mind and not governance?
What is democracy? Democracy is only elections and governance. They will run the government in a good way and also benefit in elections due to this Cabinet expansion. What is wrong in it?
The exit of Ravi Shankar Prasad and Prakash Javadekar was shocking, they were the face of the government.
In inclusion of social communities or marginal communities, it does not matter who is in and who is out.
You don't need good-looking ministers on television.
You also don't need ministers who speak well on TV. You need ministers who can deliver on governance.
Let us wait and see how these newly appointed ministers perform.
As far as Ravi Shankar Prasad and Prakash Javadekar are concerned, the BJP must be having some plan for them. They do not do anything just for the sake of doing. The put a lot of thought behind every political move they put in. The BJP is a very well-planned party.
Is this exercise akin to Rabri Devi's induction as Bihar chief minister in the mid 1990s?
No minister of the Modi government is like Rabri Devi and secondly, Rabri Devi was not a bad chief minister in terms of governance.
There was lawlessness for sure, but it was more during Laloo Yadav's time vis-a-vis Rabri Devi's rule. Laloo was an BA and MA. In her (Rabri Devi's) time, crime didn't grow in Bihar.
How do you take India to the future when we still go by religion and caste in matters of governance?
Did you see any religious person among these ministers? Every minister was looking modern in their outfits, and like family men or women. I didn't see anyone wearing a tilak, except maybe a Telangana minister.
The BJP is like us. They are just like you and me. They wear and eat the same things as we do.
Moreover, it is not a guarantee that only educated people can run the government well.
Governance needs a different kind of wisdom. In many democratic countries it was found that not so educated people have ruled very well.
Any example you can think of in India?
Karpoori Thakur (chief minister of Bihar in 1970-1971 and 1977-1979) was not very well read, but he did well. He was not someone like (Madhavrao) Scindia who studied abroad and came to India. He was a decently educated and ran the state very well, and so did Mulayam Singh Yadav who ran Uttar Pradesh well. He was hardly a BA, I think. He did well in governance.
Mulayam Singh did carry out the Yadavisation of UP politics.
I know where you are coming from because caste is different and governance is different.
Is it true that the Modi government, while not sharing the data on OBC population with their opponents, is using it to their advantage in politics to win elections?
Indian society is like that and politics will be played on those terms. We can talk hi-fi things, but on the ground level these things (make you win elections).
Like in Maharashtra, Chief Minister Uddhav Thackeray has been seeking statistics on the OBC population from the Centre which the Modi government is not willing to share.
Agreed, this statistics everyone needs.