It looks as if competing political parties in Tamil Nadu have not grasped the full impact and import of a sizable section of voters possibly staying away from voting -- voters, supposedly with a predictable polling pattern -- owing to the Covid second wave and more so, how it could affect the outcome in individual constituencies and even booths, says N Sathiya Moorthy.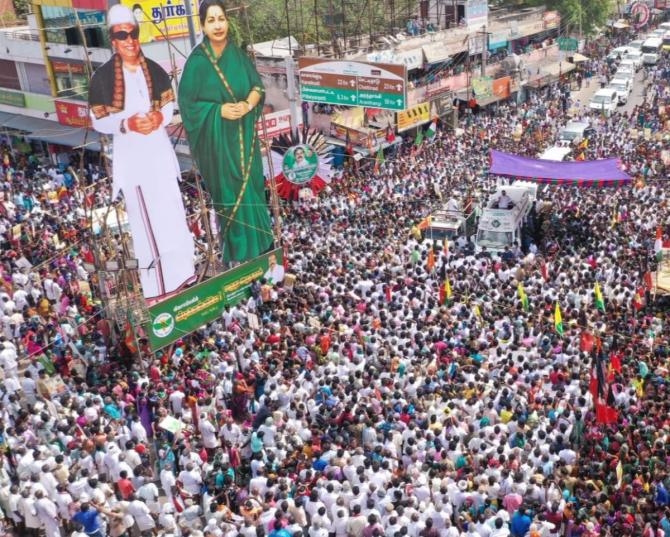 With a spike in the number Covid cases reported from across the country, political parties should not be surprised that senior citizens, especially those from the urban, upper class backgrounds may end up deciding the results in the five-state assembly polls than the more enthusiastic first-time voters, whose numbers remain substantial.
If the latter generally tilt the scales by their participation in the democratic process, this time round, their grand-parental generation may do so, by staying away owing to apprehensions about the pandemic.
Southern Tamil Nadu may be a typical case, what with urbanisation at 50-plus per cent, the highest in the country. While authorities have facilitated postal balloting for those above 80 years, the question is about those in the 60-plus age-group, both men and women.
Apart from their own reluctance, younger family members, especially and sons and daughters, may persuade them to stay away from the 'crowded polling booth'. One should thank those sons and daughters, sons-in-law and daughters-in-law if they ventured out to cast their vote, braving Covid, which goes beyond the traditional summer heat, this time of the year.
According to official figures, after the final revisions, the total electorate in the state stands at 6.29 crores, up from 6.27 crores under summary revision in January, more than half of them women -- or, 3.19 crores of them women. In the January revision, 13-lakh voters were found to be first-time voters, in the 18-19 age-group. With this, the number of voters in the 19-29 age-group stood at least 1.23 crores, or 19.67 per cent, going by January figures.
According to news reports of the time, quoting state electoral authorities, voters in the 30-39 age-bracket, at 1.38 crores, formed the largest chunk of 22 per cent. Most and at times all figures may have increased marginally during the last-minute rolls' revision permitted by the poll panel. Those figures should be available any time soon.
Of the 12.87-lakh voters in the 80-plus age-group, (only) 1.48-lakh voters have filed form 12-D for casting postal ballot. Likewise, of the 4.1 lakh differently-abled voters, (only) 45,000 have sought postal voting under Covid conditions, working out to around 10 per cent. Granting that most of the other differently-abled voters may still vote personally, as per past patterns, the same cannot be said about those above 80, but then their 12-D figure works out only to 2.2 per cent. Here again, however, there should be a pattern of sorts on how many of them cast their votes even in normal times.
Then, there is another category of voters, say, 55-60 and upwards, including the 80-plus age-group. Though figures are not readily available as yet, but past trends show that around 30 per cent of the voters belong there. Given that this entire segment, technically barring the 55-60 age-group, constitute 'senior citizens' in the official nomenclature, they are deemed to be 'vulnerable'.
Through the past year of Covid pandemic, the world has psyched itself into believing that all senior citizens have to be doubly cautious in following Covid protocols -- and for very right reasons. These include social distancing, and staying away from crowds and crowded places, including interactions of whatever physical kind with strangers.
This mindset, which is otherwise welcome and is propagated officially from the prime minister downwards, has created a new class of people, cutting across all age groups, both in the urban and rural setting, who have become as much cautious about moving in crowded environments, over the past year.
Though very well regulated, the fact is that polling stations on an average have around 1,000-15,00 voters each, if not more. Add the polling officials, polling agents of individual candidates and police personnel on duty, it adds up to a sizable number.
The Election Commission has gained substantial experience in managing polling stations in this Covid era, in Bihar last year. But the months since then have also taken the pandemic message across the country even more. Greater the literacy rate, as in southern Tamil Nadu and Kerala, greater has been the acknowledgement of the pandemic's potential.
In this context, there has to be greater acknowledgement that even without Covid, urban centres, especially the so-called elitist and upper and upper middle class localities, have recorded relatively lower voter turn-out, all along. The question is if such a tendency, which could grow this pandemic season, can adversely impact polling more than already.
There is an additional catch. A quick scrutiny of available Covid figures shows that there is a greater prevalence of the pandemic in urban centres, at least in Tamil Nadu, than rural areas. Or, at least in rural areas, people, both young and old, are braving the pandemic, to eke out a daily living. This applies equally to senior citizens in these parts.
All these have thrown up the question, if the electoral twist that first-time voters are believed to have effected through the past decades, especially after the reduction of voting age from 21 to 18, will have the same impact this time, too.
Or, will the self-imposed or family-enforced abstention of senior citizens, especially in elite localities in urban centres, if it came to that, would negatively impact results, at least in those centres and constituencies?
Going by media reports, the poll authorities are taking all precautions to receive the voters and check against the pandemic situation at the same time. But then, they can do so only with regard to those that venture out to the booths. While the EC may increase the traditional modes of raising voter awareness during this pandemic times, it would still be left to the political parties to motivate the urban voters especially to do so.
It looks as if competing political parties in Tamil Nadu have not grasped the full impact and import of a sizable section of voters possibly staying away from voting, for no fault of theirs -- voters, supposedly with a predictable polling pattern -- and more so, how it could affect the outcome in individual constituencies and even booths.
Through the past week, multiple opinion polls on the possible results from the current polls are doing the rounds, some of them blatantly fake, posted obviously by rival campaigns or other motivated agents., Some of them have gone deep enough to internally verify their own final figures by positing multiple questions that show up internal confirmation or internal contradictions, as the case may be.
But none of them seem to have asked the one crucial question: "Given the circumstances of Covid withdrawal, do you intend voting?" These polls were taken mostly before the state government began alerting people about the return of the pandemic, and announcing multiple measures to face up to it, as they did when it all began exactly a year ago.
Thus, in the immediately past Lok Sabha polls of 2019, the turnout was 72.44 per cent, preceded by 73.67 per cent in 2014 and 73.03 per cent in 2009. The turnout was higher in the assembly polls -- 74.81 per cent in 2016, 78.29 per cent in 2011, 70.70 in 2006, way up all the way from 59.1 per cent in 2001.
The figure was an equally low 57.40 per cent in the intervening LS polls of 2004. The last two figures from 2001 and 2004 also used to be the average figure through much of the post-Independence era.
Thus, turnout figures for the new century, both for the state assembly polls and also for the LS elections in Tamil Nadu, have shown that the 'eighties kids' and those afterwards have been enthusiastically participating in polls after polls. Nowhere else was it found to be better than in the Lok Sabha polls of 2014, when the election was slated for the annual Tamil New Year's Eve, which led to a slew of holidays alongside. The anticipation was that the 'IT generation' would scoot away for a long holiday. It did not happen that way.
Much of the higher turn-out in recent elections owe largely to the Election Commission's voter awareness campaigns, since. But in 'Dravidian' Tamil Nadu, elections 2004 was also when competitive 'cash-for-vote' conundrum began rearing its ugly head. There are those who argue that it could not have been otherwise, given the higher rate of urbanisation in the state and the attendant higher standard of living for the common man.
It is more so after the Election Commission shortened campaigned days and hours, leaving candidates and parties with little to no opportunity for his or her voter to be familiar with his/her face, leave alone background and more.
All of it have left it to the respective party leaderships to promote the cause weeks and months ahead of the polls, making it all more and more of a personality-centric affair than a healthy democracy could afford. Thus, it's the personality of Narendra Modi, Rahul Gandhi, Mamata Banerjee, and the likes that have become the near-exclusive face of their respective parties.
In Tamil Nadu, DMK's MK Stalin alone has been campaigning for the whole alliance for months now, even when the party had not finalised its partners for the polls. AIADMK's Chief Minister Edappadi K Palaniswami never really stopped travelling, barring a possible few weeks at the commencement of the Covid lockdown.
This has led to the dictatorship of party leaderships, as against that of the party and more and more so, individual candidates and their perceived capabilities. Almost all opinion polls in the past months have clearly shown that the interviewee-voters have identified the two rival alliance leaders with the face and features of the two leaders, namely, EPS and MKS.
Better or worse still, barring of course the unique Dravidian experience on the cash-for-vote front, where each vote costs anything up to Rs 5,000 in by-polls especially, what is true of Tamil Nadu may be true of the other states where polls are due, to a greater or lesser extent. Worse of all, the post-Independence dictum, especially on the welfare front, has been this: Tamil Nadu leads.
Amen!
N Sathiya Moorthy, veteran journalist, political analyst and author, is Distinguished Fellow and Head-Chennai Initiative, Observer Research Foundation.