The DMK leadership may now have to deal with a demand for more seats from its Congress ally in the Lok Sabha polls, predicts N Sathiya Moorthy.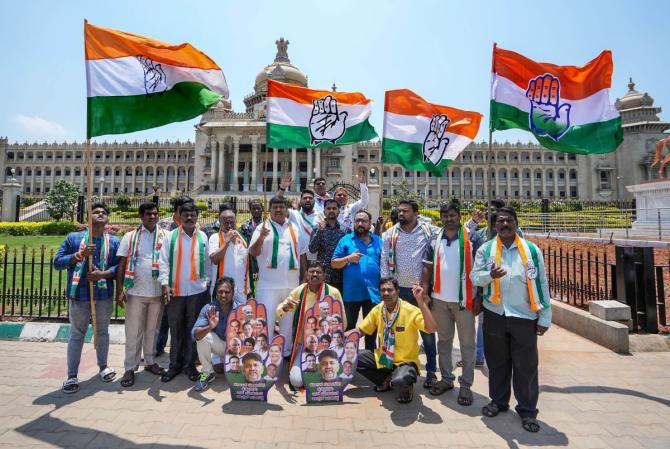 Congratulating the victorious Congress ally over its Karnataka poll victory, Tamil Nadu's Chief Minister M K Stalin promptly tweeted: 'The unjustifiable disqualification of Rahul Gandhi as MP, misusing investigative agencies against political opponents, imposition of Hindi, and rampant corruption have echoed in the minds of the people of Karnataka.'
The voters of Karnataka 'have upheld the Kannadiga pride by teaching a befitting lesson to the BJP's vindictive politics... The landmass of Dravidian family stands clear of the BJP,' Stalin said, and added in the same vein: 'Now, let us all work together to win 2024 to restore democracy and Constitutional values in India.'
Stalin also telephoned Congress President Mallikarjun Kharge, for whom it was a personal victory, he being a native of Karnataka, and also Sonia Gandhi and Rahul Gandhi, apart from P Siddaramaiah and D K Shivakumar, the two party leaders who made it happen, setting aside their differences for a while.
In tweeting his happiness over Congress's victory in Karnataka, and more so against the BJP's 'vindictive politics', Stalin seemed to have forgotten a couple of facts.
One, 'Hindi imposition' was never an issue in Karnataka as in Tamil Nadu.
Two, in the tiny Union Territory of Puducherry, also in south India, part of the 'Dravidian family', and more so 'Tamil family', the BJP is a coalition partner in the government of the N R Congress Chief Minister N Rangaswamy, who broke away from the Congress parent some years ago.
Ruling Dravida Munnetra Kazhagam cadres in Tamil Nadu are in a celebratory mood though they are displaying it all only on faceless social media.
The believers among them see it as divine intervention, better still, divine punishment for the rival BJP's state president K Annamalai, and national secretary C T Ravi who is in charge of the party's Tamil Nadu affairs.
The reasons are not far to seek. Ever since the DMK came to power, Annamalai has been going hammer and tongs at the ruling party and its 'first family' of which Stalin is the central figure.
Not very long ago, he released what he says is the first instalment of his 'DMK Files', naming some DMK leaders, including Stalin's minister-son Udayanidhi and non-politician son-in-law, V Sabareesan -- and their wealth.
He has since followed it up with a threat of a second volume of the 'DMK Files' with more names.
In between, Annamalai also released two audio-tapes in quick succession, in which he claimed that then finance minister Palanivel Thiaga Rajan (PTR) alleged that Udayanidhi and Sabareesan between them had amassed Rs 30,000 crores (Rs 300 billion) in just one year (of the Stalin government, and illegally).
He later attributed PTR's portfolio-change to IT to his tapes.
The DMK has pooh-poohed all of Annamalai's allegations. The state government has since filed a defamation case against him for charging that Stalin, then as deputy CM, had taken Rs 200 crore (Rs 2 billion) bribe in awarding a Metro Rail project contract in 2011.
The DMK as a party also sent him a lawyer's notice in the matter.
Some senior party leaders named by Annamalai have also served lawyer's notices on him while others have simply ignored him.
The common refrain of the DMK leaders named, according to sources, is that much of what Annamalai has alleged without substantiation are available in the public arena, such as their tax returns and also election nominations in the past.
They also point out how the recent IT raid on G-Square, a Chennai-based construction firm, which pro-BJP social media activists claimed was a benami for Sabareesan, has seemingly drawn a blank.
Likewise, DMK activists have also pointed out how PTR has disproved Annamalai's claims on the audio-tapes, by authenticating them as interpolations, by specifying those portions, based on examination by audio experts (from the US).
Annamalai's hopes were possibly short-lived as PTR, unlike might have been anticipated, readily accepted the portfolio change with grace.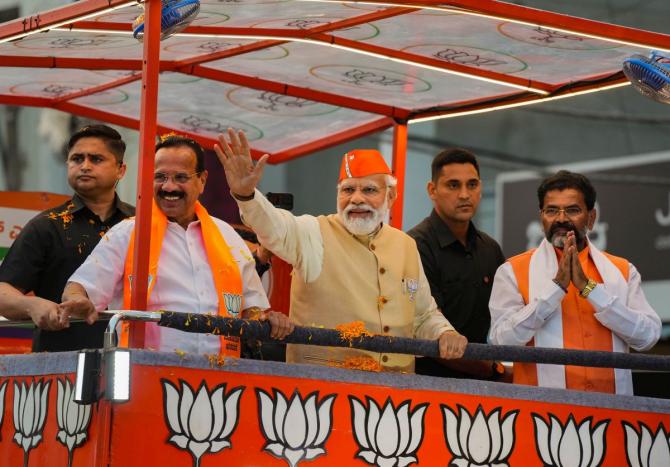 From a national perspective, the Karnataka debacle is also a personal defeat for Prime Minister Narendra D Modi and Union Home Minister Amit A Shah, who by repeated campaigning had made it a prestige issue.
Over and above that, they preferred not sending in neighbouring Maharashtra leaders like Union Minister Nitin Gadkari to the northern border district of Belgaum, where 'merger' with the 'mother state' is still a live issue.
But from a TN Dravidian angle, it's even more about the BJP drawing blank in the two Karnataka districts, Kolar and Mandya, that too with a substantial Tamil population, where Annamalai was the party's campaign-in-charge.
As a bonus, Karnataka's voters in Chikkamagaluru assembly constituency handed down a clean defeat to Ravi.
For him, it's a double whammy as he had resigned his ministerial position in Karnataka to concentrate full time on Tamil Nadu politics, since before the 2019 Lok Sabha elections. It did not help the party in TN, and now, himself too.
According to locals, Ravi seldom visited the constituency after being made in charge of the BJP's TN affairs.
Likewise, BJP leaders in both states point out how despite his experience as an IPS officer in Karnataka, Annamalai hardly had any experience in electoral matters.
The only election Annamalai had contested was in 2021, from his native Aravankurichi assembly constituency.
It was only months after his joining the party and even less after being made state party chief, out of the blue.
He lost to the victorious DMK, by a high 25,000 vote margin, also because of his inability to work with local leaders of the AIADMK allies.
Now that the Congress ally is back in power in Karnataka, at least the DMK cadres in Tamil Nadu expect the new government in Bengaluru probing the poll-time charge that Annamalai was carrying cash-for-vote money in his helicopter -- a charge that the Election Commission promptly denied, reportedly after a thorough investigation.
They also want the new Karnataka government to probe Annamalai's past as an IPS officer in that state, his other contacts and dealings, if any.
In between, the DMK, especially the party's social media activists, can be expected to needle Annamalai on his controversial purchase of a second-hand 'Rafale' wrist-watch at a high cost, over which some have found holes in his much-delayed and even more hyped explanation.
It is all in the future. For now, the Karnataka results have dampened the BJP's spirits in Tamil Nadu, too, and also Annamalai's 'anti-corruption crusade' against the ruling DMK in the state.
He has promised a further instalment of 'DMK Files', and timing its release may have to wait, whatever be the political outcome of the same.
Post-Karnataka, even Tamil Nadu Governor R N Ravi may go slow on the state BJP's corruption allegations against DMK ministers.
Against this, his 'Hindutva-centric' nationalist campaigns in the state under his care seem borne out of his personal convictions.
That part of it, he may continue but may be on a relatively look key -- unless, of course, he wants to deflect the people's attention away from the Karnataka results and the consequent image-drubbing for Modi.
So could the Union government and its agencies such as the CBI, IT and ED, at least until the Modi-Shah leadership is able to convince themselves that the Karnataka defeat had nothing to do with their kind of 'vindictive politics' as alleged by Stalin but had more to do with local conditions and the party's electoral strategy.
The same may apply to Annamalai and his anti-DMK corruption campaign, but he will have to accept that the public reception for him may just be below par just now.
Yet, the DMK leadership may have to deal with a demand for more seats from the Congress ally in the Lok Sabha polls.
The reasons are not far to seek. TN Congress leaders too believe now that the party is on a come-back trail in national politics and that the DMK now needs them more than at any time in the past.
But the DMK leadership may not yield too much space, as theirs is the only alliance partner that is steadfastly in the Congress camp, and swears by a Congress PM post-poll, though they will settle for any anti-BJP prime minister.
However, DMK insiders too concede the presence of anti-incumbency against the state government, and its possible impact on the Lok Sabha polls.
Hence having a national ally by its side could boost the DMK's electoral morale.
However, the DMK leadership will wait until after the assembly polls in Rajasthan, Madhya Pradesh and Chhattisgarh that are due before the Lok Sabha polls and where the Congress has high stakes vis a vis not only the BJP rival but equally so with prospective anti-BJP regional ally in states like West Bengal, UP and Delhi.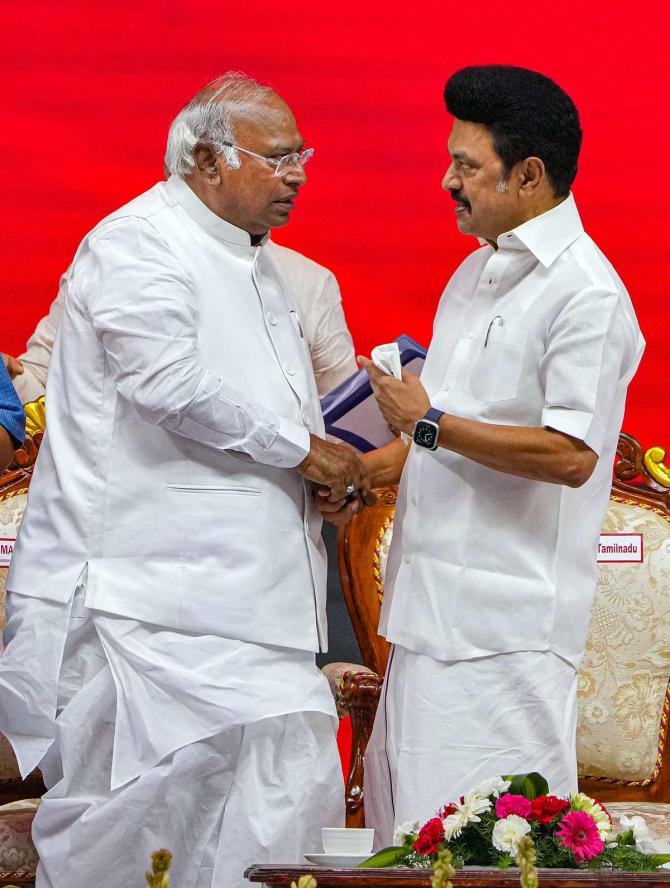 Possibly more than the DMK rival, it is the All India Anna DMK ally under former chief minister Edappadi K Palaniswami (EPS) who would be celebrating the BJP's Karnataka defeat even more, again within closed doors, in a way.
In their perception, the Karnataka results reduce the BJP's appetite for driving a hard bargain on seat-sharing for LS polls in TN next year.
They also hope that the BJP national leadership may not have it in them now to force the EPS leadership to accommodate other AIADMK factions, under three-time chief minister O Panneerselvam (OPS), the late Jayalalithaa's confidante Sasikala Natarajan and her estranged nephew T T V Dhinakaran.
Others, however, feel that the BJP is now under pressure to win more seats for self and allies from states like Tamil Nadu, to make up for those that they may now lose in Karnataka.
Hence, they need a stronger AIADMK than before.
In the immediate context, the AIADMK is happy that the Karnataka results have also shown Annamalai his real place in the larger scheme of electoral politics in Tamil Nadu.
As the wag puts it, the next time the easily-provoked Annamalai starts lecturing the AIADMK on politics and elections, whether within closed rooms or otherwise, there are those like former state minister D Jayakumar, who could bluntly tell him on TV, to look at the mirror and then take a walk.
N Sathiya Moorthy, veteran journalist and author, is a Chennai-based policy analyst and political commentator.
Feature Presentation: Aslam Hunani/Rediff.com