'Hope your weekend is less strenuous than ours,' says Kishore Singh.
Illustration: Uttam Ghosh/Rediff.com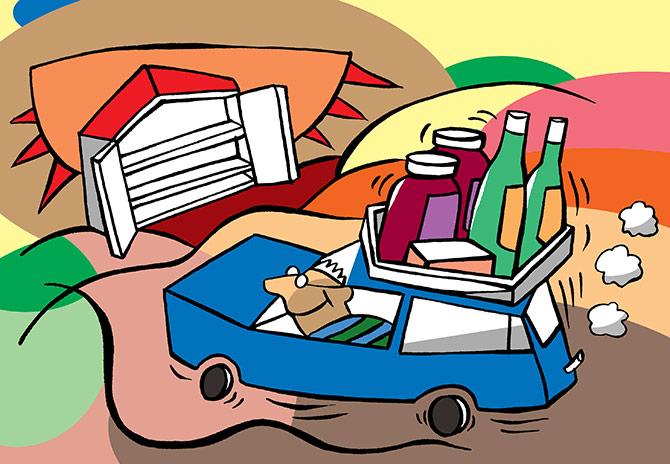 About this time, three months ago, a kink that had been acting up in the solar system at the farm, caused it to collapse.
It coincided with the lockdown and since it was not considered an essential service, there was little we could do but switch off the electricals and hope for the best.
The contractor was in another city and unable to help. The supplier said he could not send an engineer for fear of police.
The garden-variety electricians on call feared meddling with something outside their breadth of knowledge.
Some amount of back-scratching got us the loan of a diesel generator -- there is no electrical feed for residences on the farm -- that we reserved for operating the bore well and pumping water for the crops and garden.
The cottage, alas, would have to make do without power.
With no one patrolling country roads, getting to the farm -- a 15-minute drive from the house -- was easy, and in spring the weather was still kind, so it became our morning routine to get away for a while.
Here, we would grab a cup in the morning, or a glass in the evening, before returning to what, in effect, was quarantine at home.
These visits served another purpose. At first, we emptied the fridge of edibles. Then, jars of preserves and sauces, and packets of cheese and chocolate, followed.
On one visit, my wife emptied the kitchen shelves of groceries that were dwindling at home -- coffee, tea, sugar, spices, ghee, condiments, biscuits.
A case of beer stowed in one of the children's bathroom cupboards was a welcome find, and we also carted back alcohol to replace those that had run out at home.
Soft beverages, soda, tonic water, wine... it was a thankless chore of carting and carrying sans help.
Our cottage began to resemble Mother Hubbard's bare cupboard.
Summer had set in when at last an engineer was found to repair the damage, but one part needed to be shipped to an industrial cluster in UP, and eventually Mumbai, when courier services were restored.
Three months after it broke down, the solar system was re-plugged, and the caretaker called to say we now have power at the cottage.
So, the family has planned its escape to the farm where you will find us this weekend, dear reader, if everything goes per plan.
That plan calls for re-equipping the cottage of all that has been pinched from it.
The children have prepared a list that I quote verbatim: A half-case of beer; gin and whisky (supplied by a friendly bootlegger), Dad's rum (sneering at my choice of sundowner), wine -- red and white -- vodka; tonic water, juices, colas, soda; chips, nachos, peanuts, other 'thingies' to munch; jam, butter, mayonnaise, ketchup; 'assorted' breads, two-minute noodles, ditto pasta; coffee powder, cocoa, powder milk; cans and jars of foodstuff -- baked beans, sweet corn, cornflakes; enough pre-prepared food (rice, curries, sandwiches, parathas) for a party.
My wife and I have been tasked with the collating and collecting and ordering, to ferry it in advance of their arrival, so that we might air the cottage, change the bedsheets, set the ice, and check that everything is, in fact, in order to receive them.
Oh, and not to start drinking before they get there.
Hope your weekend is less strenuous than ours.
Feature Production: Rajesh Alva/Rediff.com