'We had joy, we had fun, we had seasons in the season -- and all that crap,' mutters Kishore Singh as he draws up a will :)).
Illustration: Uttam Ghosh/Rediff.com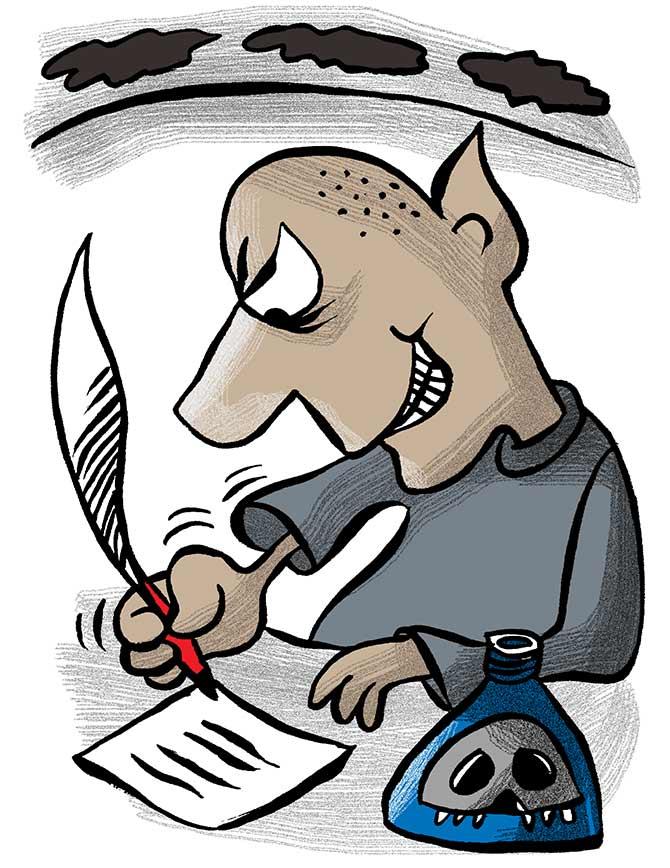 Now that everyone's concerned with issues of mortality, I thought it is a good idea to devote some attention in that direction, even though my wife says I'm a "dim-witted optimist" -- an unreasonable if, alas, accurate choice of words.
But being married to a pessimist has coloured my perception of the world as a source of infinite joy over which, as Bertie Wooster might have said, a dark cloud has marred the horizon.
I, therefore, thought to leave behind, at the risk of appearing maudlin, a last will and testament.
It won't be my last though -- count on it.
To my loving family, first things first: I hope you know the Husain you've all been counting on to fund your European vacation is a fake.
You think I have the money to splurge on expensive works of art that might be better spent at a bar?
Anyway, Europe and vacations are off the cards for now, so it isn't entirely a loss -- just don't tell anyone, okay?
The cottage has a loan on it that you'll need to repay -- it's still considerable.
The apartment has plumbing and termite issues that need attending to, which is why no one will rent it.
Oh, don't forget the property tax -- which hasn't been paid in years, maybe decades.
Alas, the market hasn't helped investments so don't expect much by way of cash.
And, be warned, if you hive off my library to the kabaari -- may the pox be upon you.
Have a good life.
To my staff: Thank you for cooking and cleaning and generally being useful, but those loans you took with the promise of returning and never did -- I've maintained all the hisaab in a kitaab at memsahib's insistence.
Which means you're pretty much bonded to her for the rest of your lives.
But she isn't bad if you do exactly as she tells you.
Only, she never does tell you anything exactly -- right?
Well, life is tough, so suck it up.
To my seemingly doodh ka dhula, miserable sods, aka co-workers: What can I do to make your lives any more miserable than they already are?
Spill the beans, of course.
My CA has instructions to send out a mass e-mail of dirty gossip I've picked up along the way -- none of you lily-white after all.
We had some good times too.
Try to think of those when the s**t hits the fan.
To my friends: What can I say?
We had joy, we had fun, we had seasons in the season -- and all that crap.
Abhay, don't think I've forgotten you stole my whisky when you thought I didn't know why you'd carried your backpack to the party.
Too bad, the whisky was diluted with black tea.
Bela, you never returned the books you borrowed, or even read them.
Freddie, you need to square up accounts for the Kerala holiday, you owe the gang the grand sum of Rs 98,634.25.
Vinay, I'm sorry I never told you I busted your car when I borrowed it, but the wayside mechanic did a good job of replacing the damaged parts.
Sorry, they're not original, or new.
Oh, and I know you all think I'm a social wet blanket; well, guess what, I think you're all a sorry bunch of freeloaders.
Think well of me when I'm gone.
Production: Ashish Narsale/Rediff.com