Kishore Singh want to have chai pe charcha with Modiji...
Illustration: Uttam Ghosh/Rediff.com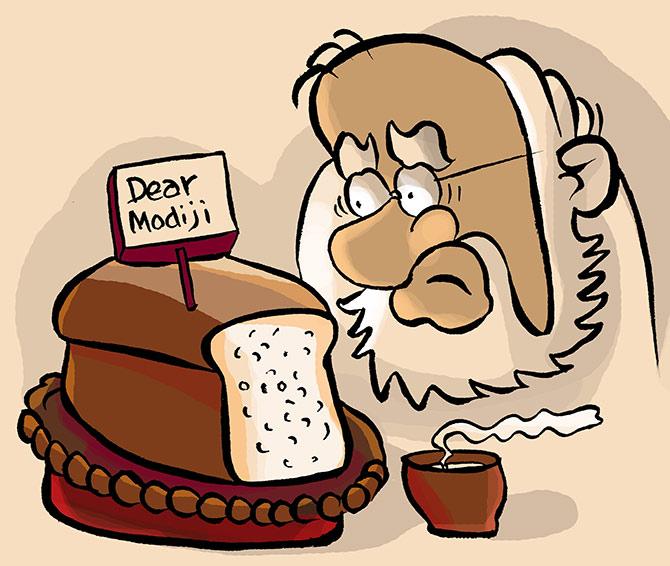 Dear Modiji,
I want to do some chai pe charcha, but before I get to that, I must ask -- as my language teacher so diligently drilled in the letter-writing class -- how are you?
Are you looking after yourself?
Do you also have to do jhadoo-pocha?
What do you cook for yourself?
Since you do not like Khan Market much, I suppose you do your grocery shopping online.
Do let me know if you need help getting some, ahem, non-essential items -- we all have occasional cravings that may not fit your government's criterion of 'essential groceries'.
I'll share the number of a contact, but you must promise to not post your sleuths on him; he's just trying to make a living, like you and I.
Now the thing I want to know is when you sold tea at a railway platform, did you also sell bread with it?
You know, butter-toast with kulhar chai; how I remember that from back when the trains were still running.
Everyone always wanted tea at every station the train stopped at in those days.
And things to eat -- pakoras at one stop, poori-aloo at the next station, jhaal moori, spiced-up peanuts -- because one was always hungry.
What else were journeys for, but to read and eat?
I am reminded of all this in these days of lockdown when we are not short of tea at home, or tea-leaves -- but my wife says that sophisticated people don't have 'station-wali chai' any more.
We drink lots of tea at home -- first flush, Makaibari, Oolong, herbal -- but none of it actually tastes like tea.
That, Modiji, may be because it isn't tea to begin with.
Pots are prepared with boiling water that is infused with olive leaves; sometimes there are rose petals, mint and lemon grass, anything but actual tea leaves.
What would your father have made of that?
Who would buy such tea at a railway platform?
I can circumvent the consumption of tea by having coffee instead for which my wife hasn't found substitutes yet, but what do I do about the bread?
Now that everyone is working from home, and having to cook, most just make things that look pretty in pictures but are less nice to taste.
Everyone says 'wow' on Instagram -- where you have not posted any recipes Modiji, I've noticed, I follow you -- but the reality is that it gets fed to the pooch or finds its way to the bin.
My problem is that my wife has got it into her head that she is a baker who can make her own bread.
Now, Modiji, baking bread is not difficult -- some dough, baking powder, yeast and an oven should do the trick.
But 'gourmet' bakers don't just settle for honest, no-nonsense bread, they want celebrities to ask them for recipes, they want to post pictures on social media, they want to make sourdough and garlic, masala and multigrain, sprinkling chives and paprika flakes on top, posing it next to sheafs of wheat, arranging it prettily in a basket.
But the proof of the bread, as they say, is in the -- er, you know.
About which, in this state of lockdown, we must discreetly draw a veil.
Therefore, the reason for this letter, Modiji.
Can I send you some bread?
Yours etc