The combativeness reflects her insistence not to meekly acquiesce to what has been going on in Raisina Hill for years or decades, observes Kartikeya Tanna.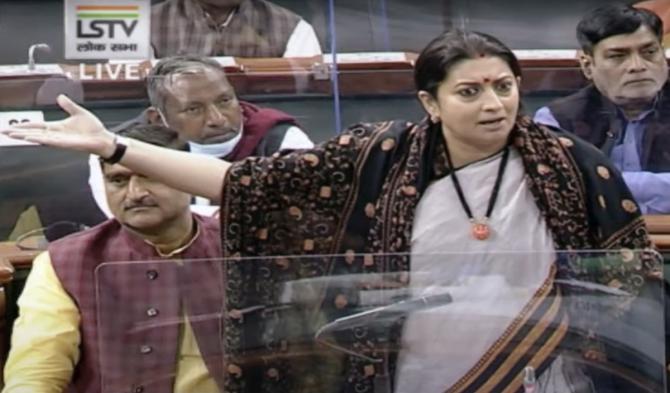 In the murky world of politics, one can be 'controversial' if enough people hate you or resent you. That is what Smriti Irani faces ever since the erstwhile Rajya Sabha MP from Anand in Gujarat, quietly going about her work, was asked to wage a battle against Rahul Gandhi, the dynast of the grand old Congress party, in his bastion Amethi in 2014.
While Irani's popularity as an award-winning television actor remained very much intact even after she left television, the Amethi battle massively accelerated her electoral recognition. She was, and continues to be, a target; even more so after having won Amethi in 2019 and threatening the Congress' chances in Rae Bareli, another Nehru-Gandhi family bastion currently held by Sonia Gandhi.
Each of Irani's moves as a minister in the Modi government has been scrutinised. Nitin Gadkari famously took on NHAI officers who had hitherto entrenched and blossomed themselves in a disastrous cocktail of inefficiency, incompetence and corruption. Piyush Goyal asked those bureaucrats who didn't want to work at the speed that the Modi government wanted, to retire right away rather than be a drag on the system.
The media, however, reserved a special love for Irani. And this isn't just because she is a woman -- she refuses to use her gender as a crutch. It's quite obviously because of her audacity.
Back in 2003, when a 27-year-old Irani contemplated joining the Bharatiya Janata Party, Gopinath Munde noticed that Irani had the tenacity to pick fights not many would want to pick.
While Gadkari and Goyal's ire was against errant officers junior to them in rank, Irani, when appointed HRD minister in 2014, had to deal with well-known academicians with stellar educational qualifications and prestige.
The Rediff.com column The Importance of Smriti Irani refers to some controversies during Irani's tenure. As things turn out, there are other sides to each of them.
While IIT-Delhi director R K Shevgaonkar resigned for 'personal' reasons, his resignation seemed to coincide with the HRD ministry cancelling an MoU between IIT-Delhi and the Mauritius Research Council to set up an IIT-like institute in Mauritius. The cancellation, as Irani clarified in Parliament, was because the MoU did not conform to the Institute of Technology Act, 1961. Why, she wondered, were such commitments made by spending Indian taxpayers' money?
The focus, however, predictably shifted on Irani stifling IIT's academic freedom.
Anil Kakodkar, the IIT-Bombay chairman, quit the board of governors because he alleged 'wrongdoing' and 'casualness' in the process adopted by the HRD ministry to select directors of three IITs.
He reportedly 'disagreed' with Irani over the choice of an IIT director. It turned out, as Irani stated in a television interview, that Kakodkar wanted his nominee to be selected in the IIT, someone who hadn't even applied for the job nor attended an interview.
Now, it's quite possible that appointments typically happened like how Kakodkar wanted and that governmental procedures were cumbersome. However, Irani's insistence on following those ended up being portrayed as disrupting IIT's autonomy and an affront to the self-respect of prominent academicians.
After she was given the charge of the I&B ministry, allegations of non-disbursal of salaries to Doordarshan and All India Radio staff circulated in the media. Those were promptly rebutted by Shashi Shekhar, the CEO of Prasar Bharti.
It later surfaced that it wasn't the governmental employees of the two organisations whose salaries were withheld. It was a private company to which work was reportedly outsourced by Prasar Bharti without an MoU in place which is required to detail the financial and physical targets to be achieved in a given financial year.
Moreover, the member of the private company hired as a consultant in Prasar Bharati was caught on tape allegedly accepting that he took cash to manipulate opinion polls in favour of certain parties and candidates. This company continued to provide services to Prasar Bharati, seemingly misusing its proximity to some members of the organisation.
In any controversy involving Irani, the other side gets conveniently buried. And her ministerial movements are used to demonstrate that she is 'demoted'.
Yes, she doesn't have the 'plum' ministries in the latest reshuffle. Have we, however, regarded the fact that no ministry since Modi took office in 2014 is a 'plum' ministry or a 'reward' any longer?
For India's growth to accelerate, every ministry and department is critical. Just as every last inch of every corner of India is. It took seven decades since Independence for the first passenger train to reach Manipur! Remote areas in India were long ignored by the media because of the tyranny of distance. Similarly, non-plum ministries are considered demotions because of the tyranny of newsworthiness.
A fairly remote ministry -- the ministry of chemicals and fertilisers -- became crucially important during the pandemic. That is what prompted Modi to give that minister -- Mansukh Mandaviya -- additional charge of the health ministry.
Ministry allocation is, to put it quite as a matter of fact, a horses-for-courses approach which inevitably takes into consideration whose services will be needed more on the political battlefield than on Raisina Hill.
And Modi, while being the prime minister, is a 24x7 politician and India's continuous election cycles make it imperative to constantly keep one eye on electoral winnability.
This explains why many Cabinet ministers in the government who need to be on the executive job for long hours are either Rajya Sabha MPs who don't have the pressure of electoral approval (Jaishankar, Mandaviya, Sitharaman, Ashwini Vaishnav, Piyush Goyal, to name a few) or senior Lok Sabha MPs who aren't burdened with constant campaigning across the country (Rajnath Singh, Nitin Gadkari). Amit Shah is one lone exception.
Irani's popularity as well as her fluency in several Indian languages make her a vital asset for the BJP. Uttar Pradesh, in which her constituency Amethi is located, goes into polls in early 2022. Gujarat (she was a Rajya Sabha MP from Anand) goes to polls in late 2022. Nationwide electioneering shall commence by the last quarter of 2023.
Modi and the BJP will need her more at her oratorical best, which explains why she was made a member of the Cabinet Committee on Political Affairs, often called as the 'super Cabinet'.
Combative she, indeed, is, as Munde foretold. Has it, however, been considered that the combativeness reflects her insistence not to meekly acquiesce to what has been going on in Raisina Hill for years or decades?
For that to be considered, it needs to be realised that every story has more than one side.