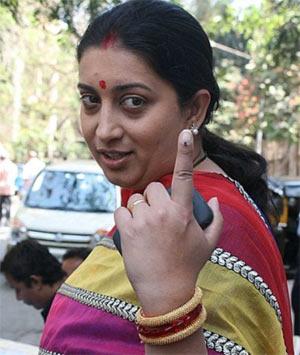 'Everybody is offended because they expected a job like this to go to someone over 70, with lots of experience and background, with knowledge of the past, the history, tradition, all of which hasn't happened.'
'It has gone to a woman of 38, who has no education worth the name, who has no experience in governance and has no real expertise in anything.'
'Once you've made up your mind that you don't like Smriti Irani because she has got where she has far too quickly or far too easily, you find reasons to dislike her and to justify your view.'
There are some things that Pritish Nandy below, left, firmly believes in.
He believes in giving talent a chance.
He believes that throwing people off the deep end will see them swim, not sink.
He believes that creativity does not need the rubber stamp a college education; that a graduation degree is no guarantee for success.
Nandy, whose trysts with formal education, did not end in a degree is himself an example. A renowned journalist and editor (The Illustrated Weekly Of India, The Sunday Observer), a poet, a painter and a respected filmmaker, he never found himself hampered due to his disinterest in the formal stream of education.
In this interview with Savera R Someshwar/Rediff.com, he explains why a minister without a degree might just be the thing India's antiquated education system needs.
What role does completing college and having a graduation degree play in the success one achieves or the failure one faces in life?
Very little, I would like to believe.
For many people, it may, I am sure, mean a lot because it helps to build self-confidence, provide basic skill sets in interacting with people and other such things.
But the kind of knowledge acquired in school and college is rarely of great use when you are trying to live your life. You need completely different skill sets there; it's a completely different experience interacting with the real world.
Some people feel these are those charming wonderful years where you don't have to worry about anything; you finish those years and then get caught in the hurly-burly of life. If that's the way one looks at it, it's fine.
To believe that it contributes to your success in later life is, I would like to believe, unsubstantiated
In your tweet about the controversy around Smriti Irani's qualifications, you called her amazing... Could you share your thoughts behind that sentiment?
She began her life from a completely different space, walked in a completely different direction from where she grew up, went on to compete in the Miss India contest, moved on to television, then to politics and finally ended up as a minister when she was 38 years old.
I think that's quite an achievement. Not many people get an opportunity to serve the country at that young age in a position of such power.
It is an example for a lot of people that opportunities in this country are there to be seized.
Do you believe the brouhaha caused by Ms Irani's lack of a graduation degree was required?
I am sure it was required.
It was not her lack of a graduation degree that is the issue; it's the inaccuracy that she stated in her affidavit filed with the Election Commission while contesting the elections at different stages.
I am not questioning that. For sure it is an important issue.
But I don't think the fact that she is not a graduate is really very important when you consider her role as HRD minister. In fact, it might open up a completely new way of thinking for the ministry.
Taking off from what you just said, do you believe she is a good choice to head the HRD ministry? Why?
The people who come in to run different ministries are not necessarily specialists in the areas that they are expected to work in.
What they really require is an ability to acquire familiarity with the subject, to learn, listen, interact with people and see how they can improve on the job.
I think Smriti Irani (left, above) has the skill sets to do well in a ministry. It is irrelevant what ministry she gets. In any case, she has to learn the workings of the ministry from scratch.
Purely as an observer, what do you think are her strengths and weaknesses?
I think she has moved across different areas in her life, she has done different things in her life... She has moved from very humble origins to reach where she has reached at a reasonably young age and it shows that, if nothing else, she is a quick learner.
She is clever. She has an open mind because she has kept switching her life choices at different times. That shows that she is a quick learner which is an important asset as a minister.
Would she have benefited from being a minister of state first or do you think that having been thrown into the deep end like she has been will work in her favour?
I have always seen that when you push people into the deep end, they perform better than if you graduate them into the job.
Secondly, I feel that Ministers of State rarely do anything or are rarely allowed to do anything in our political system.
The minister in charge does almost anything; takes on the responsibility for almost anything.
It is good that she has come into the minister's job itself; it is an opportunity to prove whether she can deliver or not.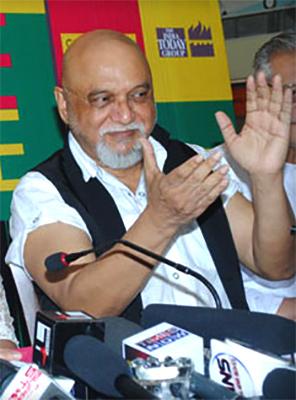 Why do you think is her past as a television actress and a model being raked up as a seeming disqualification when actors like the late Sunil Dutt, the late NTR and Ms Jayalalithaa have become Union ministers and chief ministers?
I think we make up our minds as to who we like and who we are not going to like.
Once you've made up your mind that you don't like Smriti Irani because she has got where she has far too quickly or far too easily, you find reasons to dislike her and to justify your view.
What changes would you like to see her bring into the system?
I would like her to bring fundamental changes into the system... and the most important fundamental change is to make education relevant to our lives.
Today, it is something we necessarily go through to be able to get a job, to put on to your CV so that you get an interview call.
That must change.
Education is about real learning and there is no real learning really taking place in our country where tutorials hold sway over everybody's lives.
Everybody is going through the process of education as a means to getting a job or getting somewhere in life or to making some money, which is all rubbish.
Education is meant to complete your life. Education is meant for you to understand the world around you better, to relate to it better. And find new ways and means to discover your inner talent.
That is the most critical job.
When you are in the education system, nobody asks you what you want to do in your life. When you are a young kid in school, they ask you which stream you are going into. You have to adjust to going down a stream which will provide you an easy entry into college or a job later in life or a career which will earn you a lot of money.
We use education as a ladder to make money or to make a career.
The real purpose of education, I'd like to believe, is to help you to cope with life and, more important, help you to cope with yourself.
Education should assist you in finding out what you are, where your talents lie and what you would want to do instead of forcing you to enter into a stream that may help you earn a better livelihood.
How should she tackle the nay-sayers?
All she needs to do is to go in there, try and understand how the whole system works and look at it with an eye to fundamentally changing it.
I think the success or failure of this government will lie in its ability to change the rules of the game, the rules of engagement.
It is for the first time after freedom that we actually have a government that is different, that is not the Congress.
We had governments that were not Congress-led, but then Morarji Desai was an ex-Congressman. Chandra Shekhar was an ex-Congressman.
For the past 60 odd years that India has been free, all governments have come from the same direction, from the same background, from the same origins -- the Congress or those who were in the Congress.
It would be interesting to see a government that is not cut from the Congress cloth bring a new insight into our life, our politics, our economy...
This nation wants to move ahead in every area.
The only way this government can succeed is if it is ready to give every area of our life needs a fresh look.
The youth has put its faith in this government and in what they hope it will deliver for them in which Ms Irani's ministry will have a role to play. What are the top three things she needs to do prove she is the right person for the job?
She has to determine that herself.
I don't believe in prescriptive journalism. I cannot prescribe what she ought to be doing. But I know what the priorities are. I know what this nation needs. I'd like to believe I know what people want.
I hope she follows those. I hope she attempts those.
And what would that be?
People want an educational system that truly helps them discover themselves and interface better with the world around them which our current system doesn't.
Our current system is all about mugging up things and memorising things. It tests your memory; it tests your ability to remember things; it tests your intelligence. It does not test your skills. It does not spot them. All of that needs to be done.
You know, the main thing everybody is offended about is that they expected a job like this to go to someone over 70, with lots of experience and background, with knowledge of the past, the history, tradition, all of which hasn't happened.
It has gone to a woman of 38, who has no education worth the name, who has no experience in governance and has no real expertise in anything.
Now, this can be a handicap; a lot of people would like to believe it is.
But, in my life, I have discovered -- I have known lots of people who are like what Smriti Irani is today, who began with nothing and entered into an area which was dominated by people with expertise and completely transformed it with original thought, with original ideas.
And I think Smriti Irani could do it. I am not saying she will do it, but I am saying she could do it.
I believe that when young people want to walk into a space and do something new, they should get the chance to do it.
What is the worst thing that can happen? That she wouldn't deliver, wouldn't perform? They'll change her ministry, move her somewhere else. But, if she succeeds, it will be a great achievement.