Ashok Gehlot can never be a challenger to the first son of the Congress party.
The Scindias and Pilots will be Rahul's rivals should the party's fortunes revive, says Dr Sudhir Bisht.
Illustration: Dominic Xavier/Rediff.com.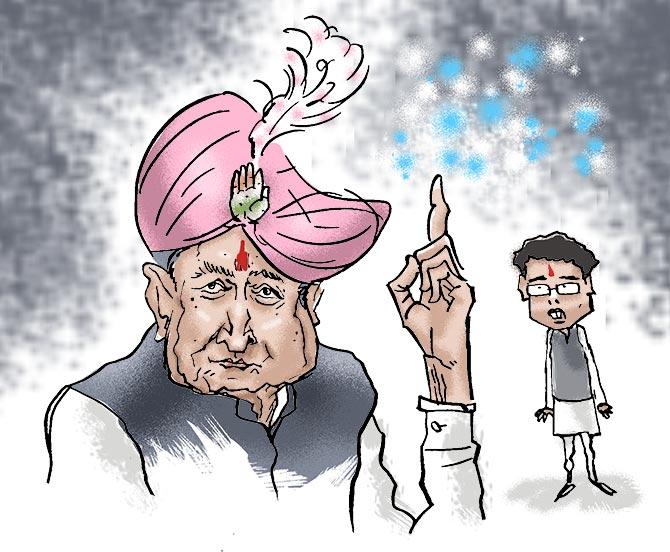 Sanjay Gandhi, then the unofficial No 2 in the Congress party, had a favourite named Janardan Gehlot, a wrestler-turned-politician who had knocked out Jan Sangh leader Bhairon Singh Shekawat in the 1972 Rajasthan assembly election from Gandhi Nagar.
It is said Sanjay soon wanted to patronise another Rajput leader in Gehlot's place so his cronies put forward a student leader named Ashok Gehlot.
The Doon school educated and Lutyens bred Sanjay Gandhi was too naïve -- or maybe too lazy -- to check if the new Gehlot was a perfect caste replacement or not.
Ashokji, the tall, slim and soft-spoken leader from Jodhpur, is from the Mali (gardener) caste. He quickly endeared himself to the Gandhi family with his humility, track record of hard work and his occasional magic performances.
His father was a travelling magician of repute and Ashok had learnt some tricks of the trade from him.
Soon he became a regular at Indira Gandhi's bungalow and showed a trick or two to her young grandchildren. Those young kids have become his masters today, but Ashok Gehlot, in spite of his phenomenal popularity in Rajasthan, remains a humble and loyal soldier of the Gandhis.
People close to Gehlot say the magic tricks made him popular first in the Indira Gandhi household and then in the Sonia Gandhi household.
Oldtimers still refer to him affectionately as 'gilly-billi' for his clever sleight of hand.
Ashok Gehlot's first brush with electoral politics happened in 1977 when he was the Congress candidate for the state assembly election from the Sardarpura seat in Jodhpur.
Though he lost this election, Sanjay Gandhi gave him a ticket to contest the Lok Sabha election from Jodhpur three years later. Ashok Gehlot won and entered the Lok Sabha in 1980.
At a time when a docile but diligent Ashok Gehlot was rising in the eyes of the Gandhi family, another young man -- pushy, ambitious and very determined -- was also trying to enter politics.
This former Indian Air Force officer, Rajeshwar Prasad, was aspiring to enter public life by contesting against the Lok Dal leader and former prime minister Chaudhary Charan Singh from Baghpat in western Uttar Pradesh.
Rajeshwar had worked at a dairy farm in New Delhi and used to supply milk to many households in his teenage years. He stayed in the outhouse of bungalow number 112 on Rakabganj Gudwara road with his cousin and dreamt of occupying that property one day, a dream he did achieve in due course of time.
In 1980, Rajeshwar was pursuing Indira Gandhi to give him a Congress ticket. Sanjay Gandhi not only gave him a ticket for the Lok Sabha election, but also rechristened him Rajesh Pilot and ordered him to contest from Bharatpur in Rajasthan instead of Baghpat.
With just Rs 10,000 as election fund, doled out by then Congress treasurer Sitaram Kesri, Rajesh Pilot's political career was launched.
Unfortunately, Rajesh Pilot died young -- he was just 55 -- in a road accident, but for which he may have become a rival to Ashok Gehlot for the top leadership in Rajasthan.
Many believe Rajesh Pilot had it in him to even challenge Sonia Gandhi for the top slot in the Congress party.
I personally believe that the late Rajesh Pilot and the late Madhavrao Scindia, who died in an aircrash in 2001, a year after Rajesh Pilot died, would have been formidable challengers for the Congress leadership.
Their untimely deaths left the party bereft of two young charismatic leaders and Sonia Gandhi was left unchallenged in her rise to the top.
Rajesh Pilot had the guts and Madhavrao had the pedigree to challenge her.
Madhavrao is no more, but his son, the powerful orator and charismatic Jyotiraditya Scindia has decimated the Congress in Madhya Pradesh by aligning with the Bharatiya Janata Party.
And it is Rajesh Pilot's son, the handsome, suave and extremely popular Sachin, who has made life miserable for his father's many-term Lok Sabha batchmate, Ashok Gehlot.
Sachin Pilot didn't struggle like his father when he began his political journey.
He was a minister of state in the Manmohan Singh government in 2009 when he was just 32. Three years later, he was appointed an MoS with independent charge of the corporate affairs ministry.
And from December 17, 2018 till July 14, 2020, he was the deputy chief minister of Rajasthan.
Sachin holds a post-graduate degree from IMT Ghaziabad (owned by another contemporary of his father, Kamal Nath, who was recently unseated by Jyotiraditya Scindia). He also completed his MBA from the University of Pennsylvania.
And the MBA has thrown his hat into the ring against the magician from Jodhpur University.
Ashok Gehlot, for all his affable nature, has humbled many stalwarts in his long political career. He has the eyes and ears of the president of his party. He keeps his show of obsequiousness at 10 Janpath going stronger by the day.
A factor that goes in his favour is that he can never be a challenger for the first son of the Congress party.
It is the Scindias and Pilots who will eventually turn out to be his rivals should the party's fortunes revive anytime soon.
And Gehlot has a vice-like grip over the Rajathan MLAs for now. The older politician seems to have played his cards right. He packed the election list with his men and wherever he didn't succeed, he propped up rebel candidates.
Many such candidates won the 2018 assembly election and pledged allegiance to the three time chief minister of Rajasthan.
Ashok Gehlot fortified his support base further when in September 2019 all six Bahujan Samaj Party MLAs joined the Congress in Rajasthan, thereby giving his image as the party's 'leader-in-chief' a big push.
For now, the magician has performed and the MBA from Pennsylvania seems to have misfired badly.
But why are the young guns of the Congress, especially the dynasts from smaller families, leaving the Congress?
Because they cannot be accommodated at the Centre nowadays.
If there was a Congress government at the Centre, they would have been happy and merry in Delhi, in their Lutyens bungalows as Cabinet ministers.
Even Kamal Nath would have preferred a commerce ministry over the tumultuous politics of Madhya Pradesh.
Scindia Junior would have been happy as the railway minister and Sachin Pilot would have been nursing a health or a science and technology ministry.
The young dynasts will happily play second fiddle to Sonia or Rahul, but their ambitions cannot be met if they are reduced to being Number 2 or 3 in state politics.
So the magician from Jodhpur is safe for now. Until the bigger jaadugar from Gandhi Nagar gets involved!
Sudhir Bisht, author and columnist, can be contacted at sudhir_bisht@rediffmail.com