'We have to work for our victories.'
'We have to offer a better alternative governance model.'
'Not just criticise the current government.'
'You have to build bridges, learn from what has gone wrong and create a party for all people.'
IMAGE: Sachin Pilot, president, Rajasthan Pradesh Congress Committee, at the party's office in Jaipur. Photograph: Archana Masih/Rediff.com
Sachin Pilot president, Rajasthan Pradesh Congress Committee, breezes into the party's office in Jaipur, takes off his shoes and pays homage to an ex-Pradesh Congress president whose death anniversary is being remembered.
The picture of the deceased is placed on a table with a garland of flowers.
"It is a practice we have been observing," says Pilot, three-and-a-half years into his role as the PCC president, shifting base to Jaipur from Delhi.
On the wall in the foyer is a large picture of Mahatma Gandhi at work on the charkha. The wall also bears an array of framed photographs of all former PCC presidents.
Casually dressed in a pink-t shirt that evening, a departure from the white kurta and pyjama onje is used to seeing him in, Pilot has been busy with the Dholpur assembly by-election. The constituency goes to the polls on Sunday, April 9.
It is the home constituency of state Chief Minister Vasundhara Raje, so the battle is prestigious as well as a difficult one.
"In Jaipur, Vasundharaji and my path haven't crossed much. I used to meet her more when I was a minister in Delhi. We have a very cordial relationship on a personal level, but as the principal Opposition party my job to keep the government accountable," he says.
Sitting under portraits of Gandhi, Indira, Rajiv, Sonia and Rahul Gandhi in his office, Sachin Pilot discusses with Rediff.com's Archana Masih the road ahead for his party and how he will win back Rajasthan next year. The first of a multi-part interview:
How have three years as Rajasthan PCC president, away from Delhi, changed your politics?
When I moved to Jaipur, the Congress party had suffered its biggest defeat in Rajasthan since 1947.
We were reduced to 21 MLAs out of 200 in the assembly.
At that point both Mrs (Sonia) Gandhi and Rahul Gandhi asked me to take charge.
It was a daunting task because the morale was absolutely down.
Out of the 21 MLAs, there was no Dalit, no SC or Muslim MLA.
The farming community, Dalits, SC, minorities, everyone pretty much had abandoned the party in 2013.
I gave up everything else and started travelling.
I spent 1 or 2 days a week in Jaipur and travelled all over Rajasthan which is geographically India's largest state.
I have travelled its 33 districts at least thrice, if not more.
I was not going to wait for the people to reach out to the Congress party, the Congress had to reach out to them.
Just because someone did not vote for me last time, doesn't mean I stop interacting, learning, talking, discussing with those sections of society.
This travelling was different from my earlier politics.
As a minister and MP, I had travelled all over India for government functions, party rallies, but this was an exercise in building the structures of the Congress party.
The structure itself was very weak in 2013.
You said in an interview that the party had to be built brick by brick.
It has to. If the Congress supporter in a gaon, mohalla, gali, kasba is unable to connect with me, we'll never have that bonding.
I started going for small campaigns, personal functions -- anything I was invited for.
Personal face to face interactions is the key to politics in India.
I've always maintained if you sweat in peacetime, you don't bleed in wartime.
Those days are gone that somebody can come, create a magic and swing in favour of the Opposition party in the last 12 months.
You have to build bridges, learn from what has gone wrong and create a party of people, not of one age group or segment or rural or urban or farming or upward or backward or Dalit or non Dalit.
It has to be a culmination of all.
That's what the idea of the Congress was.
The Congress was an all inclusive party which had space for everybody and the messaging has to be restructured.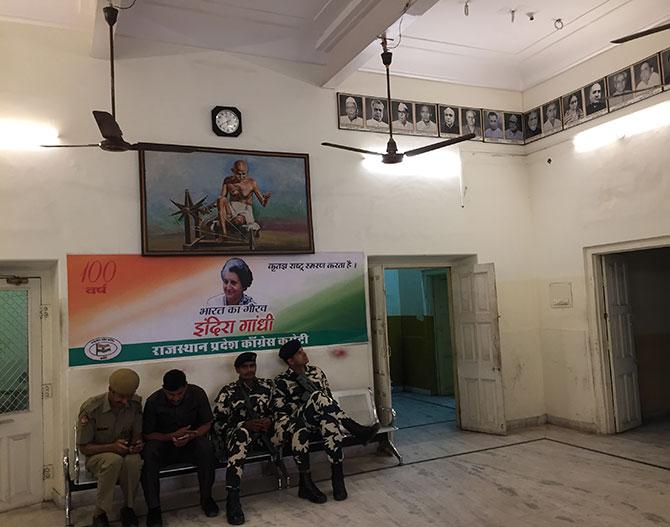 IMAGE: Security personnel in the foyer of the office. On the wall are portraits of Rajasthan Congress presidents. Photograph: Archana Masih/Rediff.com
What is it to take charge of a party when it has hit rock bottom?
Then the only way is up.
We fought the by-elections very well. We won 3 out of 4 seats (in September 2014).
In the 2014 Lok Sabha election, the BJP polled 56% of the vote, the Congress polled 30%. There was a gap of 26%.
In the panchayat elections, the vote share came down to 2% -- almost on par with the ruling party.
This enhanced the Congress party's rural outreach in Rajasthan.
Out of 290 pradhans, 160 are with the Congress now.
We were able to recapture the grassroots panchayati raj elected positions from the BJP.
That gave us traction and we could take on the government on many issues.
From there to the prestigious Dholpur assembly by-election, which is the CM's home constituency and goes to the polls on April 9. How are you placed?
The government has finished 3 years and 4 months in power.
In terms of Dalit atrocities, Rajasthan is ranked no 3; atrocities against the tribals no 2; rape cases no 3.
The promises made by Vasundharaji are on paper.
15 lakh jobs were offered to the youth, none of that materialised.
For the first time in (Rajasthan's) history 60 farmers have committed suicide because of crop failure.
The entire power structure in Rajasthan is centred in the CM's office.
When you have an overcentralised structure of power and non delivery in terms of governance, it is my obligation as the Opposition to confront those issues.
IMAGE: Vashundhara Raje at her swearing-in ceremony in Jaipur as chief minister in 2013. Photograph: Chandra Mohan Aloria
You are talking about local politics, while in the UP election the Congress could not take its argument against notebandi to the people. Is focussing on local issues more important than larger issues?
All politics is local.
We are a national party. We have the responsibility to critically look at what the government of the day is doing.
Demonetisation was done in haste. It was poorly implemented.
If the money ban was a success in UP and Uttarakhand, it was a failure in Punjab.
That cannot be a barometer to judge if the government's decision was right or wrong.
There are better ways of dealing with black money than what we have adopted.
The UP election is being seen as a stamp of approval for demonetisation which is the wrong way of looking at it.
In Goa and Manipur we got more seats than the BJP, in Punjab we got a 2/3rds majority that means our opposition to the money ban was correct.
It is not simplistic. Every block, every area has its issues.
Every political party has to take a nuanced look at the situation in its state and react accordingly.
In Rajasthan corruption is a big issue.
We have unfolded scams that have been accepted and the government has cancelled orders worth crores.
When you confront a government on its wrongdoings in local state politics, people appreciate that a lot more.
Rather than the big issues?
But we are not a regional party. We are 130 years old.
National affairs, internal security, national security, economic affairs, it is our responsibility to oppose them.
India does not live in Delhi, but in its states, cities and villages.
We have to have a balance of both.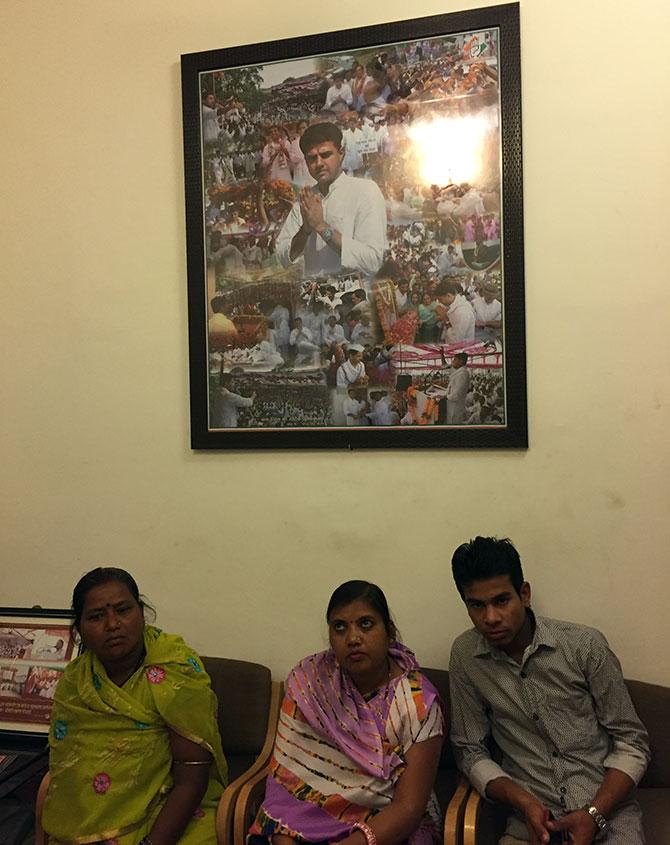 IMAGE: Visitors wait outside Sachin Pilot's office. Photograph: Archana Masih/Rediff.com
If the Congress has to win back Rajasthan in the state election next year, it rests its hopes on you. Is that a heavy mantle to bear?
I don't have a heavy burden of expectation. My only job today is singularly focussed on winning the next assembly election.
If the Congress party can revive itself in many important states, that's the way forward.
Unless we win panchayat, local body, state assembly elections, we will not be able to give the BJP a fight in 2019.
Never underestimate the power of the local elections, they then transform the wave for the assembly and Parliament.
We have to work for our victories.
We have to offer a better alternative governance model. Not just criticise the current government, but give a better viable option.
I need to tell people this is what I am going to do for labour laws, agriculture, employment, energy, power, agri business -- not just a manifesto release, but a holistic plan, a path ahead for the state of Rajasthan.
What are your chances of winning Dholpur?
The seat was held by the BSP (Bahujan Samaj Party) and the MLA was convicted for life for a murder charge and hence disqualified as an MLA.
When the election was called the CM decided to give the ticket to our surprise to the same BSP MLA's wife who joined the BJP a few minutes before and was declared the BJP MLA.
That clearly tells you that the CM could not find a single leader or worker in Dholpur district who could be the BJP candidate.
She has been chosen because there is a large concentration of that caste in Dholpur.
It shows nervousness when you have to import a questionable person into your party.
The BJP has 161 MLAs, all 25 Lok Sabha MPs are from the BJP. It is going to be a tough election. A dozen ministers are parked in Dholpur.
The Dholpur Nagarpalika elections were won by the Congress.
The municipal elections in Jhalawar, where the CM is an MLA from, were won by the Congress.
Baran, which is part of the Jhalawar parliamentary constituency represented by her son Dushyant Singh, was won by the Congress.
All three urban body elections were won by the Congress a year-and-half ago.
There is obviously mistrust between the people and current government.